The suspected Uvalde, Texas school shooter, Salvador Ramos, had been bullied for wearing black eyeliner and having a stutter, according to friends.
Ramos was identified by officials as the suspect who fatally shot 19 children and two teachers at Robb Elementary School in Uvalde on Tuesday. Texas Governor Greg Abbott said on Tuesday that Ramos was fatally shot by responding police officers.
Stephen Garcia, who identified himself as one of Ramos' best friends, told the Washington Post that after the 18-year-old suspected shooter posted a picture of himself on social media wearing eyeliner, he faced an array of harsh comments.
The Washington Post also spoke to other friends and family members who said that Ramos faced more bullying in middle school for speaking with a stutter.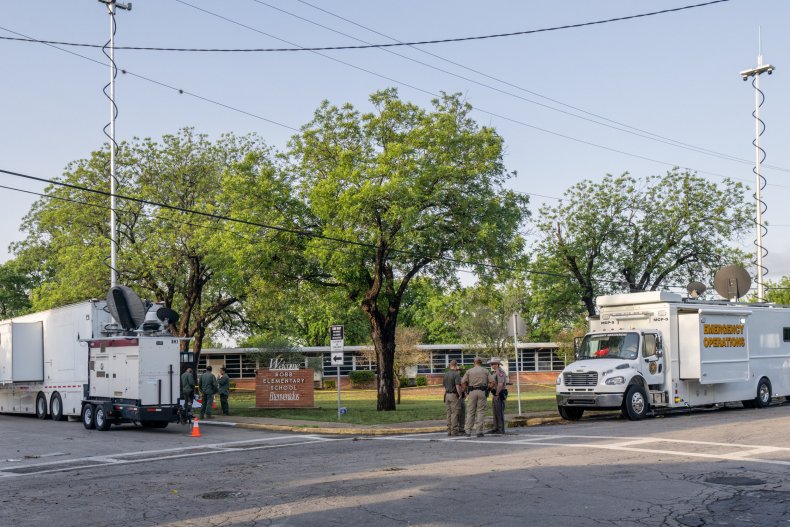 "He would get bullied hard, like bullied by a lot of people," Garcia told the Washington Post. "Over social media, over gaming, over everything."
It was reported Tuesday that 14 students were killed in the shooting, but on Wednesday morning, a spokesperson for the Texas Department of Public Safety told CNN that Ramos killed 19 children and two teachers in a single classroom.
"It was a classroom setting, a typical classroom setting where you have mass groups of children inside that classroom all together, with nowhere to go," Texas Department of Public Safety Lt. Chris Olivarez told CNN.
Ramos' cousin, Mia, told the Washington Post that she believed Ramos didn't "feel comfortable anymore at school."
"He wasn't very much of a social person after being bullied for the stutter," she told the Washington Post.
Another friend, 18-year-old Santos Valdez Jr., told the Washington Post about an incident in which Ramos showed up to a park with cuts on his face. According to Valdez Jr., Ramos later revealed that he cut himself for fun.
While speaking with CNN on Wednesday, Texas state Senator John Whitmire said that Ramos legally purchased two assault-style rifles just a few days before the shooting. According to CNN, Whitmire added that one of the rifles was found in Ramos's possession after the shooting, while the other was in his vehicle.
The shooting is the second deadliest in a school since the 2012 Sandy Hook Elementary School shooting in Newtown, Connecticut, that left 20 students and six teachers dead.
In a tweet on Wednesday, U.S. President Joe Biden further stressed the need for common sense gun laws to be passed.
"We know common sense gun laws can't and won't prevent every tragedy. But we know they work and have a positive impact," Biden wrote. "When we passed the assault weapons ban — mass shootings went down. When the law expired — mass shootings tripled."
Update 5/25/22, 11:20 a.m. ET: This story was updated with additional information.