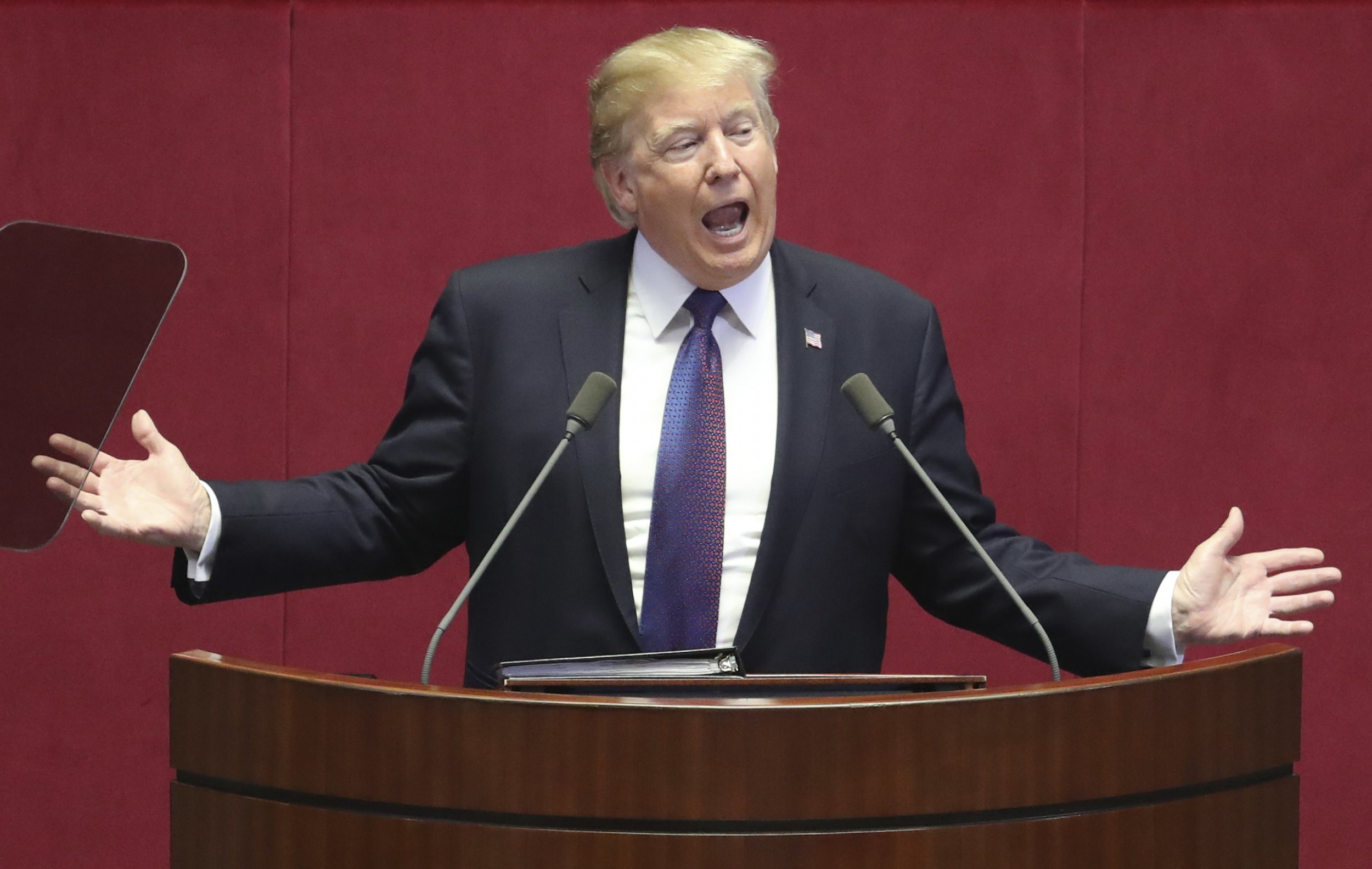 The percentage of voters who think Donald Trump is fit to serve as president hit an all-time low, according to a poll released on Tuesday.
Only 40 percent of registered American voters surveyed thought that Trump is fit to be president, while 57 percent did not think he is, the national poll by Quinnipiac University found. That's a dip from 43 percent who said he was fit versus 55 percent who thought he wasn't in an October 11 poll by the university, and 42 percent who thought so versus 56 percent who didn't think so in a September 27 poll.
The percentages of people saying Trump was an intelligent and strong person also dropped back to all-time lows in the poll.
Among respondents, 55 percent said Trump is intelligent, tying three other instances for the all-time low percentage out of 19 times the university has asked voters the question since November 22, 2016.
Regarding whether Trump is a strong person, 58 percent replied he is, tying the August 2 poll for the lowest of 19 times the poll posed the question.
"President Donald Trump returns from his big Asia trip to find numbers frozen in the negative," Tim Malloy, assistant director of the poll, said in a statement as the president wrapped up a 12-day tour abroad. "Ominously, there is creeping slippage in the base."
Trump's approval rating neared his lowest ever found by the poll—58 percent disapproved of the job he's doing as president compared to 35 percent who approved, nearing an August 2 poll in which 61 percent disapproved and 33 percent approved.
The university's poll was published the same day that Trump via Twitter touted a conservative-leaning survey by pollster Rasmussen on Monday that had his approval rating higher, at 46 percent.
"One of the most accurate polls last time around. But #FakeNews likes to say we're in the 30's. They are wrong. Some people think numbers could be in the 50's. Together, WE will MAKE AMERICA GREAT AGAIN!" Trump tweeted.
But "American voter opinions of most Trump qualities remain negative," the university's poll report states.
And a majority of respondents felt the president is not level-headed (65 percent), does not share their values (62 percent), does not have good leadership skills (59 percent), does not care about average Americans (59 percent) and is not honest (58 percent).
"Must feel like Groundhog Day in Trumpland," Malloy stated.
The university conducted its latest poll of 1,577 registered voters from November 7 to 13 through cellphones and landlines. It contains a margin of error of plus or minus 3 percentage points.