Trump Effort to Block Mike Pence Testimony Will 'Fail,' Ex-U.S. Attorney
Former U.S. Attorney Barbara McQuade argued that Donald Trump's attempts to prevent his former Vice President Mike Pence from giving testimony will "fail" and will only serve to delay the special counsel's investigation.
Pence was subpoenaed by the Department of Justice (DOJ) on February 9, after negotiations between his team and special counsel Jack Smith reportedly broke down. The former vice president is being compelled to testify before a grand jury about Trump's involvement in the attempt to overturn the results of the 2020 presidential election.
The former vice president is considered a key witness in the case, as one of Trump's primary arguments during that time was that his Pence had the authority to throw out election results during the certification process. That claim is not backed up by the Constitution, and was disputed by Pence himself.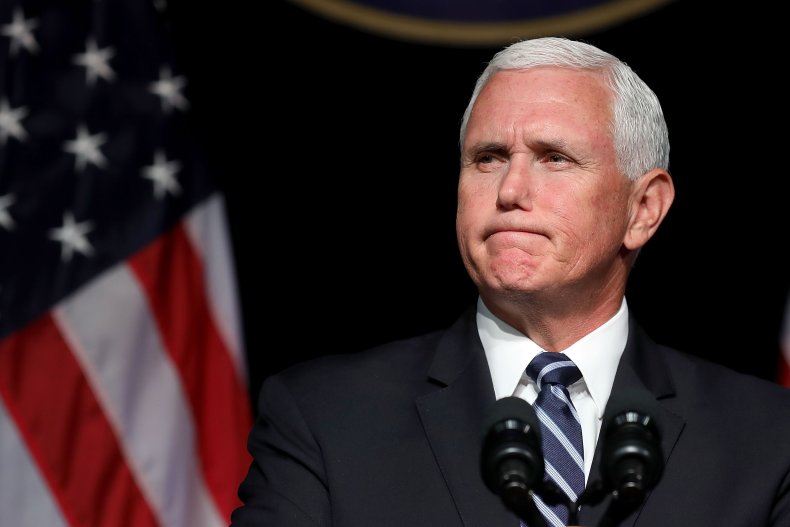 According to a Friday filing recently obtained by The New York Times, Trump and his legal team are now asking a federal judge to prevent Pence from testifying before a grand jury. The former president's team argues that the information being sought from Pence is protected by executive privilege, an argument they have made numerous times in the past to prevent administration aides and staffers from giving testimony.
In response to news of this filing, McQuade, a legal analyst and former U.S. Attorney for the Eastern District of Michigan, insisted that the tactic would not work, citing a precedent established during the administration of former President Richard Nixon, a Republican.
"Trump's effort to block Pence's grand jury testimony with executive privilege will fail under Nixon precedent, but will cause further delay," McQuade wrote in a tweet. "The ticking clock is getting louder."
McQuade's tweet referred to the July 1974 Supreme Court decision in the case of United States vs. Nixon, in which the former president argued that the concept of executive privilege allowed him to withhold the confidential Watergate tapes from other government branches. The the nation's top court ultimately decided against Nixon in a landmark decision that set boundaries on the extent of executive privilege.
"We conclude that when the ground for asserting privilege as to subpoenaed materials sought for use in a criminal trial is based only on the generalized interest in confidentiality, it cannot prevail over the fundamental demands of due process of law in the fair administration of criminal justice," Chief Justice Warren Burger wrote at the time.
The DOJ preemptively filed an argument asserting that executive privilege could not be used to prevent Pence from testifying. The former vice president has said that he intends to fight the subpoena, albeit on different legal grounds.
Newsweek reached out to Trump's team for comment.