The Moment Liberals Knew Trump Won: 24 Horrified Quotes, Pictures and Tweets That Capture Election 2016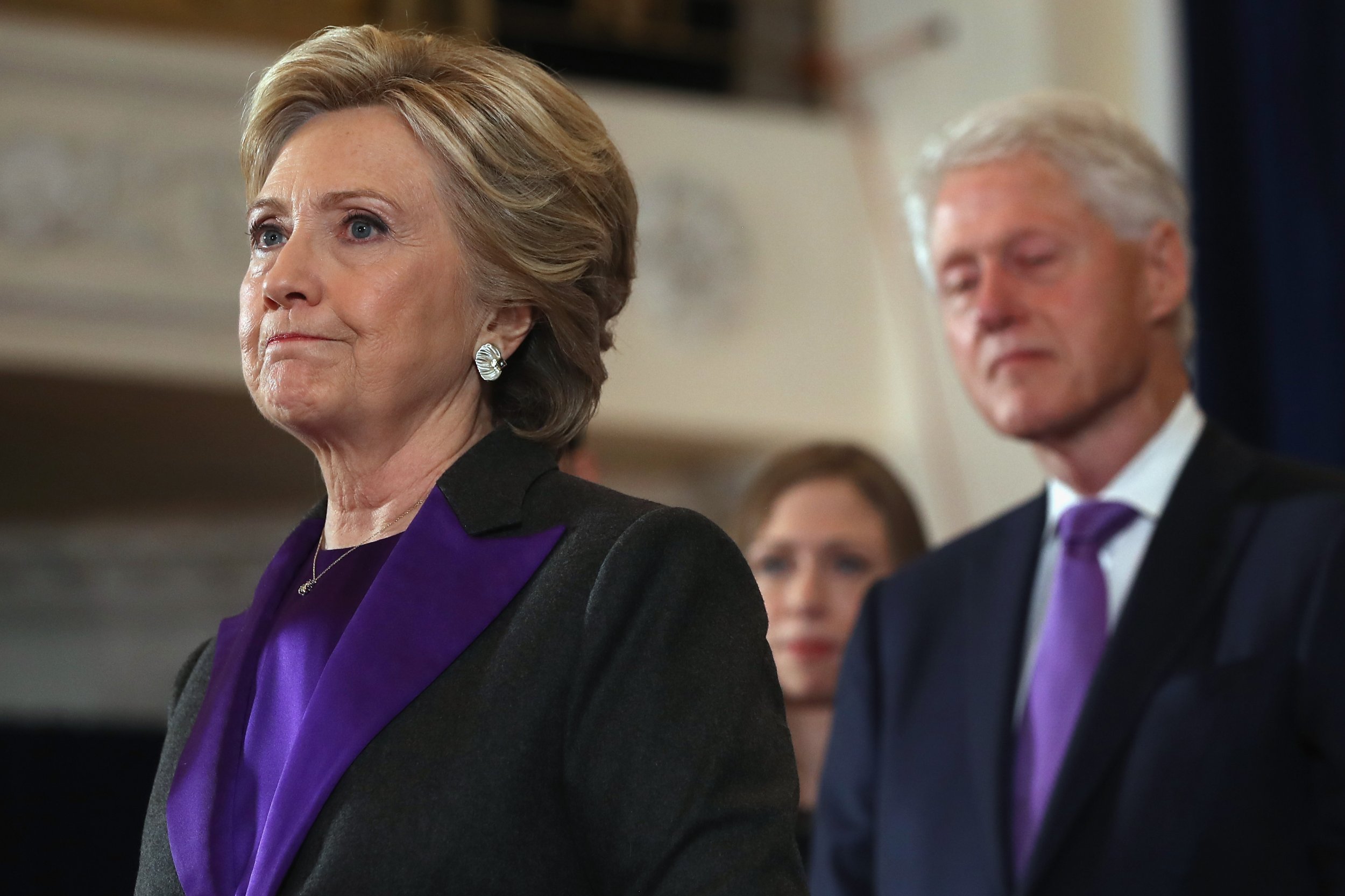 Updated | Rage, disbelief, jubilation—everyone reacted a little bit differently one year ago when Republican Donald Trump won the presidential election over Democrat Hillary Clinton.
Trump sent the left into a tailspin as he proved the polls and pundits wrong and nabbed more than 300 Electoral College votes. And while some high-profile liberals' concerns may have been warranted—since Trump's inauguration, he's rolled back protections for immigrants, withdrawn the U.S. from the Paris climate agreement and provoked North Korea to the brink of war—many of their reactions were a little dramatic.
"You're awake by the way," MSNBC host Rachel Maddow helpfully pointed out to viewers in an October clip shared widely on election night. "You're not having a terrible, terrible dream. Also, you're not dead, and you haven't gone to hell. This is your life now."
She wasn't alone in her extreme response. This is America, and there's nothing we love more than being over-the-top. On the anniversary of Trump's victory, social media users have even invented a new meme: "Me on Election Day 2016 vs. Me on Election Day 2017." People pair photos, usually one of a movie character looking nice and one looking harried, side by side.
We regularly scrutinize right-wing figures for their outrageous remarks, so why not do the same for the left? Here's a quick look back at how some outspoken liberals reacted when Trump won on November 8, 2016.
"This was a primal scream on the part of a lot of voters who are disenchanted with the status quo." —former Barack Obama adviser David Axelrod on CNN
"I'd like to begin by congratulating the FBI on its successful coup against the electoral process of the United States of America. You've been working on one of these for a while, boys, and I know everybody at the bureau is just delighted that the F can now also stand for Fascist." —commentator Keith Olbermann
"America has now jumped off a constitutional cliff ... This is now Trump's America. He controls everything from here on forward. He has won this campaign in such a decisive fashion that he owes no one anything. He has destroyed the GOP and remade it in his image. He has humiliated the elites and the elite media. He has embarrassed every pollster and naysayer. He has avenged Obama. And in the coming weeks, Trump will not likely be content to bask in vindication." —blogger Andrew Sullivan
"I guess Brexit doesn't seem so bad now." —comedian Ricky Gervais
"Did you read Wikileaks? Well, you should have. The 'conspiracies' were true, and the mainstream media lied to you to [sic] about everything." —tech executive Trent Lapinski
"I'll say it: This is the victory of the uneducated and uninformed. Now more than ever that looks impossible to fix. They now rule." —journalist Jeff Jarvis
"Take over the Democratic Party and return it to the people. They have failed us miserably ... Fire all pundits, predictors, pollsters and anyone else in the media who had a narrative they wouldn't let go of and refused to listen to or acknowledge what was really going on. Those same bloviators will now tell us we must 'heal the divide' and 'come together.' They will pull more hooey like that out of their ass in the days to come. Turn them off." —filmmaker Michael Moore
"All pollsters should be tarred and feather[ed]. Every single one of them. Next time someone shows me a poll, I'm using it to wrap dead fish." —political commentator Ana Navarro
"Is this what it felt like when people first realized Hitler could actually take power?" —Zynga founder Mark Pincus
"[The White House, Senate and House of Representatives are all the same party] and then the FBI has stuck its nasty little nose in the middle of this. Plus the Supreme Court, who knows where that's going to go? So the only checks and balances we have are us, The View. That's it!" —The View host Joy Behar
"Winter is coming. I told you so." —Game of Thrones author George R.R. Martin
Correction: An earlier version of this story implied that Maddow's quote came on election night, but it actually came from an October broadcast that was widely reposted on election night.