Trump Endorses 'Eric' for Missouri's U.S. Senate Candidate, But Which One?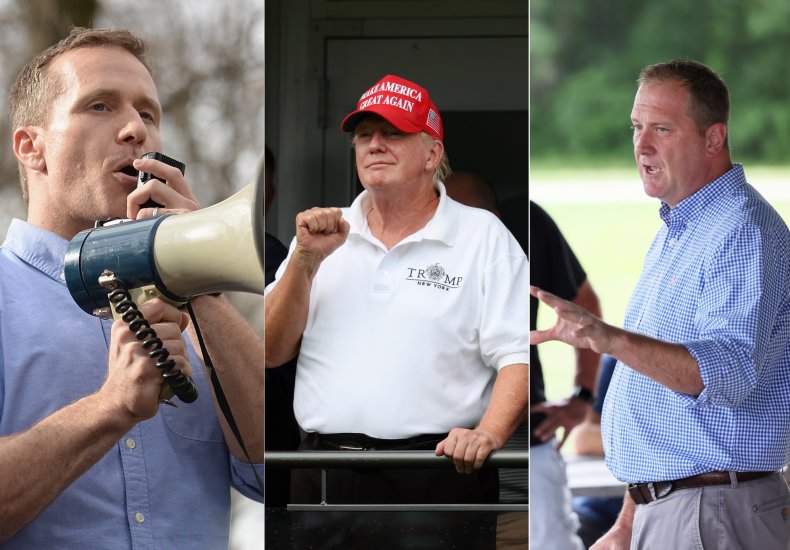 Former President Donald Trump has endorsed "Eric" in the Republican primary for a U.S. Senate seat in Missouri, a race where the two top candidates share the same first name.
Missouri Attorney General Eric Schmitt and former Missouri Governor Eric Greitens have traded frontrunner status over the past several months, although most recent polls have shown Schmitt pulling ahead just before Tuesday's GOP primary. Each candidate took to social media to claim that Trump's ambiguous endorsement referred to them shortly after the former president weighed in on the race.
Trump seemingly praised both candidates for qualifying as a "MAGA Champion" taking on "Radical Left Lunatics" before saying that he would "trust" Missouri Republicans to "make up their own minds" on the primary in a statement posted to his Truth Social account.
"There is a BIG Election in the Great State of Missouri, and we must send a MAGA Champion and True Warrior to the U.S. Senate, someone who will fight for Border Security, Election Integrity, our Military and Great Veterans, together with having a powerful toughness on Crime and the Border," Trump said. "We need a person who will not back down to the Radical Left Lunatics who are destroying our Country."
"I trust the Great People of Missouri, on this one, to make up their own minds, much as they did when they gave me landslide victories in the 2016 and 2020 Elections," he added. "I am therefore proud to announce that ERIC has my Complete and Total Endorsement!"
About eight hours before backing "Eric," Trump teased the endorsement with a Truth Social post informing followers that he would "be Endorsing in The Great State of Missouri Republican race (Nomination) for Senate sometime today!"
Within minutes of Trump's endorsement statement being issued, Greitens tweeted a seemingly prepared graphic proclaiming "President Trump Endorses Eric Greitens for U.S. Senate in Missouri" alongside the comment, "Honored to have the support of President Trump! We will MAGA!"
"I'm honored to receive President Trump's endorsement," Greitens added in a tweet a short time later. "From the beginning, I've been the true MAGA Champion fighting against the RINO establishment backing Schmitt."
"President Trump said it best when he characterized Schmitt's campaign as 'great dishonesty in politics,'" he continued, referring to a Truth Social post that the ex-president had made in relation to a Breitbart article about a polling firm associated with a Schmitt campaign consultant allegedly undercounting support for Trump in a survey on the 2024 GOP presidential primary.
Schmitt also claimed that Trump's endorsement referred to him in a statement posted on social media, while his campaign shared a graphic of him next to Trump with the words "Proudly Endorsed by President Trump."
"I'm grateful for President Trump's endorsement," Schmitt tweeted. "As the only America First candidate who has actually fought for election integrity, border security & against the Left's indoctrination of our kids—I'll take that fight to the Senate to SAVE AMERICA!"
Pro-Trump Republicans who favored both candidates also shared the dueling endorsement claims on Twitter. Representative Matt Gaetz of Florida commented that Greitens had received a "great endorsement," while Fox News host Dan Bongino backed Schmitt's claim with the comment, "This is the guy. Period."
Newsweek has reached out to Trump's office for clarification and comment.