Donald Trump's Anti-Semitism Envoy Calls For Armed Guards At Every Synagogue and Jewish School Across the U.S.
President Donald Trump's anti-Semitism envoy has called for armed guards to be stationed outside every synagogue, Jewish school and Jewish community center amid rising incidents of anti-Jewish hate crime across the United States.
Elan Carr, who has been appointed by the Trump administration to address issues of anti-Semitism at home and abroad, said the armed guards were necessary as the U.S. contended with a "time of danger."
"Any synagogue, every JCC, should have guards. God willing, may they never be needed, but they should be there," Carr said during an interview Wednesday at the Global Coalition 4 Israel Conference, according to the Jewish Telegraphic Agency.
Carr went on to tell the conference that the president was working to stop anti-Semitism across the world. "The rhetoric of the president couldn't be clearer. Every time the president speaks on this issue, he calls it [anti-Semitism] a vile poison that must be rooted out," Carr said. "If you go after the Jews, we're coming after you," he added.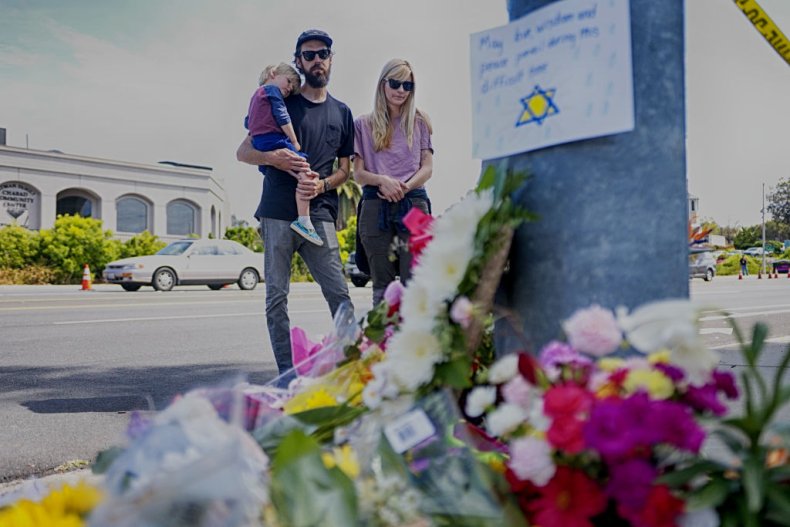 The anti-Semitism envoy, a former Los Angeles prosecutor and a veteran of the Iraq war, also called on both sides of the political divide to join in the pushback against anti-Semitism. "All decent people—Jewish and not Jewish—need to do it together. I don't care what ideological clothing it wears, Jew hatred is Jew hatred, we need to fight it and oppose it and that's got to be the message," Carr said.
Despite the Trump administration's tough talk on anti-Semitism, the Anti-Defamation League reports that anti-Semitism has reached historic highs in the United States. In 2018 the group reported 1,879 recorded attacks against the Jewish community.
Recent polling has shown some 60 percent of American Jews say President Donald Trump "bears at least some responsibility" for the synagogue shootings in Pittsburgh, Pennsylvania, and Poway, California, a new poll has shown.
The poll, carried out by Democratic pollster Stan Greenberg, sampled 1,000 Jewish voters across the country between May 6-12. It also showed 73 percent of Jewish Americans felt less secure than they did two years ago.
Following on from this, as the rise of white nationalism becomes a growing concern, 71 percent of those polled said they disapproved of the way the president was handling anti-Semitism. Some 38 percent have concerns that President Trump is "encouraging violent ultra-right extremists."
Amid the rise in anti-Semitic incidents, the October 2018 synagogue slayings in Pittsburg in which 11 worshipers were killed and seven injured, and April's shooting at Poway synagogue in California where one individual was killed and three others were injured, were flash points of violence directed against Jews.