Trump's Time Cover Hanging at Mar-a-Lago Is Fake, but the Newsweek Isn't: Here's the Story Behind It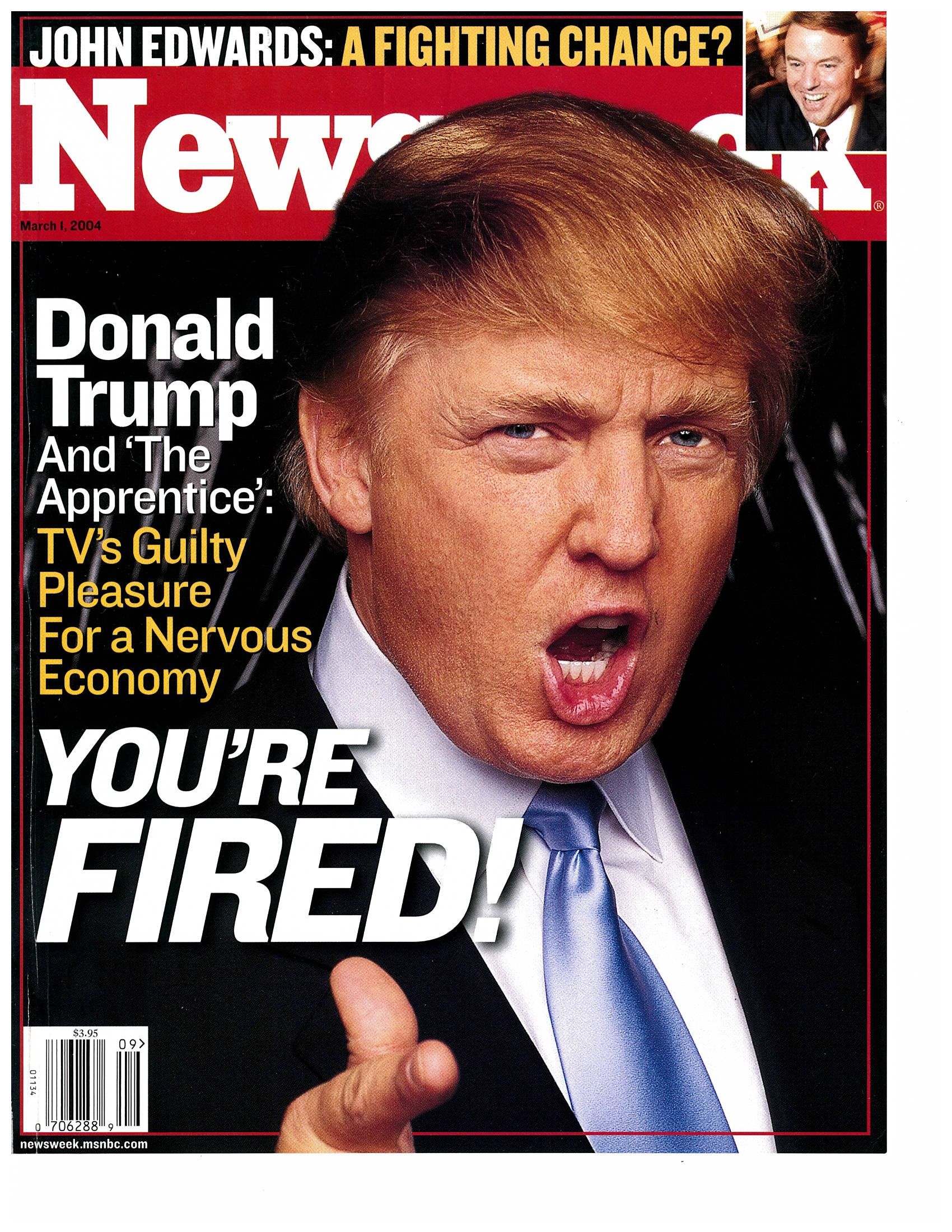 A fake Time magazine cover featuring President Donald Trump was spotted hanging at several of his properties. But at the Mar-a-Lago Club, his resort in Palm Beach, Florida, a Newsweek cover hanging next to the phony Time is real. The cover is from the March 1, 2004, edition, and it reads, "You're Fired! Donald Trump and 'The Apprentice': TV's Guilty Pleasure for a Nervous Economy."
The Washington Post first reported on Tuesday that the fake Time cover was hanging in at least five of Trump's clubs. That cover is dated March 1, 2009, and says, "Donald Trump: The 'Apprentice' is a television smash!" and "TRUMP IS HITTING ON ALL FRONTS...EVEN TV!"
A Time spokeswoman confirmed to the Post that the cover is not real and said the magazine had asked the Trump Organization to take down the covers. The Trump Organization did not respond to questions from the Post on the subject, and White House spokeswoman Sarah Huckabee Sanders declined to comment to the Post. The Trump Organization was not immediately available to respond to Newsweek's request for comment about the covers.
Related: Fake Trump Time magazine covers hang in his golf clubs
On Tuesday, Scott Keeler, a photojournalist at the Tampa Bay Times, tweeted a photo of the fake Time cover at Mar-a-Lago. The real Newsweek cover can be seen hanging on a wall next to it.
The 2004 Newsweek article begins, "Just a decade ago, he was a punch line, a combed-over relic from the decade of greed. But he's back, and bigger than ever, thanks to his new hit reality show." The nine-page spread called The Apprentice "the most addictive show on television," and it was then drawing more than 18 million viewers each week.
"It's one of my most memorable reporting experiences ever," says Keith Naughton, who was Newsweek's Detroit bureau chief and wrote the article with Marc Peyser. Naughton spent two days with Trump and Melania (née Knauss) at Mar-a-Lago. He remembers phoning Trump about doing the story. "Those days there were no PR people. I just called the secretary, and she patched me through," he says. "Trump kept telling me, 'You should put this on the cover.'" When his editors decided to do so, Naughton told Trump, and the businessman replied, "I'm glad you listened to me."
Naughton flew to Mar-a-Lago, while Peyser handled work from New York. Naughton says he stayed in the honeymoon suite. A highlight for him was having dinner with Melania's parents while they were on what he says was their first trip to the United States. He also recalls watching The Apprentice with Trump and others in the club's "library" room. "When he would come on, he would turn the volume up to this deafening level," Naughton recalls, "and he would still be shouting commentary over the top." From the article:
Last week Trump watched the show from the wood-paneled bar at his extravagant Palm Beach resort, Mar-a-Lago. While the two teams were working through the week's challenge of renovating an apartment—in other words, the part of the show that does not feature him—Trump chatted with the crowd and provided running commentary. But when the climactic boardroom scene came on, he grabbed the remote control and cranked the volume up so loud that no one else could talk. "Who do you think gets fired?" he barked along with his televised self. "It's Tammy!" "It's Katrina!" people shouted back. Trump smiled and leaned over to kiss Melania's hand. Finally, Trump (on screen) delivered his verdict: "You're so obnoxious in this case, Tammy, you're fired." Trump (in person): "That was a tough firing." The room applauded as if he'd just returned home from war.
The reporter also spent time with Trump at the nearby Trump International Golf Club, where he played golf. Trump drove him around in his Maybach luxury car, and Naughton sat shotgun. "It became clear that he had never been in that driver's seat before," Naughton says.
A sidebar to the 2004 Newsweek cover story, titled "The Donald and the Democrats," mentions the presidential aspirations Trump had a few years earlier. "The Democrats these days are not exactly the party of Mar-a-Lago," Jonathan Alter wrote. "It's not just that they want to repeal the tax cuts for people who make more than $200,000 a year. The challenge for Democrats is that the young Trumpsters and the viewers who follow them fervently hope to make at least 200 grand someday; they would like to have their own tax breaks."
Trump has been known to show off his magazine covers, including Newsweeks. Naughton, the former Newsweek writer, says he once spotted his 2004 cover hanging in Trump's office at Manhattan's Trump Tower. And a November 2015 video by The Washington Post shows a Newsweek cover from September 28, 1987, hanging on that office wall. ("Trump: A Billion-Dollar Empire and an Ego to Match," the cover says.)
Another Newsweek, from August 14, 2015, appears on the then-presidential-candidate's desk. It features Trump surrounded by speech bubbles saying, "I like people who weren't captured," "I love the Mexican people," "Everybody loves me" and more of his real quotes.