Trump 'Fears' Both Criminal and Civil Investigations in New York: Michael Cohen
Michael Cohen said that he believes former President Donald Trump "fears" both the civil and criminal investigations into him and his business moving forward in New York under the direction of state Attorney General Letitia James.
In New York, James is conducting a civil investigation into whether Trump manipulated property values on official statements to benefit himself financially. Meanwhile, the Manhattan District Attorney Alvin Bragg—alongside James—is pursuing a criminal investigation into the former president and his business practices in tandem with the civil probe.
Cohen, who served as an attorney for Trump, gave his assessment of how Trump views the investigations during an interview with MSNBC on Saturday. Cohen was previously described as Trump's "fixer" and was a vice president in the Trump Organization.
"So, he fears both of them," Cohen responded when asked about Trump's concerns regarding the two New York probes. Cohen explained that with the civil lawsuit, Trump would "ultimately be responsible for very, very, very significant amounts of penalty when this case comes to fruition."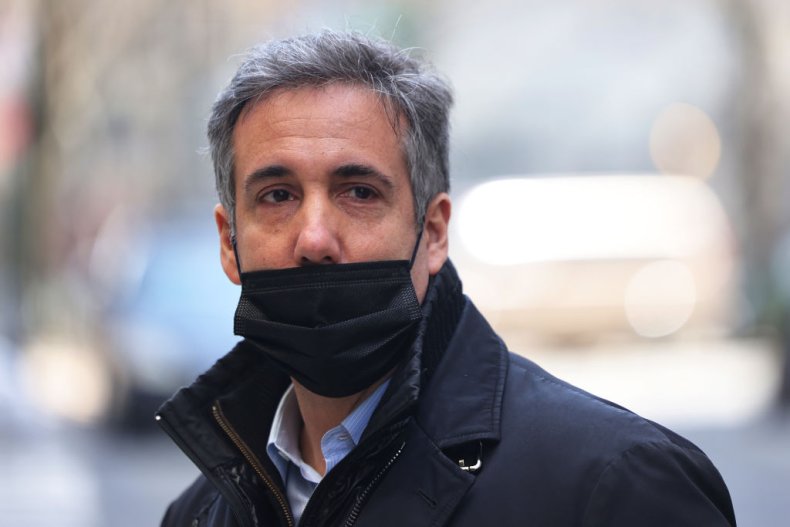 "You have to remember that Donald and his dollars are synonymous. His only self worth to himself, of course, is how much he claims to be worth," Cohen said. "Now, I also want to remind you that the attorney general's office is working in tandem with the district attorney's office ... What makes this case unusual is they are working together ... so the result in one will ultimately be the result in another."
Later in the segment, Cohen dismissed the possibility that Trump would consider sacrificing himself to shield his children from potential prison time. He shared an anecdote from a conversation with the former president, in which he said Trump told him that he would prefer Donald Trump Jr. go to prison instead of Ivanka Trump.
"And Donald said it to me—I mean, I wouldn't say it if it wasn't said directly to me—he goes, 'If one or the other has to go to prison, make sure that it's Don because Don would be able to handle it,'" Cohen said. He asserted that there's "not a chance" Trump would cooperate with investigators to shield his children.
In August 2018, Cohen pleaded guilty to charges including campaign finance violations, tax fraud and bank fraud as he was caught up in special counsel Robert Mueller's investigation into Russian interference in the 2016 election. He was disbarred as a lawyer and sentenced to three years in prison. Cohen went on to cooperate with investigators and has become a consistent critic of Trump in the media.
Whether New York's civil and criminal investigations into Trump result in penalties for the former president remains to be seen. Trump and his attorneys have consistently argued that the probes are politically motivated. They have said that James leading the investigations is not proper because she previously described Trump as an "illegitimate" president.
Newsweek reached out to Trump's press office for comment but did not immediately receive a response.