Trump Files 2017 Tax Return, Claims Automatic IRS Audit Is 'Extremely Unfair'
President Donald Trump and first lady Melania Trump have filed their federal income tax returns for 2017, although that doesn't mean they will be made public.
Ever since he started to campaign for the presidency, Trump has refused to release his tax returns, saying two or three years of his returns were under audit, but there is nothing in the law that would prevent him from releasing his taxes while an audit is underway. The White House has insisted that the American public is not interested in Trump's taxes.
White House press secretary Sarah Huckabee Sanders said: "The president and first lady filed their taxes on time and as always, they are automatically under audit, which the president thinks is extremely unfair," CBS News reported.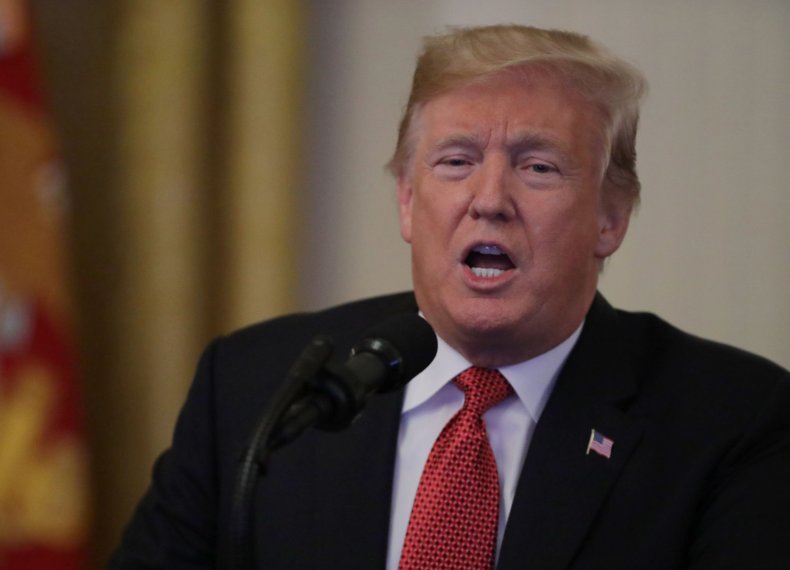 She did not say whether the tax returns would be made public and if they would show how much he earned as chairman and president of the Trump Organization. Trump has donated his $400,000 presidential salary quarterly to various federal departmets and projects, such as the National Parks Service and to Veterans Affairs.
Every president since Richard Nixon has voluntarily released their tax returns in some form, and media organizations have been fighting to get hold of Trump's ever since he started his presidential run in 2015.
In 2016, The New York Times reported that in 1995, Trump had lost $916 million, which if declared meant he could legally avoid paying federal taxes for up to 18 years. The Times also reported how Trump had taken part in dubious tax schemes in the 1990s, "including instances of outright fraud."
In 2017, DCReport.org reported that Trump's federal return for 2005 showed he paid $38 million on $150 million income, a rate of around 24 percent, the normal level for any citizen.
Trump's taxes have dogged his presidency. Earlier this month, The Times reported that Trump had dodged tax payments on $413 million funneled to him from his father's real estate empire.
New York state's Department of Taxation and Finance stated that authorities would investigate the matter, while New York Mayor Bill de Blasio said: "The city of New York is looking to recoup any money that Donald Trump owes the people of New York City, period."
Trump has touted his Tax Cuts and Job Act of 2017 as one of his major achievements in office. It his taxes do not become public, though, it would be difficult to assess how the law has affected his own tax burden.
The Republican-led tax plan reduced corporate tax rates from 35 percent to 21 percent and slashed some individual rates until 2025.
A poll by the Republican National Committee found, however, that most voters—61 percent—believed the tax cuts would benefit the wealthy instead of average Americans.
In 2025, a quarter of tax benefits will go to the wealthiest 1 percent of Americans, and 66 percent would go to the top 20 percent of earners, according to the Urban-Brookings Tax Policy Center.