Will Trump Fire John Kelly? President Enraged By Chief Of Staff's Wall Comments, Reports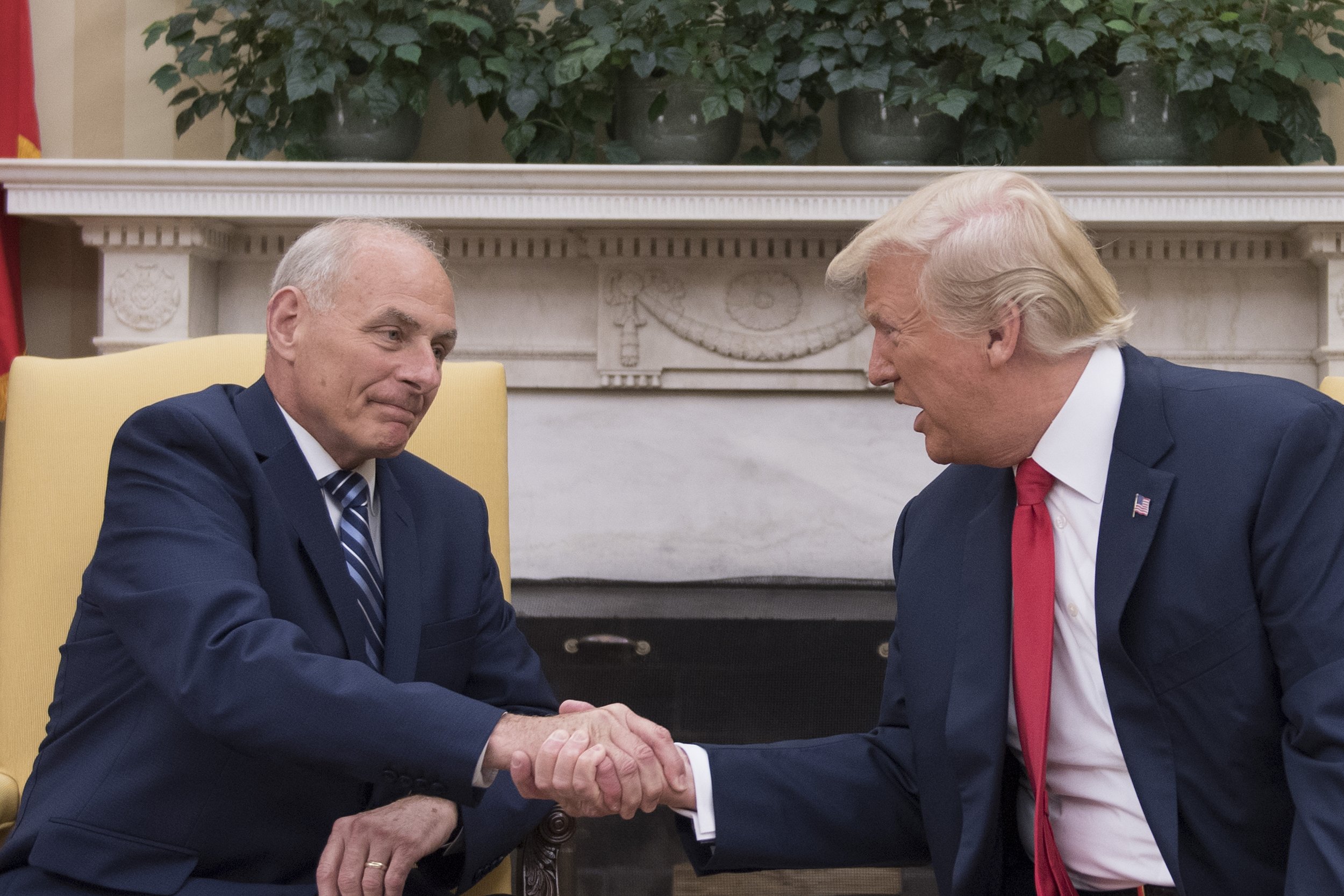 President Donald Trump is reportedly displeased with Chief of Staff John Kelly's recent comments about the Republican's long championed border wall and how the commander-in-chief's views on immigration have "evolved," according to media reports.
On Wednesday, Kelly spoke with Fox News and said the president's original idea for a border wall was not "fully formed."
"He has evolved in the way he's looked at things," Kelly said. "Campaign to governing are two different things, and this President has been very, very flexible in terms of what is within the realm of the possible."
"He's changed his attitude towards the DACA issue and even the wall," the former secretary of Homeland Security added.
Trump heard the interview and "hated" the comments, CNN reported Thursday, citing an unnamed source familiar with the matter.
The president seemingly expressed his displeasure on Twitter Thursday morning, writing that his views and the country's need for a wall along the U.S. and Mexico's border had not changed at all. He also insisted Mexico would pay for the wall's construction in some manner or another.
"The Wall is the Wall, it has never changed or evolved from the first day I conceived of it. Parts will be, of necessity, see through and it was never intended to be built in areas where there is natural protection such as mountains, wastelands or tough rivers or water," Trump tweeted.
There has been no clear indication Trump is completely unhappy with Kelly, or that he would dismiss a chief of staff for the second time in less than one year in office.
But Axios reported Thursday that Kelly could catch the president's ire for presenting himself as the man behind the curtain. A source told the publication that Kelly could be going down the road taken by former White House chief political strategist Steve Bannon, who took credit for helping Trump defeat Democrat Hillary Clinton and was dubbed "The Great Manipulator."
"Kelly has finally ventured into Steve Bannon territory when it comes to trying to create the perception that he's the 'great manipulator,' saving the country from Trump's ignorance," the unnamed source told Axios. "The difference is, Steve tried to develop that reputation in off-the-record conversations with reporters. Kelly did it openly on the country's most-watched cable network. It's the subtle difference between hubris and arrogance."
Kelly took over as chief of staff in July after Reince Priebus was dismissed six months into Trump's administration. The retired general, who was serving as Homeland Security secretary, was tapped to bring order to a West Wing in seeming dissary.
Kelly, who Trump's former bodyguard claimed did not "like" the president personally, reportedly took on the job out of a sense of duty and used his rich military experience to keep the young administration pointed at its aggressive agenda.
The changes made by Kelly included shutting off access to Trump's office to keep him focused, including unannounced intrusions by White House senior adviser Ivanka Trump and recently departed aide Omarosa Manigault.