Trump Fires Back at CBC for Removing His 'Home Alone 2' Cameo, Blames Trudeau, Says the 'Movie Will Never Be the Same'
President Donald Trump jokingly fired back at the Canadian Broadcasting Corporation (CBC) and the country's leader Justin Trudeau on Thursday after his cameo was cut from the nation's airings of Home Alone 2: Lost in New York.
In the original 1992 Christmas classic, the film's main character Kevin McCallister runs into Trump in the Plaza Hotel after being separated from his parents—again. He asks the then-businessman for directions to the lobby and Trump obliges before walking away.
Over the past week, Canadian broadcaster CBC aired the film with the president's cameo removed. Although CBC has said the edits were made in 2014, before Trump officially announced his 2016 presidential campaign, it hasn't stopped the president's supporters—including his eldest son Donald Trump Jr.—from accusing the network of bias.
"The movie will never be the same! (just kidding)," the U.S. president tweeted. "I guess Justin T doesn't much like my making him pay up on NATO or Trade!"
Trump's remarks on Boxing Day comes after he touted his appearance in the film to service members on Christmas Eve. Speaking to some troops during a video conference, the president said he was honored to appear in a film that he called "one of the biggest" Christmas hits.
"A lot of people mention it every year, especially around Christmas," the president said. "They say... especially young kids... they say, 'I just saw you on the movie.' They don't see me on television as they do in the movie. But it's been a good movie, and I was a little bit younger, to put it mildly. And it was an honor to do it."
"And it turned out to be a very big hit, obviously," he added. "It's a big Christmas hit—one of the biggest. So it's an honor to be involved in something like that, you always like to see success."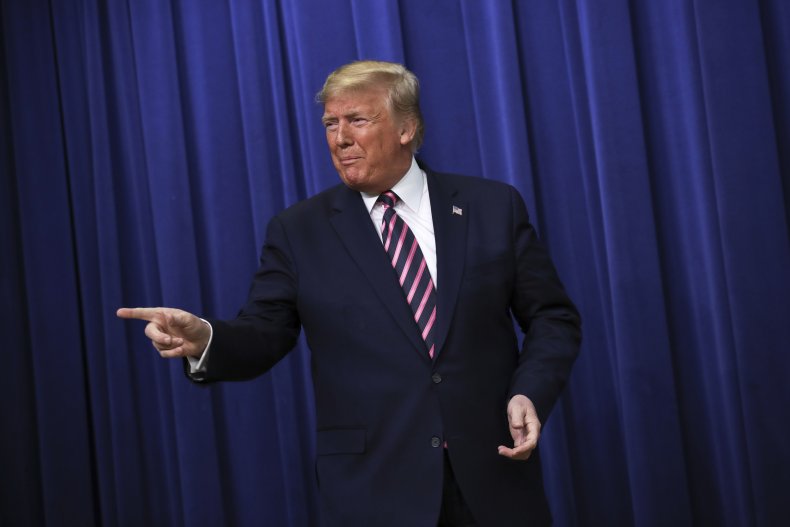 Although Trump is probably aware that Trudeau had no part to play in his removal from CBC's broadcast of Home Alone 2, his remarks came less than a month after he called the Canadian prime minister "two-faced" over a video that showed several world leaders mocking his length press conference at a NATO event in London.
"Well, he's two-faced," Trump said after a clip of the leaders discussing him quickly went viral. "And honestly with Trudeau he's a nice guy, but the truth is I called him out on the fact he's not paying 2 percent (in military spending) and I guess he's not happy about it."
Following the incident, the U.S. president canceled his next press conference and flew back to America. "When today's meetings are over, I will be heading back to Washington," he tweeted. "We won't be doing a press conference at the close of NATO because we did so many over the past two days. Safe travels to all!"