President Donald Trump may yet again reverse his stance on gun control after meeting with the powerful National Rifle Association gun lobby on Thursday.
The president met with the group along with Vice President Mike Pence after accusing Republicans of being afraid of the NRA and the power they wield on Capitol Hill during a bipartisan White House meeting discussing tougher gun laws Wednesday.
Trump and the vice president "support the Second Amendment, support strong due process and don't want gun control," tweeted the NRA's executive director Chris Cox after the meeting. "We all want safe schools, mental health reform and to keep guns away from dangerous people," Cox wrote.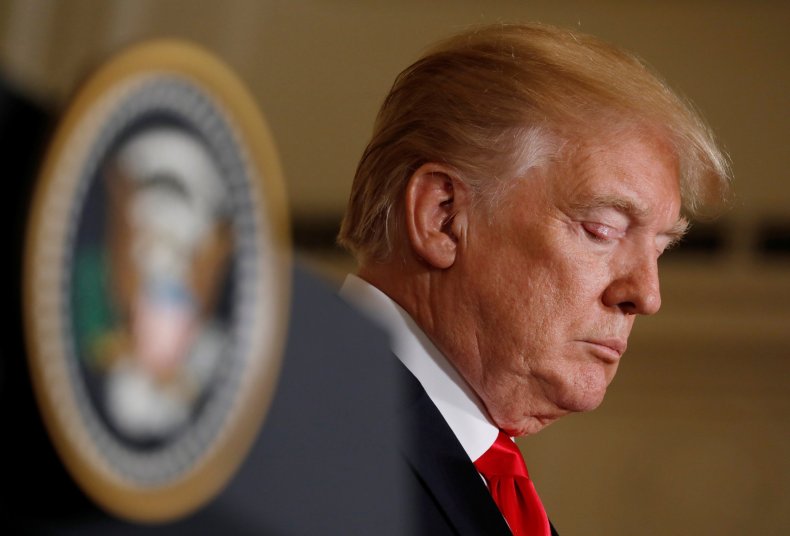 Questions about Trump's stance on the Second Amendment arose after he said guns should be taken away from the mentally ill without "due process" during Wednesday's meeting.
The NRA opposes several other measures Trump backed during the meeting with lawmakers. The president called for the age limit to buy assault weapons like the AR-15—a weapon used in the mass shooting that left 17 dead at a Florida high school last month—to be boosted from 18 to 21.
The NRA has asked the president directly not to back the measure in any gun reform laws. Yet Trump accused Pennsylvania Republican Senator Pat Toomey and others in his party on Wednesday of being too "afraid of the NRA" to add it to a bipartisan gun control bill they have put together.
Trump also appeared to back a potential ban on assault weapons proposed by Sen. Dianne Feinstein—a measure the NRA strongly opposes.
The gun lobby supports the president's proposal to arm teachers who go through training. He has also proposed issuing an executive order to ban bump stocks—a gun accessory that increases a weapon's rate of fire.
Read more: Trump won't need to run in 2020 if he backs taking guns from mentally ill without due process, says Fox's Laura Ingraham
NRA spokeswoman Jennifer Baker said most of the ideas discussed at the White House "made for great TV" but would "make for bad policy that would not keep our children safe."
Joe Biggs, an NRA member and head of Rogue Right, a hard right news startup, called Trump's proposals "the stupidest fucking thing I've ever heard in my life."
"Good (Great) meeting in the Oval Office tonight with the NRA!" Trump tweeted after meeting with the gun lobby group Thursday. White House press secretary Sarah Sanders called new gun laws an "ongoing process" during Thursday's press briefing.
The mass shooting at Marjory Stoneman Douglas High School last month has sparked outcry from students at the school and members of the public for lawmakers to take actions that will prevent further massacres. Yet lawmakers are unable to agree on what a bill should contain.
Without consensus on what a gun reform bill should look like Senate Majority Leader Mitch McConnell said the Senate will turn to other matters next week. "I'm hoping there's a way forward," he said.
Senate Majority Whip Republican John Cornyn dismissed Trump's meeting with lawmakers as "brainstorming" and likened it to "Legislating 101." Trump, he said, is not the one who is going to come up with a plan.
"Obviously, he's important," Cornyn said of the president's input, "but it's our job to write the legislation and he either vetoes it or he signs it."