Trump Won't Need to Run in 2020 If He Backs Taking Guns From Mentally Ill Without Due Process, Says Fox's Laura Ingraham
President Donald Trump's latest stance on gun control and the Second Amendment—that guns should be taken from the mentally ill without due process—will cost him re-election in 2020, said one of his most ardent supporters at Fox News on Wednesday.
Trump made the comments earlier in the day during a bipartisan White House meeting with lawmakers on school and community safety. He accused Republican Senator Pat Toomey of Pennsylvania and others in the GOP of being too "afraid of the NRA" to raise the minimum age to buy an assault weapon.
The debate over gun control follows the massacre of 17 people last month at a Parkland, Florida, high school, where the teenage shooter used an AR-15 rifle.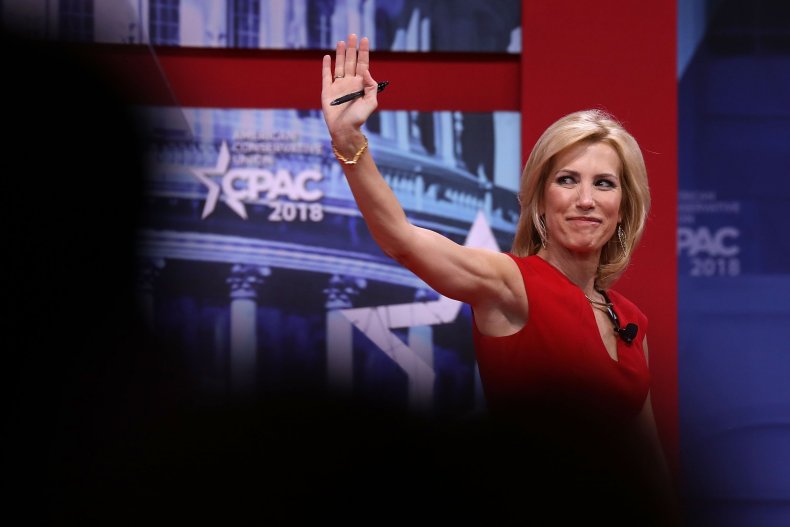 Trump called the National Rifle Association—the U.S. gun lobby—"great patriots," adding "that doesn't mean we have to agree on everything."
"It doesn't make sense that I have to wait until I'm 21 to get a handgun, but I can get this weapon at 18," Trump said of assault weapons. The NRA has appealed directly to the president to not back raising the age limit to purchase the weapons.
Toomey and Democratic Senator Joe Manchin of West Virginia are pushing a gun control bill that failed twice in the Senate after the 2012 massacre at Sandy Hook Elementary School. Trump told them to beef it up to raise the age limit for purchasing powerful firearms. The bill bolsters background checks for online and gun show sales.
Read more: Who are the victims of the Florida high school mass shooting? What we know so far
"WHAT??" wrote Fox host Laura Ingraham in response to Trump's drive for lawmakers to raise the age limit and accusation that they are afraid of the NRA.
Yet what Trump said about guns and the mentally ill is what got Ingraham most fired up.
"Take the guns first, go through due process second," Trump said in response to Vice President Mike Pence's suggestion that there be a federal gun violence restraining order modeled on a system in California.
"If the President @realDonaldTrump dives on the 2nd Am he won't have to worry abt who runs his 2020 campaign," Ingraham tweeted in response, putting double exclamation points next to Trump's comments about due process in another tweet.
"Take the firearms first, and then go to court," Trump told Pence. "A lot of times, by the time you go to court, it takes so long to go to court, to get the due process procedures," the president complained.
"I like taking the guns early, like in this crazy man's case that just took place in Florida. He had a lot of firearms. They saw everything. To go to court would have taken a long time," Trump said. "So you could do exactly what you're saying, but take the guns first, go through due process second."
"Due process must be respected…. It is a foundational principle of this country," said NRA spokeswoman Dana Loesch in response during an appearance on Fox News Wednesday. "The NRA is also going to protect due process for innocent Americans, and that is an approach that we are going to hold to."
During the Wednesday meeting, Trump also said he's going to target bump stocks—a gun accessory that modifies a rifle's firing rate—through an executive order. Trump continued to push for arming teachers and an increase in school security and resources for mental health.
The president said there needs to be a "comprehensive" approach to dealing with gun violence, but he has backed away from similar statements before after facing opposition from the NRA and GOP party members.
"I'm the biggest fan of the Second Amendment," Trump said, noting he has told the NRA something must be done. "We have to stop this nonsense."