Who Are the Victims of the Florida High School Mass Shooting? What We Know so Far
Updated | At least 17 adults and teenagers are dead after a 19-year-old suspect opened fire at a high school in Parkland, Florida, police said Wednesday. The shooting is now among the 10 deadliest in modern U.S. history.
Twelve people were killed inside Marjory Stoneman Douglas High School, and two just outside, Broward County Sheriff Scott Israel said during a press conference Wednesday. Another victim was killed on nearby Pine Island Road, he added. Two people, who were among the 16 injured taken from the scene, died at the hospital.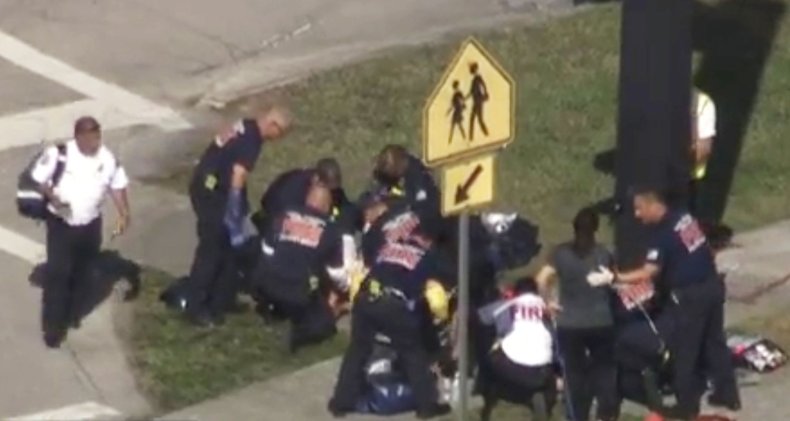 Nikolas Cruz, a 19-year-old former student at the school, was arrested, said Broward County Public Schools Superintendent Robert Runcie. Cruz is set to appear in court Thursday.
A law enforcement source told CNN that the suspect triggered the fire alarm so that he could draw students and staff out into the halls and increase the number of dead using an AR-15 style .223 caliber semi-automatic rifle.
A similar weapon was used last October in Las Vegas during the most deadly mass shooting in U.S. history in which 58 people were killed and 851 injured. Politicians from across the political spectrum have spoken out about the latest mass shooting, some calling for stricter gun controls, others offering their hopes and prayers.
Read more: NRA ally Marco Rubio wants to know "how this happened" before anyone mentions gun control
"No child, teacher or anyone else should ever feel unsafe in an American school," President Donald Trump tweeted, later writing he has been in contact with Florida Governor Rick Scott. "We are working closely with law enforcement on the terrible Florida school shooting."
On Thursday evening, The Broward Sheriff's Office held a candlelight vigil to remember the 17 victims. "We vow to never forget them," a message on Twitter read.
Jaime Guttenberg
Student Jaime Guttenberg is the first confirmed fatality. Local outlet ABC News 10 reported that Guttenberg's parents were notified that she died in the shooting after they had shared pictures of her on social media in hopes of locating her amid the panic. Guttenberg's Facebook page has since been turned into a memorial. Her brother Jesse Guttenberg is reported to be alive.
Early Thursday her father, Fred Guttenberg, confirmed his daughter's death in a "violent shooting at her school" on Facebook and called on people to "hold your children tight."
Gina Montalto
Montalto was friends with Guttenberg and the two took part in the The Friendship Initiative—an outreach group for children and young people with special needs—the group's Founder and President Jeb Niewood said in a Facebook post Thursday. Niewood confirmed Montalto's death.
"Our hearts are shattered because both Jaime and Gina were killed yesterday in the attack at Marjorie Stoneman Douglas High School," Niewood wrote. "Both these young girls gave their hearts and love as volunteers."
Martin Duque
The 14-year-old freshman who was reported missing on Wednesday was confirmed dead by Miguel Duque in a post on Instagram. "Words can not describe my pain. I love brother Martin you'll be missed buddy. I know you're in a better place. Duques forever man I love you junior!!!," he wrote. Martin Duque is pictured in the right of the photo on Instagram.
Alyssa Alhadeff
The soccer club that Alhadeff played with confirmed her death on Thursday in a Facebook post. "Alyssa will be greatly missed. Our thoughts and prayers go out to her family and all the other victims of this tragic event," said the South Florida United Youth Soccer Association in the post which included a message from Alhadeff's parents. "To Alyssa's Friends honor Alyssa by doing something fabulous in your life. Don't ever give up and inspire for greatness. Live for Alyssa! Be her voice and breathe for her," they said.
Chris Hixon
The school's Athletic Director Chris Hixon, 49, was shot during the attack reported The Sun-Sentinel. His wife Debra Hixon confirmed his death to CNN. "Every one of those students he thought of as his own kid," she told the network. "He loved being an American and serving his country and he instilled that in our kids," she said. He deployed to Iraq in 2007 as a Naval reservist.
Aaron Feis
Football coach Aaron Feis was among the first victims identified. The school's football team confirmed his death on Twitter early Thursday. Students told the Miami Herald that he was shot shielding them from gunfire. "We lost a football coach today," Sheriff Israel told reporters Wednesday, but did not name Feis. He was later reported to be alive but in critical condition by CBS12. His death was confirmed early Thursday.
Family members of staff and students at the school turned to social media to try and track down loved ones they hadn't heard from Wednesday. Another student at the school, senior Ben Wikander was reported missing by a family friend, but was later found "safe and sound."
More victims will be named as family members are notified about those who are deceased or injured. In the U.S., there have been 18 school shootings over the course of the past 45 days.
Carmen Schentrup, 16, was a National Merit Scholarship Finalist.
Meadow Pollack was 18 years old.
Her friend, Gii Lovito, posted about her on Facebook, writing, "Please say a prayer for the family of an amazing girl I got to call my best friend growing up." She continued, "Her life was taken way too soon and I have no words to describe how this feels."
Peter Wang was 15. According to The Miami Herald, his cousin said he was last seen opening a door so other people could escape.
Nicholas Dworet was 17 years old and had recently received a scholarship to join the swim team at the University of Indianapolis, according to The Indianapolis Star.
Luke Hoyer was 15. A cousin wrote on Facebook, "Tears will never show you how much I loved Luke. He had a whole life ahead of him and now I live through him."
Alaina Petty was 14 and a freshman. Her family released a statement, saying, "Alaina loved to serve. She served her community through her participation in the Marjory Stoneman Douglas JROTC program and her countless hours of service as a volunteer for the 'Helping Hands' program of The Church of Jesus Christ of Latter-day Saints," according to the religious website LDSliving.com
Helena Ramsey was 17. A Facebook post referred to her as "a beautiful, smart, quiet woman."
Scott Beigel
He was one of five teachers at the school who died on Wednesday. The 35-year-old taught geography and was a cross country coach. Beigel was shot as he helped students take shelter in this classroom. One of those students told Good Morning America's George Stephanopoulos, "He unlocked the door and let us in. I had thought he was behind me. But he wasn't." The student broke down into tears and continued, "When he opened the door, he had to re-lock it so we could stay safe, but he didn't get the chance to."
She added, "I'm so thankful that he was there to help everybody who did live in that classroom because he was in the doorway, and the door was still open, and the shooter probably didn't know we were in there because Mr. Beigel was laying on the floor. So, if the shooter would've came into the room, I probably wouldn't be speaking with you right now."
Joaquin Oliver was a 17-year-old from Venezuela who became a U.S. citizen over a year ago, according to The Miami Herald.
Cara Loughran, 14 years old.
"She was an excellent student, she loved the beach and she loved our girls," The Miami Herald cited her aunt, Lindsay Fontana. "While your thoughts are appreciated, I beg you to DO SOMETHING. This should not have happened to our niece Cara and it cannot happen to other people's families."
Alex Schachter was also 14. His dad told the New York Daily News that he was "the best little boy."
Update: This story has been updated with a full list of the 17 victims.