Trump Fumes Over Fox News' Live Coverage of Obama Speech Attacking Him
President Donald Trump called Fox News "disappointing" over the network's decision to live broadcast former President Barack Obama's rally event for Democratic nominee Joe Biden's campaign Tuesday.
"Fox puts [Obama] on all the time," Trump told reporters outside the White House, "Fox is very disappointing, that Fox puts on this—this would not have happened with Roger Ailes, I can tell you that."
Ailes, a longtime friend of Trump, was the former chairman and CEO of Fox News, a position from which he resigned in 2016 after more than a dozen female employees accused him of sexual assault.
Although Obama's speech was aired live by all three of the major national new networks, Trump specifically criticized Fox News' coverage of the event, tweeting, "Now Fox News is playing Obama's no crowd, fake speech for Biden, a man he could barely endorse because he couldn't believe he won."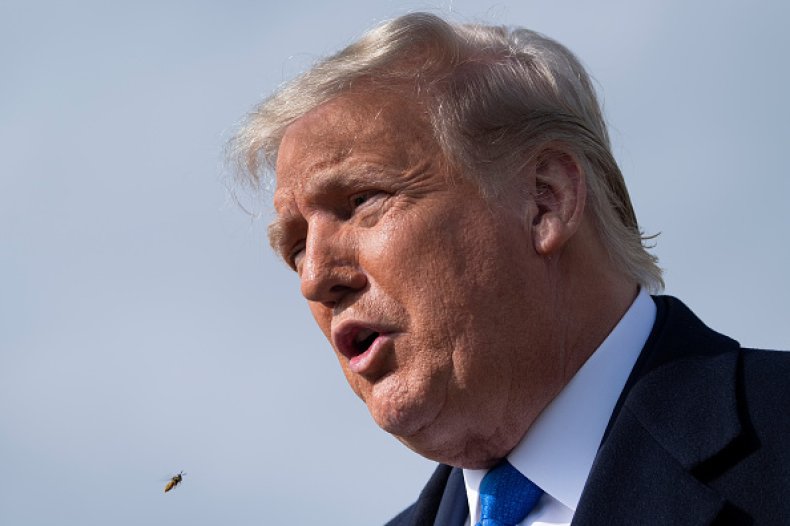 Obama appeared in Orlando on Tuesday to campaign on behalf of his former vice president, making a pitch for Biden over Trump, who Obama criticized for his handling of the coronavirus pandemic.
"What's Trump's closing argument?" Obama asked rally-goers. "That people are too focused on COVID. He said this, 'COVID, COVID COVID.' He's jealous of COVID's media coverage!"
The former president went on to call the White House, where at least three dozen staffers have tested positive for COVID-19, including Trump himself, a "hot zone" for the virus.
"The White House, let me say this, I lived in the White House for a while, it's a controlled environment. You can take some preventive measures to keep from getting sick. Except this guy can't seem to do it," Obama said. "He's turned the White House into a hot zone. Some of the places he holds rallies have seen spikes right after he leaves town."
However, Trump defended his response to the ongoing health crisis shortly after. When asked if voters should judge him as a president based on his handling of the virus, Trump told reporters, "Voters are judging me on a lot of things, and one of the things we've done a really good job on is COVID."
"We would have million people, right now, we would have millions of people dead," he said. "Two million people. They were projecting 2.2 if we didn't do what we did."
More than 210,000 Americans have died from the coronavirus since the pandemic began. Former White House staffers have since spoken out against the president, saying that he had purposely downplayed the severity of the virus to help his election campaign.
"More than 225,000 people in this country are dead. More than 100,000 small businesses have closed. Half a million jobs are gone in Florida," Obama told the crowd in Orlando.
He said if Trump "had been focused on COVID from the beginning, cases wouldn't be reaching new record highs across the country this week."
Obama has made several stops for Biden's campaign in recent weeks. With a week before Election Day, Obama's latest trip to Florida has demonstrated how important the battleground state and its 29 electoral votes will be for a path to the White House.
Newsweek reached out to Fox News for comment but did not hear back before publication.