Garrett Ziegler Rants About 'Anti-White' Jan.6 Committee in Viral Clip
A rant made by a former Donald Trump White House aide following his meeting with the January 6 committee has gone viral on social media.
Garrett Ziegler met with the House panel on Tuesday. He had informed his Telegram followers on Monday that he was meeting with the committee.
"Yours truly going before the scam committee on Tuesday morning," he wrote in the Telegram post.
"Such a joke, but don't worry, I'll do nothing but tell the truth: Trump did nothing wrong and the election was stolen. Make America Great Again."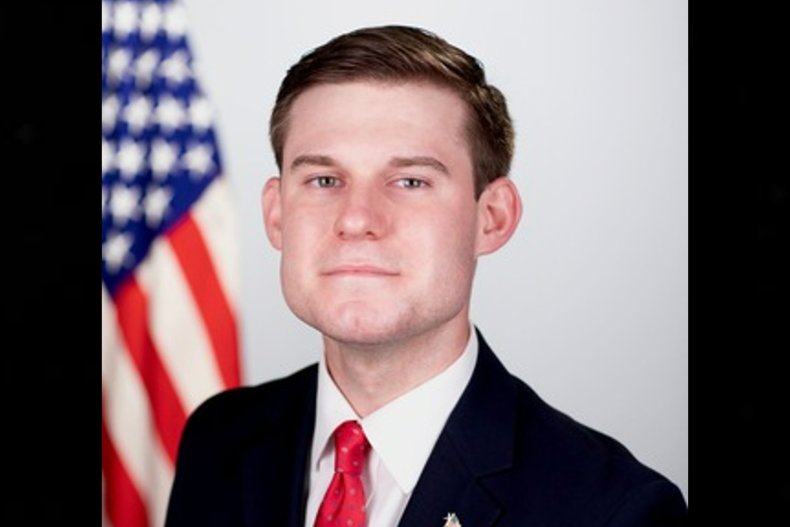 The committee was likely interested in hearing from Ziegler because of his ties to a White House meeting where former President Donald Trump's outside allies allegedly tried to convince him to declare martial law and use the military to seize voting machines, according to a CNN report.
Ziegler was a former aide to Trump White House trade adviser Peter Navarro.
Following his meeting, snippets of a 27-minute rant he later posted on his Telegram page after the meeting have gone viral on Twitter.
Ziegler accused the committee of being "anti-white" while also negatively speaking about his former female colleagues.
The clips were posted by the Twitter page of the anti-Trump group, Republican Accountability Project, and one of the videos has been viewed more than 760,000 times.
"Garrett Ziegler, a former Trump White House aide, lost his mind after his interview with the January 6 committee yesterday," the page captioned the video.
"He accused the committee of being 'anti-white' and referred to his female colleagues who spoke out against Trump as 'thots and hoes.'"
"They're Bolsheviks so they probably do hate the American Founders and most white people in general," Ziegler said in reference to the far-left communists of the Soviet Union.
"This is a Bolshevistic anti-white campaign. If you can't see that your eyes are freaking closed."
"And so they see me as a young Christian who they can try to basically scare. Right? And so today was just a lot of, a lot of saying that I am invoking my right to silence under executive privilege in the Fifth Amendment.
He continued: "I'm the least racist person that many of you have ever met by the way, I have no bigotry. I just try to see the world for where it is.
"I have no sort of army to hit back at them. Right. Because I'm the young guy in the room and they're not even going after any other young people. The other young people in the White House are total hoes and thots like Cassidy Hutchinson and this Alyssa Farah hoe bag who are just terrible.
"I mean, they have no clue what they're saying."
Cassidy Hutchinson, who was a former top aide to former White House chief of staff Mark Meadows, made headlines when she gave testimony to the January 6 committee on June 28.
Hutchinson made several bombshell revelations about how, she said, Trump and the White House responded to the violent riot, when a group of his supporters sought to pressure Congress to block the certification of the 2020 presidential election based on unfounded claims of voter fraud.
Following this, former President Trump lashed out at Hutchinson on his social media site Truth Social, downplaying her role in the administration and accusing her of lying.
Alyssa Farah, who was White House communications director, has said in interviews that he had initially admitted to losing the 2020 election.
Farah said during an interview on CNN in November 2021 that Trump privately admitted his defeat shortly after the election took place, only later becoming convinced by false claims that the contest was "stolen" from him.
Trump had responded to Farah in a statement, denying that he ever accepted the reality of his loss while blasting his former White House communications director as a "clown" and a "nobody."
The Republican Accountability Project also shared another snippet of Ziegler's rant and this video has been viewed more than 65,000 times.
"I understand if you're frustrated that it wasn't recorded because I don't give many notices. Because I'm not a fame f*g, and the world's not revolving around me," he said.
"And I don't expect people, to uh, you know, to set aside time every day to listen to me. I still don't understand how [conservative political commentator] Ben Shapiro has people who listen to him every single day.
"I mean, I can't listen to that guy for five minutes. i don't know how, I mean, I know he's selling solar yarmulkes but I don't know how anybody listens to that guy."
Newsweek has contacted Garrett Ziegler for comment.