Trump Calls Georgia Runoffs 'Invalid' As Polls Tighten, 3 Million Vote Early
With a record number of voters already having cast their ballots early in Georgia, President Donald Trump has attacked the Senate runoff election process in the Peach State, calling it "illegal and invalid."
Trump is scheduled to appear at a rally in Dalton on Monday to lend his support to GOP candidates Sen. Kelly Loeffler and Sen. David Perdue who are taking on Democratic challengers Raphael Warnock and Jon Ossoff, respectively.
Tuesday's runoff will determine the U.S. Senate's balance of power and both parties are spending hundreds of millions of dollars and deploying heavy hitters to sway voters.
But on Friday night, Trump questioned the legitimacy of the Georgia votes and criticized the bipartisan decree agreed in March that established standards for judging valid signatures on absentee ballots.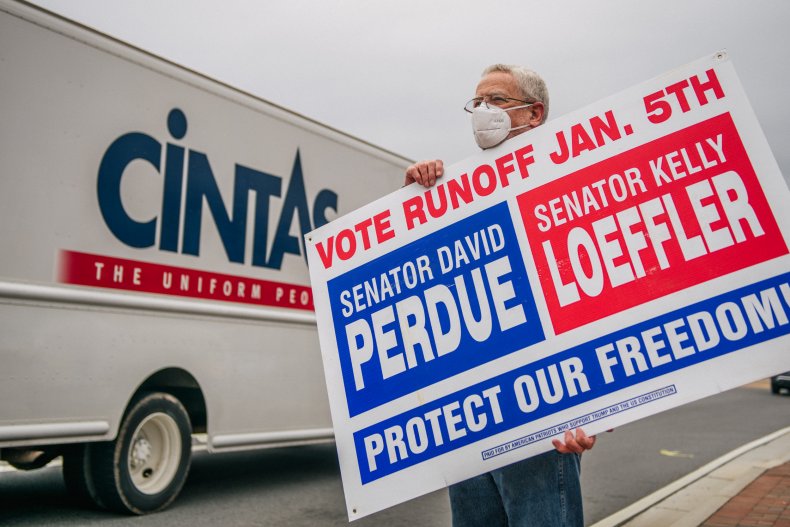 Starting by taking a swipe at the "massive corruption" he claims took place in November's general election, he tweeted that it "must be noted that the State Legislatures were not in any way responsible for the massive changes made to the voting process, rules and regulations, many made hastily before the election."
"Therefore the whole State Election is not legal or Constitutional. Additionally, the Georgia Consent Decree is Unconstitutional & the State 2020 Presidential Election is therefore both illegal and invalid, and that would include the two current Senatorial Elections," he added.
The consent decree allows voters to fix ballots with an alleged mismatch between their signature and their signature election officials have on file. Trump has argued the consent decree was illegal because the decision did not involve state legislatures.
Trump also revisited unfounded claims of voter fraud in the battleground state of Wisconsin which went to President-elect Joe Biden in the thread that prompted a health warning by Twitter that claims about election fraud are disputed. Newsweek has contacted Perdue and Loeffler for comment.
Trump's claims come as figures reveal record numbers of voters have already cast their ballots. According to Georgia Votes, 3,001,017 people had cast ballots following the last day of the three-week advance in person voting period.
This is around 600,000 lower than at the same point in the 2020 general election but breaks the record for a Georgia runoff, ABC News reported. Of those who cast ballots ahead of Tuesday's run-off, 928,069 were absentee by mail and 2,072,948 are from in-person early voting.
Some 115,389 people who did not vote in the general election have already cast their ballots for the run-off. Perdue's lead over Ossoff in November was 88,098 votes.
The races are close according to pollsters. On January 1, polls suggested Ossoff (48.5 percent) was ahead of Perdue (47.7 percent). The candidates have swapped leads over the last few weeks, with Perdue narrowly in front on December 29, according to the RealClearPolitics polling averages.
Meanwhile, Warnock at 49.2 per cent leads Loeffler, who is on 47.4 per cent. The last time that Loeffler was in front was on December 21.
As well as Trump's appearance on Monday, Vice President Mike Pence will make a stop in Milner, while Vice President-elect Kamala Harris and President-elect Joe Biden will campaign with Warnock and Ossoff on Sunday in Savannah and Monday in Atlanta.