Trump 'Going Against the Constitution,' Dem. Rep. Mikie Sherrill Tells Chris Cuomo: 'Simply Not Acceptable'
U.S. Representative Mikie Sherrill told CNN's Chris Cuomo that President Donald Trump had "certainly" committed a crime worthy of impeachment.
Sherrill, a Democrat from New Jersey appeared on Cuomo Prime Time Thursday night to discuss Trump's ongoing impeachment inquiry. Until recently, the former federal prosecutor had not been in favor of moving forward with the impeachment.
She explained to Cuomo that she believed the previously available evidence for impeachment had not yet "made our case to the American people." However, she stated that the recent allegation Trump asked Ukraine President Volodymyr Zelensky to investigate Joe Biden has provided an unambiguous case against the president.
"This new conduct I think makes the case to the American people. I think it's very clear that the president has violated his office, and what he should be doing for the American people, using it for his personal gain," Sherrill told Cuomo.
"I think it's very clear he was trying to undermine free and fair elections in 2020 and I think it's very clear he was trying to use a foreign power to do so."
When Cuomo asked if the president's recent conduct was illegal, in addition to what he called the "obvious wrongness," Sherrill stated that she believed Trump was "going against the Constitution."
"You cannot use a foreign power to corruptly investigate somebody running against you. You can't pressure a foreign power. He's certainly going against our election law," she said. "We have a President who is undermining our democratic elections and really going against the Constitution of the United States."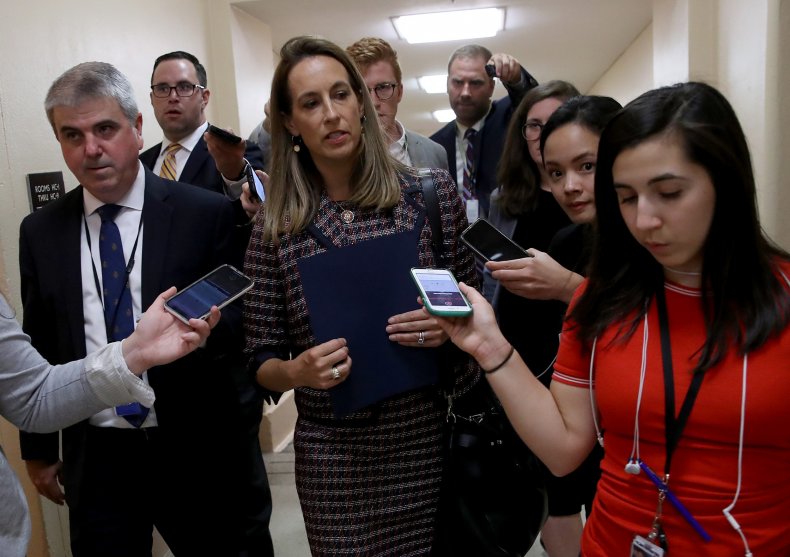 Cuomo questioned Sherrill over whether the nature of the allegations would be enough to convince the public that impeaching Trump is justified.
"Do you believe that you need some type of tangible crime that people can understand, in order for them to buy into the idea that this is bad enough to impeach?" asked Cuomo.
"I certainly think that we have that tangible crime," Sherrill replied. "I think this is easily explainable to the American people. We all know that the president is trying to undermine our 2020 elections by having a foreign power investigate his rival. That's simply not acceptable."
"Furthermore, to have a foreign power violate the civil rights of an American citizen is also egregious. If the President had concerns about what was going on in Ukraine, he should have gone to our FBI," added the congresswoman.
Sherrill emphasized that while the new evidence "clearly" showed Trump had committed an impeachable crime, the case for impeachment would grow stronger as the investigation broadens.
"We certainly have the evidence, but as a former federal prosecutor the best cases are made when you have as broad a picture as you can have, so I think we are doing the right thing by continuing this investigation, continuing to put all of the pieces together as we've been doing," she said to Cuomo.
Sherrill also claimed that the strength of the case against Trump was what convinced her and six other first term Democratic representatives to write a recent opinion piece in The Washington Post, published shortly before the impeachment inquiry was announced.
The article, titled "Seven freshman Democrats: These allegations are a threat to all we have sworn to protect," focused on the allegations from the perspective of the shared military service of the representatives. Prior to her political and legal careers, Sherrill had spent nearly a decade as a U.S. Navy helicopter pilot.