Two Scottish golf resorts owned by the family of President Donald Trump have faced another year of losses in 2019, amid warnings of worse to come.
Filings at Companies House in the U.K. for Trump International Scotland, which runs Trump Turnberry golf course, cover the whole of 2019 and so do not take into account the disruption caused by coronavirus.
The course in Ayrshire, posted annual losses of £2.3 million ($3.1 million) in 2019 based on a record turnover of £19.66 million ($26.8 million), The Scotsman reported, making it the sixth year in a row that it has failed to turn a profit under the ownership of the Trump family's company.
Since Trump took over the historic property in 2014, its losses now total nearly £45m ($61 million) the paper reported.
The latest figures came amid warnings that the pandemic and Brexit would further impact Trump's golf interests in Scotland.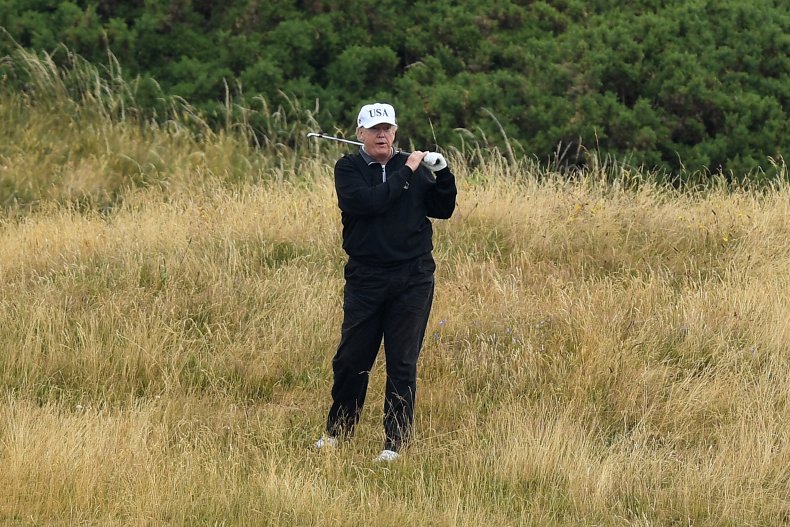 Meanwhile, filings for the Trump International Golf Club Scotland which runs the Menie Estate near Aberdeen, showed that despite an 18 percent increase in turnover from 2018, the golf course, hotel, bar and restaurant on the site suffered pre-tax losses for 2019 of £1.1 million ($1.5 million) according to the filing.
These latest figures mark the eighth year in a row that the golf course has recorded a loss, The Scotsman reported.
The filings from Trump International contain a statement by company director, Eric Trump, the president's son, who said that resort operations have been limited due to coronavirus mitigation measures such as social distancing and travel restrictions.
Eric Trump said that the "extent of the impact of COVID-19 on the company's business and financial results will depend on the duration and spread of the outbreak and the related impact on consumer confidence and spending, all of which are highly uncertain in the current environment." Newsweek has contacted Trump International for comment.
The London-based based equity analyst Steve Clapham said in November that it was unlikely the Trumps would make a profit on their Scottish golf business interests.
"At Turnberry, there are accumulated losses of £44m ($60.1 million), and negative equity of £51m ($69.7 million)," he said, "It is hard to see how Trump will extract a return from his investments in Scotland," he told The Press and Journal in November.
A New York Times investigation in September found that Trump had lost $315.6 million at his golf courses over the last two decades. Trump's three courses in Europe—Trump Turnberry, Trump International Scotland and Trump International Golf Links & Hotel Ireland—reported a combined $63.6 million in losses, the report added.
In a stunt by the activist group Led by Donkeys, the front of the Trump Turnberry course was lit up with the word "Loser" to the strains of the Village People song "YMCA," following the president's defeat in the November election.