Republicans in Congress Break With Trump on Russia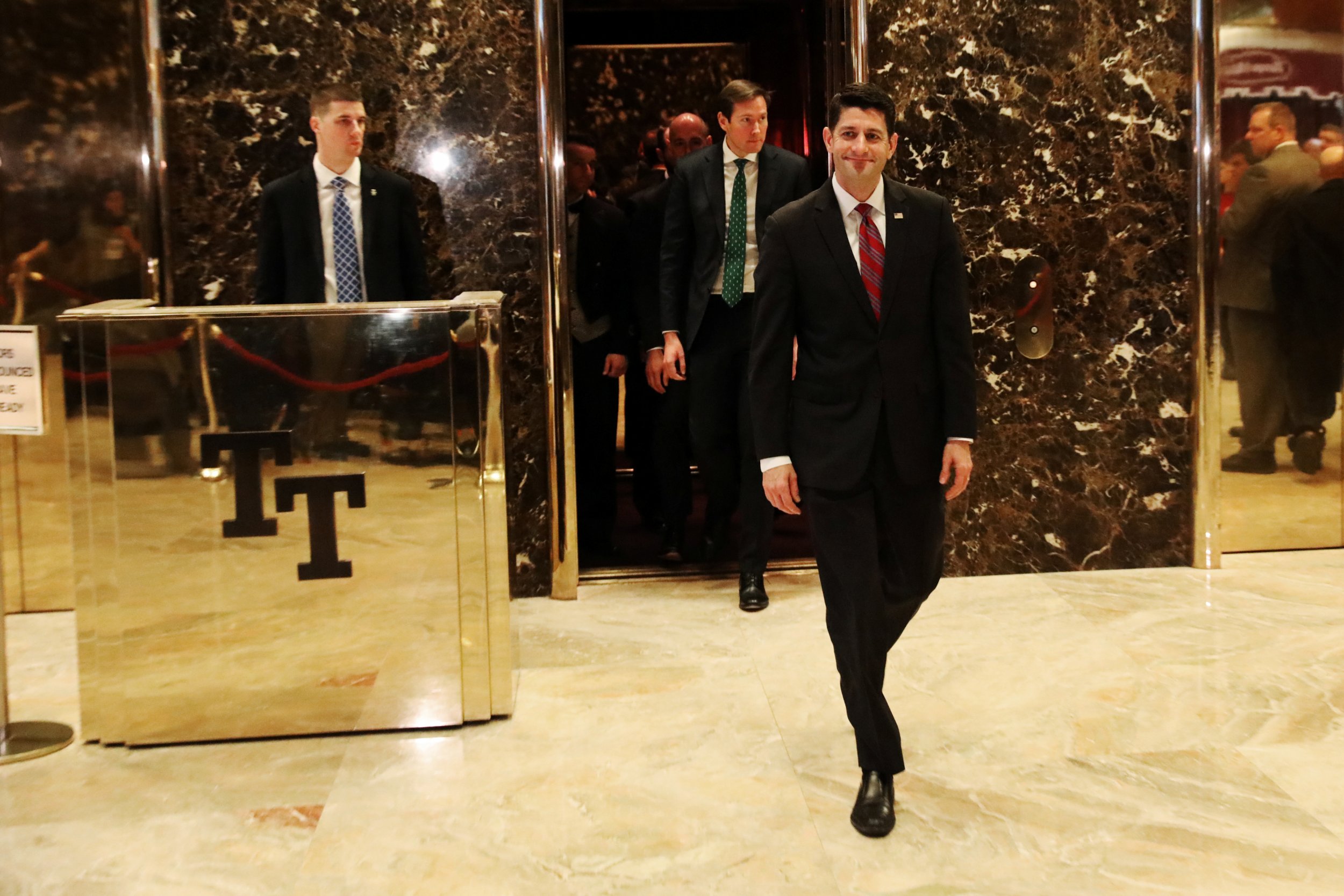 The Russian hacking allegations appear to be fueling a Republican crackup, as party leaders in Washington broke publicly with their president-elect over intelligence reports Moscow intervened in the 2016 election to benefit Donald Trump.
House Speaker Paul Ryan and Senate Majority Leader Mitch McConnell spoke up Monday to condemn Russian meddling in the election, after Trump spent the weekend dismissing the CIA report that concluded Russian agents hacked the Democratic National Committee and other operatives and leaked their emails to hurt the party. The GOP leaders also endorsed congressional reviews into the hacking. This came after Trump's transition team on Friday issued a statement dismissing calls for an investigation and urging the country to move on, and after top Trump surrogates, including incoming White House Chief of Staff Reince Priebus and former U.N. Ambassador John Bolton, aggressively challenged the intelligence reports in appearances on the Sunday morning talk shows.
Related: Trump decries CIA report that Putin's Russia tried to help him win the election
McConnell went so far as to issue a firm rebuke of Trump's cozy relations with Russia and his reaction to U.S. intelligence conclusions about its behavior—though the senator never addressed the president-elect directly. In a prepared statement that he read at the start of his Capitol Hill press conference Monday, McConnell was emphatic: "I have the highest confidence in the intelligence community and especially the Central Intelligence Agency." While Trump's transition team issued a statement mocking the agency for getting the intelligence wrong on weapons of mass destruction in Iraq last decade, McConnell affirmed that "the CIA is filled with selfless patriots, many of whom anonymously risk their lives for the American people."
When it comes to Russia, the veteran Kentucky senator laid out a much darker view of bilateral relations than Trump, who has advocated a renewed dialogue. "Let me just speak for myself, the Russians are not our friends," he replied when asked about Trump's overtures to Moscow. "They invaded Crimea. Senator McCain and I and some of our Democratic friends met with a delegation from the Baltic countries just this past week. To say that they're nervous about the Russians would be to put it mildly." Ryan, too, criticized Russia as "an aggressor that consistently undermines American interests." McConnell also reiterated his support for the NATO alliance; Trump questioned the utility of the pact repeatedly on the campaign trail.
Both McConnell and Ryan cautioned, however, that recent leaks from the intelligence community vis-à-vis Russian hacking may be partisan in their purpose. "Exploiting the work of our intelligence community for partisan purposes does a grave disservice to those professionals and potentially jeopardizes our national security," Ryan said in a statement issued Monday afternoon. "As we work to protect our democracy from foreign influence, we should not cast doubt on the clear and decisive outcome of this election."
McConnell and Ryan's statements reinforced a growing rift with Trump and his transition officials on the issue. Already, Senate Armed Services Committee Chairman John McCain and fellow GOP Senator Lindsey Graham had issued a joint statement with leading Democrats calling for a bipartisan investigation into the hacking. Senate Intelligence Committee Chairman Richard Burr has also expressed support for a review of Russian cyberattacks.
The renewed focus on Russian antagonism could complicate the prospects for Trump's purported secretary of state pick, Exxon CEO Rex Tillerson. Tillerson is said to have a close relationship with Russia's president, Vladimir Putin, and Democrats are already making hay over Putin having awarded Tillerson Russia's Order of Friendship, a recognition given to foreign nationals who have contributed to Russian society. As the CEO of a major oil conglomerate, Tillerson has been an active player in Russia's energy industry. On Monday, as the scrutiny over Trump's scrap with the intelligence community intensified, a Democratic-aligned super PAC, American Bridge, distributed to the press a video clip of Tillerson receiving the award from Putin.
McCain has already expressed concerns about Tillerson's ties to Putin and Moscow. And fellow GOP defense hawk Marco Rubio tweeted a not-so-subtle warning Sunday : "Being a 'friend of Vladimir' is not an attribute I am hoping for from a #SecretaryOfState." McConnell on Monday repeatedly refused to weigh in on Tillerson's potential nomination—which the Trump transition team has yet to officially announce. "I don't want to comment on a phantom nominee," the majority leader responded. But he did urge American officials to operate on "the assumption that the Russians do not wish us well." Added McConnell, "I hope that those who are going to be in positions of responsibility in the new administration share my view."
More from Newsweek.com:
- CIA veterans urge caution on leaks saying Russia's Putin tried to get Trump elected
- President Obama orders full review of Russian hacking during 2016 election