Trump Grand Juror Reveals 'Surprising' Testimony
One of the jurors from the Georgia investigation into former President Donald Trump's efforts to overturn the results of the 2020 election said she was particularly surprised by one key witness's willingness to testify as part of the probe.
In an interview published Tuesday by the Associated Press, Emily Kohrs, who participated in Fulton County's special grand jury, described being surprised by Senator Lindsey Graham's testimony, given how hard the South Carolina Republican fought to escape his subpoena.
"After Graham tried so hard to avoid testifying—taking his fight all the way to the U.S. Supreme Court—Kohrs was surprised when he politely answered questions and even joked with jurors," AP's Kate Brumback wrote.
Kohrs, who the outlet identified through open records requests, was among 12 jurors who spent eight months listening to 75 witnesses testify about whether Trump and his associates illegally tried to overturn the results of the presidential in Georgia.
Newsweek reached out to Graham for comment.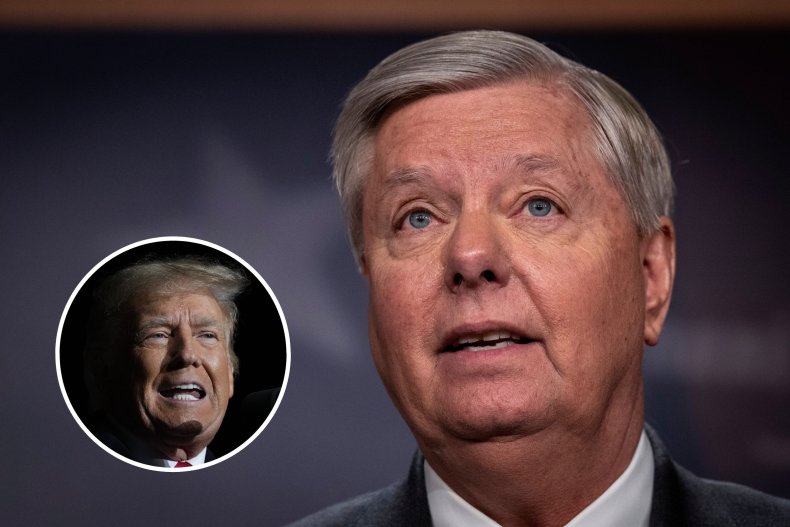 While Kohrs declined to comment on the jury deliberations and final report, parts of which were released last week, she did describe the high-profile witnesses who took the stand.
She characterized Georgia Secretary of State Brad Raffensperger, who Trump asked to "find" more than 11,000 votes so that he could win the election, as "really geeky kind of funny," and the late State House Speaker David Ralston as hilarious, while recalling that Governor Brian Kemp seemed unhappy to be there.
"I didn't want to characterize anyone before they walked in the room," Kohrs said. "I felt they all deserved an impartial listener."
She said the jury had wanted to hear Trump himself testify under oath, although they didn't expect much of a meaningful account from him.
The special grand jury also heard from Trump attorney Rudy Giuliani, who Kohrs said declined most answers, although she believed he "genuinely seemed to consider" whether it was merited for him to answer. In those cases, the juror said that prosecutors would instead play clips of those witnesses in television interviews or testifying before the House committee investigating the Capitol attack.
Although the special grand jury made recommendations on charges against Trump and his allies, they do not have the power to issue indictments, much like a traditional grand jury. Instead, their report will be considered by Fulton County District Attorney Fani Willis, who could then make the decision to impanel a regular grand jury.
Those recommendations have not been made public, but last week, a judge ordered for the introduction and conclusion of the final report to be publicized, as well as a section where jurors expressed concern that some witnesses may have lied under oath during their testimony.
"I fully stand by our report as our decision and our conclusion," Kohrs said.
Willis' office told Newsweek the DA was declining requests for comment.
Update 02/22/23 12:15 p.m. This story was updated with comment from Willis.