Trump Grants Clemency to Fewer Petitioners Than Any Other President in the Past 120 Years
President Donald Trump issued a swath of pardons and commutations on early Wednesday morning. But even with his 11th-hour moves, Trump has granted clemency to fewer people than many of his predecessors.
Trump granted pardons to 73 people while commuting the sentences of another 70 individuals, according to a statement from the White House. When looking at the raw numbers of pardons and commutations, Trump is low on the list compared to previous presidents as he granted clemency to only about 1.76 percent of the people who petitioned him for it.
Since taking office, Trump has pardoned 116 people and commuted sentences for 89 others. That's 96 fewer pardons and 1,626 fewer commutations than his predecessor, President Barack Obama, granted in his time in office.
The bulk of Obama's pardons and commutations came during the 2017 fiscal year, the end of his time in office. He granted 142 pardons and 1,043 commutations from October 2016 to January 20, 2017— 61 percent of the total pardons and commutations he granted during his eight years in office. Obama only pardoned 22 people in his first term and commuted one sentence, 182 fewer people than Trump.
A president's clemency power comes from the Constitution under Article II and gives the president the ability to pardon people convicted of federal offenses, commute a sentence, offer remission of a fine, or restitution or issue a reprieve of punishment.
Before Trump, President George H.W. Bush, the last president to serve only one term, held the record for granting clemency to the fewest number of people since President William McKinley. Data from the Justice Department shows Bush granted 74 pardons and three commutations during his four years in office.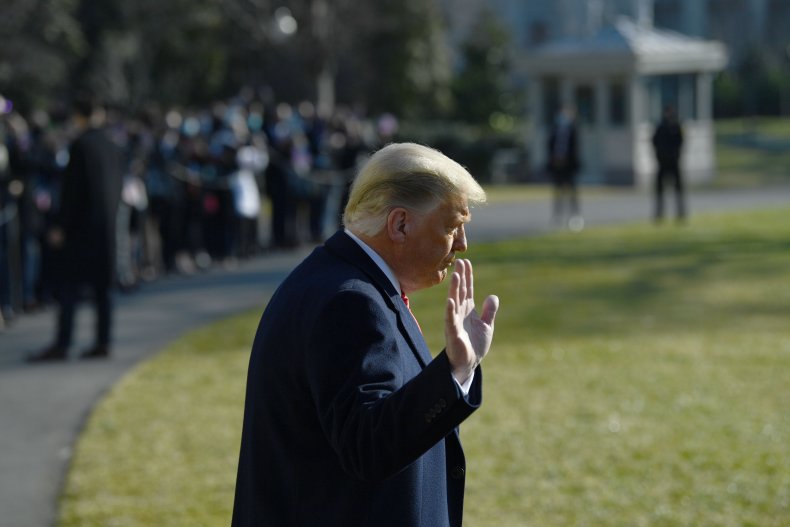 His son, George W. Bush, recently held the distinction for the lowest percentage of clemencies granted. The younger Bush only granted clemency to only 1.8 percent of the people who petitioned him for it.
Overall, Democrats are more likely to invoke their presidential clemency power than Republicans. Since McKinley was in office, Republican presidents granted clemency to 9,213 people, an average of about 767 people each. Democrats granted clemency to 13,381 people, an average of 1,672 people each.
In the past 120 years, Democratic presidents, on average, granted clemency to about three percent more people that petitioned them for it than their Republican counterparts. President Franklin D. Roosevelt takes the top spot for pardons and commutations at 3,307. His successor, President Harry Truman, holds the record for granting clemency to the highest percentage of petitioners.
Although he hasn't pardoned as long of a list of people as his predecessors, Trump faced criticism for granting clemency to those with ties to his presidential campaign, including Michael Flynn, George Papadopoulos, Roger Stone and Paul Manafort. Trump also pardoned Charles Kushner, the father of his son-in-law, Jared Kushner.
Trump hasn't only garnered attention for helping out those close to him, but he's also made headlines a few times for using his presidential power for people he's never met. In 2018, he commuted the sentence of Alice Marie Johnson, a first-time nonviolent drug offender, at the bequest of Kim Kardashian West.
Despite a public push for the president to pardon Julian Assange, the WikiLeaks co-founder's name was noticeably absent from Wednesday's clemencies. The president's most recent list of pardons and commutations includes former White House advisor Steve Bannon and rapper Lil Wayne.