Senate Minority Leader Mitch McConnell, a Kentucky Republican, has seen his approval rating drop 29 points among constituents since the November election and his subsequent fallout with former President Donald Trump, according to a new poll.
McConnell, who once aligned himself as an ally to the former president, became a vocal critic of Trump during the latter's crusade to change the election outcome and in the aftermath of the January 6 attack on the U.S. Capitol.
His break from Trump in recent months has resulted in a dramatic decline in approval among Kentucky Republicans, and caused the former president to blast the senator.
Only 41 percent of GOP voters in McConnell's home state now approve of his performance—down from 70 percent before the November election, according to a Morning Consult survey published Tuesday.
Those who disapprove of McConnell's job performance increased to 54 percent, marking the most dramatic change among any Republican Senator since the November election and leading into Trump's second impeachment trial.
The survey compared results from polls taken between October 5 through November 3, and those between December 30 through January 28. The margin of sampling error is between plus or minus 1 percent and 9 percent.
McConnell's current rating of 41 percent is in some cases even lower than Trump's rating was when he left office. In polls taken in the final days of Trump's presidency, his approval rating sat roughly between 39 percent and 51 percent.
McConnell is now facing growing backlash from those within the GOP who seek to remain loyal to Trump after he was acquitted in his second impeachment trial on February 13.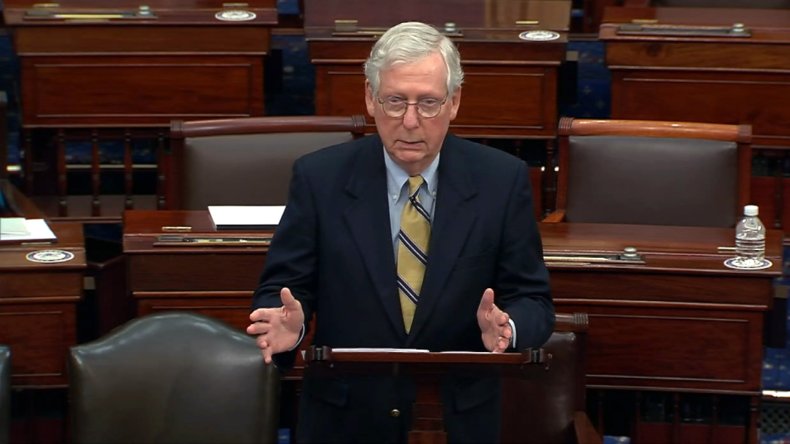 Though McConnell voted to acquit Trump for inciting an insurrection, he gave a damning speech afterwards in which he said the former president was "practically and morally responsible for provoking the events" of the January 6 riots.
In his remarks, McConnell said he voted to acquit Trump only because he believed the Senate lacked the constitutional jurisdiction to convict a president who is no longer in office.
In response, Trump issued a scathing statement on Monday against McConnell.
"Mitch is a dour, sullen, and unsmiling political hack, and if Republican Senators are going to stay with him, they will not win again. He will never do what needs to be done, or what is right for our Country. Where necessary and appropriate, I will back primary rivals who espouse Making America Great Again and our policy of America First. We want brilliant, strong, thoughtful, and compassionate leadership," he said.
Though McConnell is not up for re-election in 2022, GOP lawmakers—including Florida Representative Matt Gaetz, Wisconsin Senator Ron Johnson, and South Carolina Senator Lindsey Graham—have since warned the Kentucky senator that his statements could hurt the party moving forward.
"Providing a scathing speech on the floor of the Senate, that does not reflect who I think the majority of our conference," Johnson said in a Monday interview with conservative radio host Jay Weber.
"He has to realize as our leader.... what he says reflects on us, right? He's representing the entire caucus," he added.
Newsweek reached out to McConnell's office for additional comment, but did not hear back in time for publication.