Trump Has Accused Numerous Political Rivals of Crimes, Including Joe Biden and Barack Obama
President Donald Trump's history of accusing political rivals of illegal activity reached a new level on Thursday when he called upon Attorney General Bill Barr to indict Joe Biden with less than a month to go until Election Day.
"These people should be indicted," Trump said during a Thursday interview with Fox Business' Mornings With Maria. "This was the greatest political crime in the history of our country. And that includes Obama, it includes Biden."
Trump said Barr had enough evidence to indict both his Democratic presidential opponent and former President Barack Obama for allegedly spying on his 2016 campaign. "We got plenty. You don't need any more," Trump said he told the attorney general. The president also questioned why Hillary Clinton hasn't been indicted for the email controversy that began during her time as secretary of state in Obama's administration.
Newsweek reached out to the Department of Justice for comment but did not receive a response in time for publication.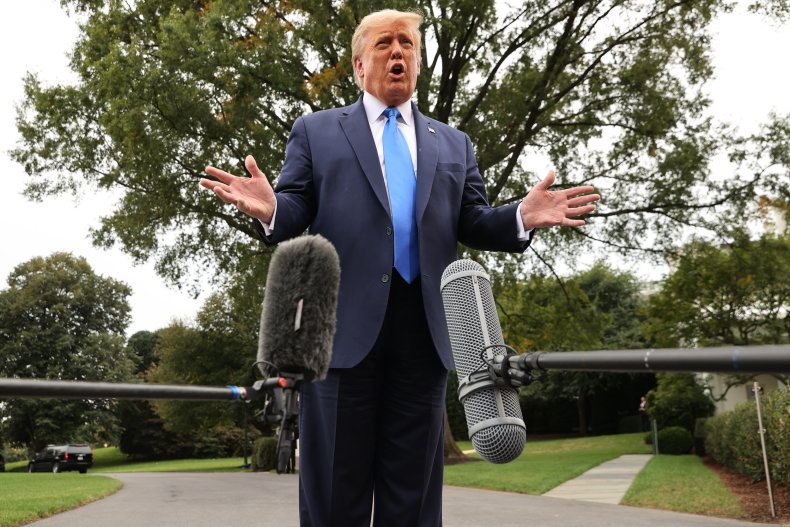 Biden and Clinton are among other political rivals Trump has accused of illegal activity. His accusations against Clinton began before the 2016 election, when his supporters started chanting "lock her up" during his campaign rallies. Trump's accusations against Biden increased significantly once the former vice president launched his presidential campaign last year. In addition to accusing Obama and Biden of spying on his 2016 campaign, Trump called for investigations into the overseas business dealings of Biden's son Hunter.
In addition to his presidential opponents, Trump has suggested that several politicians who disagree with him—many of whom are Democrats—should face prosecution for a myriad of reasons. Shortly after the House of Representatives began its impeachment inquiry last year, Trump criticized comments that Representative Adam Schiff of California made about a call between Trump and Ukraine's president, which Schiff described as a "classic organized-crime shakedown."
Trump said on Twitter that Schiff "illegally made up a FAKE & terrible statement" and suggested, "Arrest for Treason?" Trump later said that House Speaker Nancy Pelosi, whom he called "Nervous Nancy," was "every bit as guilty as Liddle' Adam Schiff for High Crimes and Misdemeanors, and even Treason." He also said that Pelosi and Schiff, "along with all of those that evilly 'colluded' with them,'" should be "immediately impeached."
In addition, Trump has called for investigations into some of the individuals who previously worked within his administration. After John Bolton, Trump's former national security adviser, published a book earlier this year detailing his time in the White House, Trump tweeted that Bolton "should be in jail, money seized, for disseminating, for profit, highly Classified information."
The president also accused former FBI Deputy Director Andrew McCabe of telling "so many lies" and said in early 2019 that it appeared both McCabe and Rod Rosenstein, who served as his administration's deputy attorney general, "were planning a very illegal act." Trump mentioned McCabe again last month when he raised questions about money that he said was "illegally given" to McCabe and his wife.
In addition to former members of his administration, Trump has called for former FBI Director James Comey and former Secretary of State John Kerry to face prosecution and has called for an investigation into New York Governor Andrew Cuomo for his handling of nursing homes during the coronavirus pandemic. Like the others who have faced calls for investigation or prosecution from Trump, Comey, Kerry and Cuomo have been critical of Trump's performance in office.