Trump Has a 'Legitimate Complaint' About Impeachment, McConnell Says, But Declines to Defend Lynching Remarks
Senate Majority Leader Mitch McConnell declined several opportunities Tuesday to defend President Donald Trump's comparison of the House's impeachment inquiry to "a lynching" and instead called it a "legitimate complaint" before pivoting to use the opportunity to knock Democrats.
The Kentucky Republican said that while Trump had a "legitimate complaint" about the inquiry that has so far been conducted exclusively behind closed doors, the lynching analogy equated to "an unfortunate choice of words."
"I'm willing to talk about the process in the House. I think it's grossly unfair the president has a legitimate complaint about the process," McConnell responded when asked during a press conference if he was willing to defend Trump's remarks. "Given the history in our country, I would not compare this to a lynching. That was an unfortunate choice of words. It's an unfair process and a better way to characterize it would be to call it an unfair process."
McConnell's lack of defense was a representation of a middle-of-the-road approach he was deploying with his GOP Senate colleagues, whom he said could speak for themselves about Trump's morning tweet. In the social media post, the president claimed, "Republicans must remember what they are witnessing here - a lynching."
At least one of Trump's staunchest defenders, Sen. Lindsey Graham (R-SC), fell into place to stand with the president while moderates, such as Sens. Lisa Murkowski (R-AK) and Susan Collins (R-ME), were either mum or issued condemnations.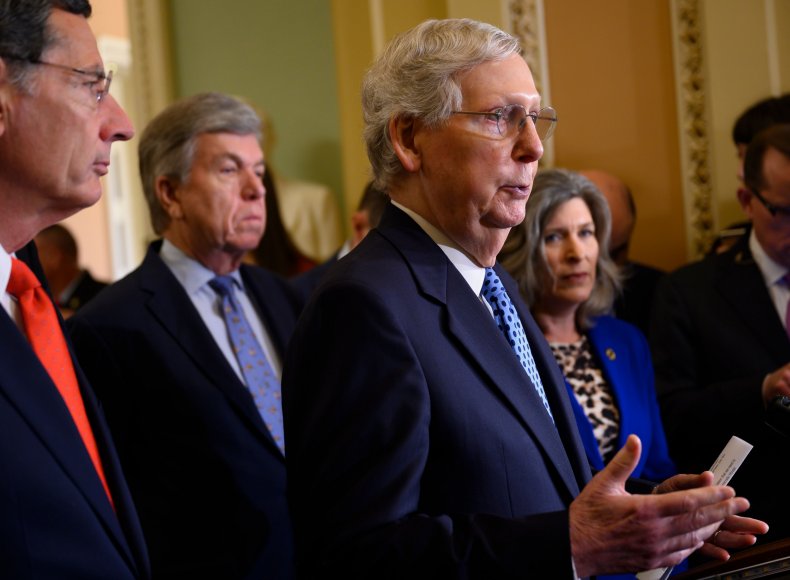 Graham said the inquiry was "a lynching in every sense," calling the investigations "un-American."
Republicans have accused Democrats of unfairly operating the impeachment inquiry because it was not authorized by way of a floor vote, has been conducted via private witness depositions and has not given Republicans subpoena power.
Murkowski, pressed about the lynching remarks from Trump, would only go so far as to say it was "disturbing." She declined several times to elaborate, saying she had not yet seen the Trump tweet in question.
Collins strongly condemned the racially charged comments, citing the horrific history of lynchings in America that led to thousands of racially-motivated deaths.
"Lynching brings back terrible images of the dark chapter in our nation's history, and the president never should've made that comparison," the Maine Republican told reporters. "I think he should retract it."
Black Democrats in the House also strongly responded to Trump's racial rhetoric.
White House Principal Deputy Press Secretary Hogan Gidley vehemently defended Trump's "lynching" usage and declined to condemn the word itself.
"The president was clearly articulating the way he feels about the way you guys have been treating him since Day One," Gidley told reporters outside the White House. "He is receiving no due process... He has been relentlessly attacked by the mainstream media since before he took office, that's what he's talking about."