Trump Has 'Nixonian Enemies List' Says Top Democrat Over Brennan Losing Security Clearance
President Donald Trump was accused of compiling a "Nixonian" enemies list by a top Senate Intelligence Committee Democrat on Wednesday, and former FBI Director James Comey also said the president punished people who disagreed with him.
The comments came following an announcement from the White House that Trump had revoked the security clearance of former CIA Director John Brennan, a frequent public critic of Trump and his presidency, and threatened to pull the security clearance of others.
Speaking on Wednesday following t annheouncement, Senator Mark Warner, the top Democrat on the Senate Intelligence Committee said: "This was in effect almost an enemies list, a Nixonian enemies list," The Hill reported.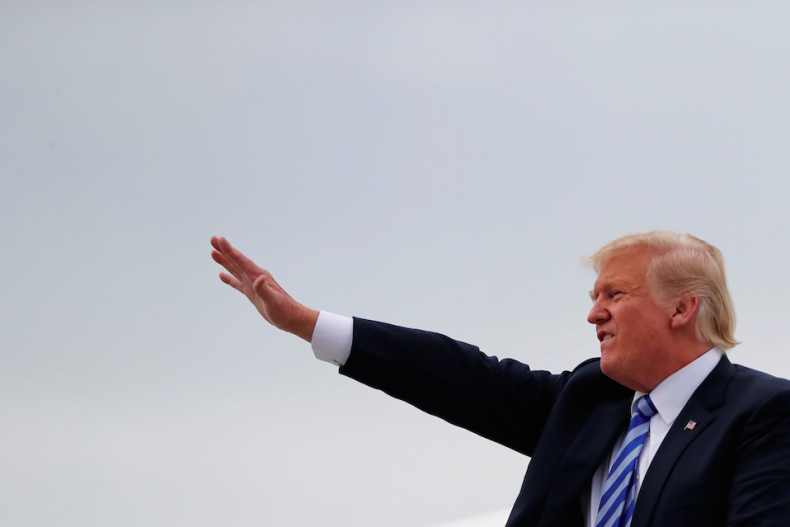 "Revoking Brennan, threatening to revoke a series of others, trying to limit these Americans' First Amendment rights—it's unprecedented," he said.
And former FBI chief Comey added his voice to those criticizing Trump's decision, tweeting: "Once again this president is sending a message that he will punish people who disagree with him and reward those who praise him.
"In a democracy, security clearances should not be used as pawns in a petty political game to distract voters from even bigger problems. This president befriends and praises despots and dictators like Putin and Kim Jong-un," he continued.
"Those friends provide stark contrast to the patriotic Americans and public servants he disrespects, threatens, and calls enemies: a war hero like John McCain, members of our country's free press, and devoted public servants like John Brennan," he added, also saying that Americans should not be distracted by Trump's behavior.
In an impromptu interview with The Wall Street Journal the president both denied that his actions were motivated by a desire to rid himself of critics yet admitted it.
He said that he had not simply revoked the security clearance of someone who had served in a Democratic administration. He suggested he "would put a Republican on, too, if I thought they were incompetent or crazy."
But he also said that he had taken the action because of the Russia investigation. "I call it the rigged witch hunt; [it] is a sham," he said. "And these people led it!"
"So I think it's something that had to be done," he added.
Brennan himself has hit out at the president's decision, tweeting: "This action is part of a broader effort by Mr. Trump to suppress freedom of speech and punish critics.
"It should gravely worry all Americans, including intelligence professionals, about the cost of speaking out. My principles are worth far more than clearances. I will not relent."