Trump Says He'll Revoke Republicans' Security Clearances If They Are 'Incompetent or Crazy'
President Donald Trump has no qualms about his decision to terminate the security clearance of former CIA director John Brennan, saying he would do the same with a Republican.
Trump has faced backlash over his decision to rescind Brennan's clearance, which he claimed came as a result of Brennan's "erratic conduct and behavior."
In an impromptu interview with The Wall Street Journal, Trump, who has been criticized for threatening to pull the security clearances of those who served in Democratic administrations, talked about his decision and said he "would put a Republican on, too, if I thought they were incompetent or crazy."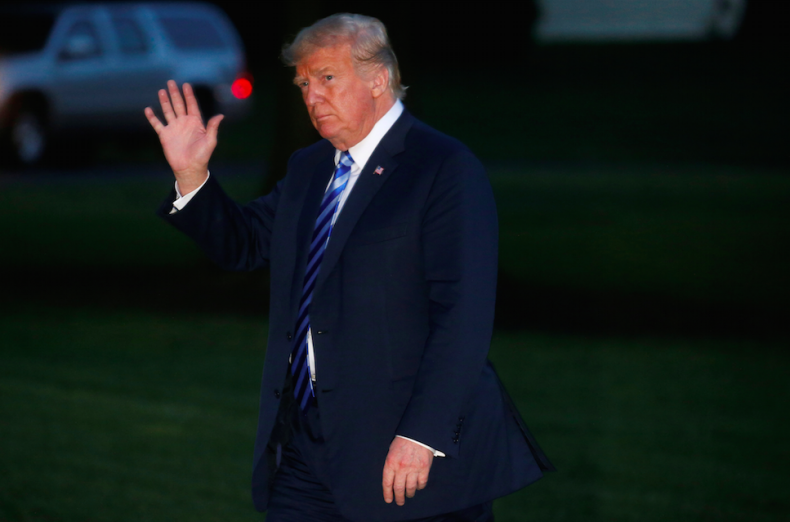 In a statement read by White House press secretary Sarah Huckabee Sanders, the president said: "As the head of the executive branch and the commander in chief, I have a unique constitutional responsibility to protect the nation's classified information, including by controlling access to it.
"Today in fulfilling that responsibility, I have decided to revoke the security clearance of John Brennan, former director of the Central Intelligence Agency. At this point in my administration, any benefit that senior officials might glean from consultations with Mr. Brennan are now outweighed by the risks posed by his erratic conduct and behavior," the statement read.
The president had previously suggested he would look to revoke the security clearance of former top officials who were critical of him and his administration. At the time, this threat was dismissed by House Speaker Paul Ryan as an example of Trump "trolling people," The Washington Post reported.
Sanders on Wednesday pushed back on the idea that the president was looking to punish his critics rather than revoke security clearance for valid reasons.
Brennan has long been critical of Trump, most recently slamming him over his verbal attack on former White House staffer Omarosa Manigault Newman, whose tell-all book has been something of an embarrassment for the president.
"This action is part of a broader effort by Mr. Trump to suppress freedom of speech and punish critics," Brennan said of the president's decision to revoke his clearance. "It should gravely worry all Americans, including intelligence professionals, about the cost of speaking out. My principles are worth far more than clearances. I will not relent."