In Address to Congress, Trump Embraces Key GOP Health Care Proposals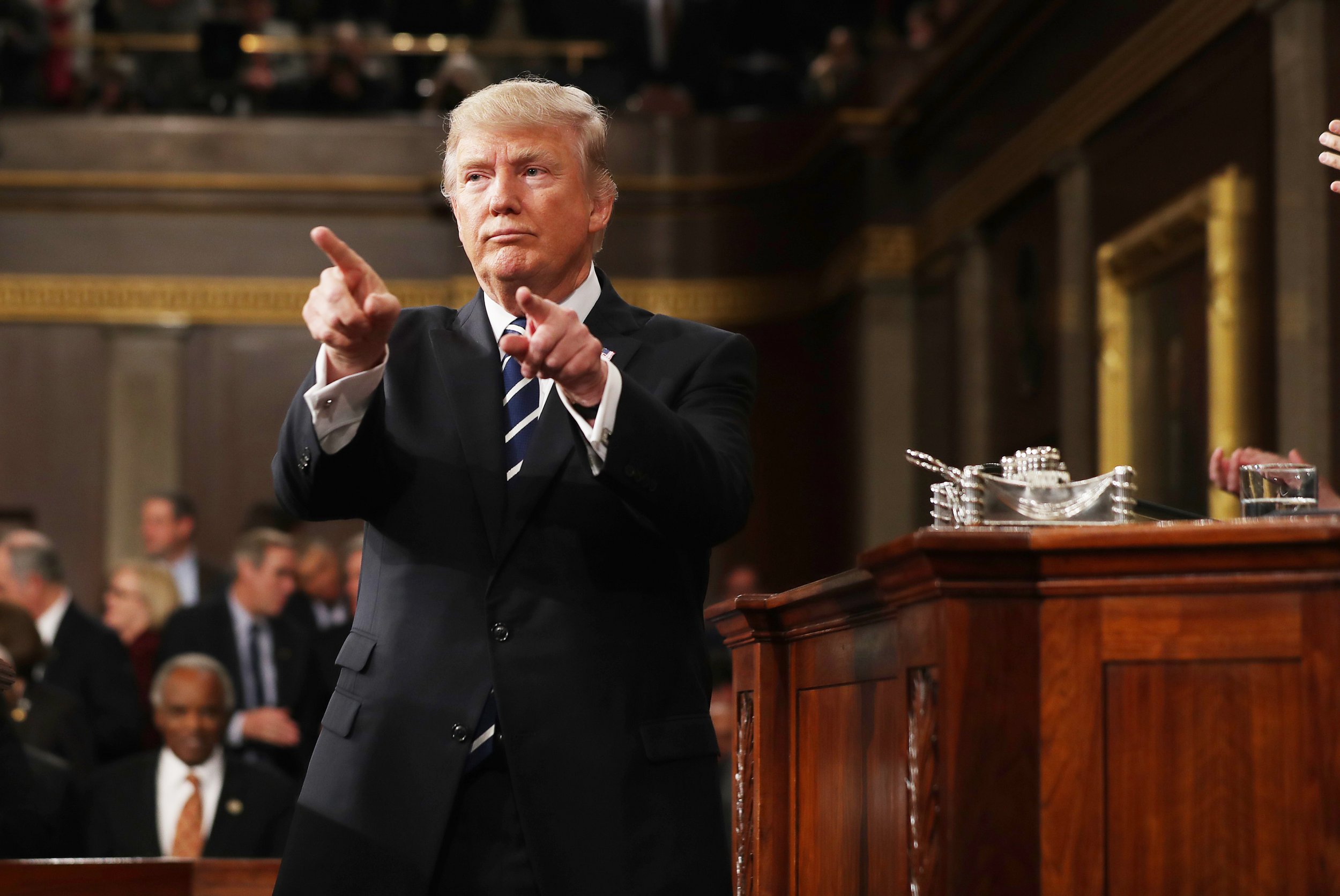 In his much-anticipated first address to Congress, President Donald Trump backed away from a key health care promise he recently made. Trump told The Washington Post in January that his goal of health care reform was "insurance for everybody," but on Tuesday night in the Capitol, the president added an important modifier, arguing the country should "make health insurance available to everyone."
The way to do that, Trump said, "is to lower the cost of health insurance, and that is what we will do." His remarks echoed the way congressional Republicans—and his own secretary of health and human services, Tom Price—have framed the issue. And that's an important show of support for the GOP leaders who are struggling to rally the various factions of their party around a consensus health insurance plan, even as pressure for a replacement to accompany the repeal of the 2010 Affordable Care Act builds.
Related: New details revealed of Republicans' plan to replace Obamacare
The distinction between covering everyone and making coverage available to everyone is an important one. Trump's remarks in January sounded a lot like what Democrats were aiming for in their 2010 health care law, popularly known as Obamacare, which centered on covering as many uninsured Americans as possible. Republicans in Congress, on the other hand, want to take the federal government out of the role of determining who does and doesn't get coverage. As Trump reiterated Tuesday, they reject the Obamacare mandate that requires everyone to obtain insurance.
What they're doing instead is looking at providing various tools like tax credits and health savings accounts that people can use to obtain individual coverage, if they so choose. In other words, they'd have access to insurance, but many, particularly the poor and sick, may struggle to afford the kind of coverage they would want and need. Former Kentucky Governor Steve Beshear warned as much in the Democrats' official response to Trump's address, saying Republicans "promise access to care but deny the importance of making care affordable and effective."
In his inaugural speech to Congress, Trump called for "this Congress to repeal and replace Obamacare," using buzzwords popular among GOP lawmakers, like "choice" and "access," to describe the Republican plan. His principles for replacing the existing law also embraced many of the components that his fellow GOP officials for months have been calling for: using tax credits and expanded Health Savings Accounts to help Americans purchase insurance; giving states flexibility in implementing Medicaid; allowing people to purchase insurance across state lines; and implementing legal reforms to drive down costs.
But the president offered few specifics for how Congress should structure such a replacement plan, and as leading governors visiting Washington earlier this week admitted, "the devil is in the details." For governors, the main focus is what Congress decides to do about federal Medicaid funding, which the states rely on to help provide health insurance to their poorest, sickest and disabled residents. Balancing the preferences of states that have low per capita Medicaid coverage with those on the high end of the spectrum promises to be tricky. "We have to find a formula that's fair for everybody as we go through this process," Utah Governor Gary Herbert, a Republican, said Monday on Capitol Hill. "Maybe that's an impossiblity, but we have to get as close to fairness as we can."
Conservative Republicans in Congress, meanwhile, are bickering with party leaders over the promise of tax credits to help Americans pay for health insurance. Representative Mark Walker, chairman of the conservative Republican Study Committee, rejected a leaked draft of a House replacement bill in a statement Monday, warning that the tax credits and other provisions risk "continuing major Obamacare entitlement expansions." The Freedom Caucus, another group of conservative House members, and senators Ted Cruz, Rand Paul and Mike Lee all echoed those objections, dismissing the draft as "Obamacare Lite."
In embracing tax credits, Trump opted Tuesday to side with Republican leaders like House Speaker Paul Ryan, who was quick to tout the remarks as a major victory. In a statement declaring the president's speech a "home run," the Wisconsin Republican declared that "Congress and the White House are united in our promise to repeal Obamacare and replace it with a patient-centered system."
"Tonight," Ryan continued, "we made progress on that pledge as President Trump demonstrated that he and the House are coalescing around a replacement plan, including a tax credit to help individuals buy a health plan that fits their needs." How much weight Trump's words carry with recalcitrant conservatives, however, remains to be seen.