Russia Sanctions: Donald Trump is Hostage to Congress And Like Hillary Clinton, Moscow Says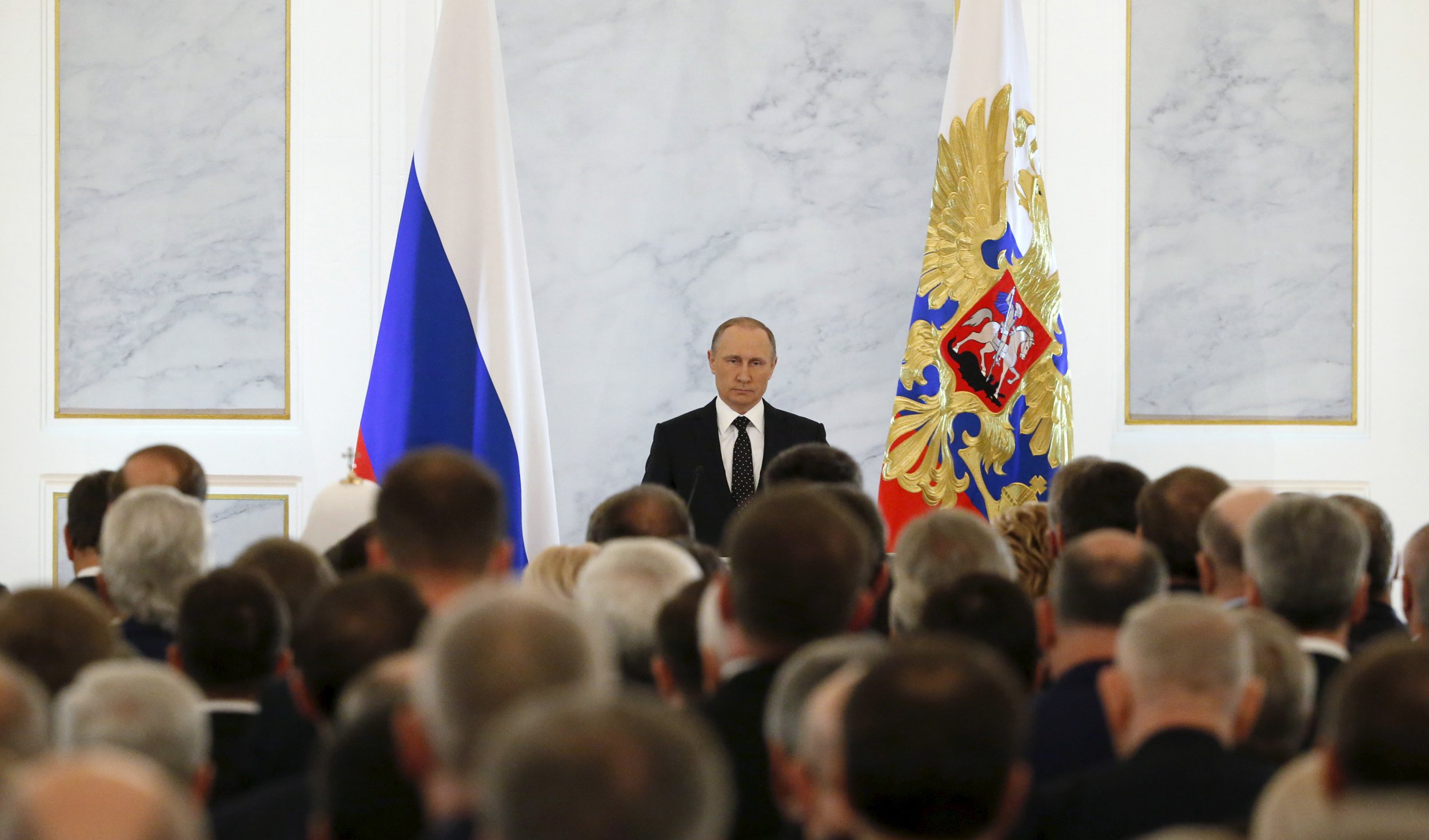 Russian politicians are up in arms over the freshly approved U.S. sanctions bill on Russia, warning of severe damage to ties with Washington and also taking swipes at the man they once hoped would loosen pressure on Moscow—President Donald Trump.
"This is a new stage of confrontation," Russian senator Alexey Pushkov wrote on Twitter Tuesday night. "The law on new sanctions is approved. Trump will sign it, confirming that he is a hostage to Congress and anti-Russian hysteria."
Read More: Putin told to punish Poland as World War II row heats up
The outspoken foreign policy commentator from Russian President Vladimir Putin's United Russia party claimed Trump, who has repeatedly claimed he wants to "get along" with Moscow, now stood for the principles of his predecessor Barack Obama and his rival Hillary Clinton.
The sanctions bill on Russia, approved with near unanimous support in the House of Representatives seeks to give Congress, not the White House, the right to lift restrictive measures on doing business with companies close to the Kremlin. The measures have been in place since 2014, as punishment for Russia's annexation of Crimea from Ukraine. Congress approved the bill at a time when Trump's sympathies for Russia and his team's repeated contacts with Russian government-linked figures is causing mass suspicion in the U.S.
"Trump is forced to carry out Obama's policy, being turned into H. Clinton," Pushkov wrote Wednesday morning.
The sanctions bill has found momentum as U.S. politicians and the intelligence community agree that Russia attempted to interfere in last year's presidential election that resulted in Trump's victory.
Russia's reaction to the bill, if not symmetrical, should be "painful for the Americans," Senator Konstantin Kosachev, head of the International Affairs Committee wrote on Facebook on Wednesday. After the Congress vote was published, which was heavily in favor of sanctions (419 for and three against), Kosachev concluded prospects for a warming of ties looked bleak.
"Dialog will not happen, that will be so for a while. And President Trump will not handle his Congress," Kosachev said. "Hope dies last but it is dying."
He accused the U.S. of not accepting its own election result, claiming the "world's policeman" now resembles "a capricious child." To avoid isolation, he claimed Russian politicians will now seek council with EU nations, whose energy deals with Russia may be affected by a new provision in the sanctions bill.
"Let's not be under any illusion, they will not be our allies," Kosachev said. but, for the sake of economic interests, he suggested "at least a mésalliance is possible."
Chances for a diplomatic breakthrough between Russia and the U.S. "are now reduced to a severely low level," Leonid Slutsky, head of the Russian lower house's International Affairs Committee told state news agency Itar-Tass. "The same, anti-Russian flywheel, released under Obama, continues to crush all in its path."
Russia's Deputy Foreign Minister Sergey Ryabkov called for Russia to react "without emotions," as he too lambasted the decision, without specifying any actual policy aims, .
"What is happening [is] beyond the bounds of sound reason," Ryabkov told Tass on Wednesday.