How Donald Trump Could Actually Meet Kim Jong Un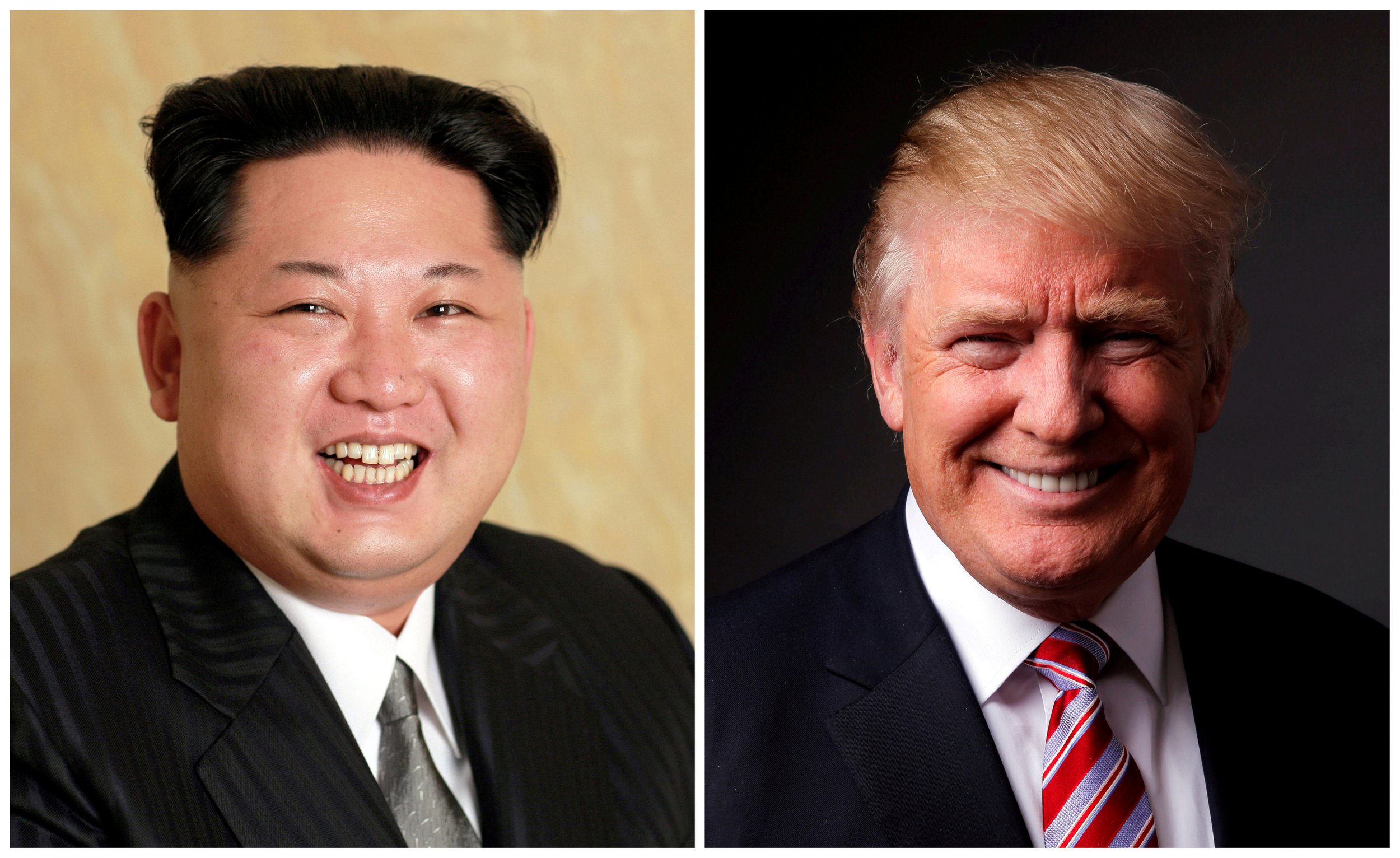 Donald Trump's recent comment that he would be "honored" to meet North Korean ruler Kim Jong Un made headlines Tuesday, but he is not the first U.S. president to reach out to the leadership of the secretive state.
Former Presidents Bill Clinton and George W. Bush both made contact with Kim Jong Il, the former North Korean leader and Kim Jong Un's father. Clinton's contact came in the form of a visit by his Secretary of State Madeleine Albright in 2000, and Bush through a personal letter in 2007.
In an interview with Bloomberg News, Trump suggested he may go further and actually meet Kim Jong Un "under the right circumstances."
"If it would be appropriate for me to meet with him, I would absolutely, I would be honored to do it. Most political people would never say that, but I'm telling you under the right circumstances I would meet with him. We have breaking news," he said.
But what, exactly, are the right circumstances?
Military experts such as the Rand Corporation estimate that North Korea could develop nuclear missiles capable of hitting the U.S. by 2020 or 2025, pushing the country's nuclear arsenal high on the Trump administration's security and foreign policy agenda.
Trump had mentioned the possibility of a "major, major" conflict with North Korea in an interview with Reuters on April 27, saying he would "love to solve things diplomatically, but it's very difficult."
Secretary of State Rex Tillerson has warned that "strategic patience" was running out and did not rule out military confrontation, telling the United Nations on April 28 that negotiations were off the table until North Korea takes adequate measures to downsize its nuclear capability.
In order for talks to between Trump and Kim to take place, North Korea would need to stop its missile tests and its production of nuclear material for an extended period of time. That may allow negotiations with the U.S. to establish diplomatic relations.
"I wouldn't be surprised if this is what Trump and his advisers have in mind because it's been US policy before so it's nothing new," says Ramon Pacheco Pardo, senior lecturer and co-director at London Asia Pacific Centre for Social Science at King's College London.
What are the precedents for U.S.-North Korea dialogue?
While serving as Secretary of State under President Clinton, Madeline Albright paid a visit to Kim Jong Il in Pyongyang in 2000. Reflecting on the historic moment in a 2003 interview with PBS, she said the former North Korean leader wanted to have a relationship with the United States.
"He was really quite open, in discussions that we had, in terms of limiting his missile program, and it was very evident that what he wanted to do was to be involved in a negotiation, which would lead to a meeting with President Clinton that would result in a better relationship," she said.
Kim Jong Il did eventually meet with Clinton, but in 2009, when the former president's diplomatic services were used by President Barack Obama and Secretary of State Hillary Clinton to negotiate the release of imprisoned American journalists, a mission that was successful.
Under George W. Bush, America's approach toward North Korea became more confrontational, reversing Albright and Clinton's work and referring to the country as part of an "Axis of Evil," that included Iran and Saddam Hussein's Iraq.
But towards the end of his presidency, Bush's position became less hawkish. In 2007 he wrote a personal letter to Kim Jong Il, offering the prospect of normalized diplomatic relations in exchange for a full disclosure of North Korea's nuclear program and the renunciation of nuclear weapons.
A year later, Barack Obama came to power and in 2009, two American journalists were arrested in North Korea. Clinton flew to Pyongyang and negotiated their release. Then, in 2011, Kim Jong Il died and his son, Kim Jong Un, came to power.
Since then, Kim's contact with foreign leaders has been minimal. The most high-profile visit from a U.S. citizen to North Korea has been that of former NBA player Dennis Rodman, who visited Pyongyang twice, in 2014 and 2015.
Kim Jong Un has yet to make an official state visit abroad and neither a visit to Russia under Vladimir Putin's invitation nor a visit to China—Pyongyang's only significant ally—ever took place.
Who would take part in the negotiations?
In possible negotiations, North Korea would be represented by either the minister of foreign affairs, currently Ri Yong Ho, or his deputy Han Song Ryol. On the other side, the U.S. would likely be represented by the U.S. Special Representative for North Korea Policy, currently Joseph Y Yun.
China and South Korea would also have a seat at the table, likely represented by their envoys for North Korean affairs. Japan and Russia, as the other big regional players, may also be present.
While they would not necessarily be part of the negotiations, Trump recently invited leaders of South Asian nations such as the Philippines, Singapore and Thailand to the U.S. to discuss cooperating in order to contain Pyongyang's aggression.
Philippine President Rodrigo Duterte has yet to accept the invitation. After welcoming the visit of three Chinese warships to his home town of Davao City on May 1, Duterte told reporters his schedule is already packed with engagements that would make a trip to Washington difficult to fit in.
"I am tied up. I cannot make any definite promise. I am supposed to go to Russia, I am supposed to go to Israel," he said, as quoted by AFP.
A former American colony and a traditional ally, the Philippines have realigned away from the U.S. and closer to China under Duterte's leadership.
Trump's invitation, which occurred during a phone call with Duterte on April 29, sparked controversy in the U.S. because of Duterte's so-called "war on drugs" in which thousands of presumed drug dealers have been shot dead in the streets of the Philippines in summary killings.
White House chief of staff Reince Priebus said the invitation to Duterte was meant to discuss North Korea's nuclear threat with a traditional South Asian partner rather than simply honoring the Philippine president. Appearing on ABC's This Week on Sunday, Priebus said: "If something does happen in North Korea, that we have everyone in line backing up a plan of action that may need to be put together with our partners in the area."