Trump's 2016 Hush Money Scheme is Being Investigated Again. Here's Why the House Democrats' Probe Will Be Different
When House Democrats announced last week that they would be investigating hush money payments made to protect President Donald Trump during the 2016 election, one question likely popped into everyone's head: haven't we been down this road before?
Trump has been the subject of an unprecedented number of probes since entering office. There are currently more than a dozen investigations against him at the federal and state level where prosecutors are looking into his business, now-defunct charity, campaign and inaugural committee. Legal experts say many of these ongoing inquiries pose a serious threat to his hold on the presidency.
It's no wonder that Americans are growing tired of the onslaught. A Harvard-Harris poll conducted in May, shortly after special counsel Robert Mueller wrapped up his two-year Russia investigation, found that 58 percent of U.S. adults believed that given Mueller's report "we should turn the page on investigations of President Trump."
But legal experts say that these congressional probes will be different, citing oversight powers that are not afforded to law enforcement or the Department of Justice that is likely to bring new information to light.
"It's not too late. We've got a clear election violation but there's a lot of stuff we don't know," former federal prosecutor Nick Akerman told Newsweek. Akerman served as an assistant special prosecutor in the Watergate scandal that brought down Richard Nixon.
Federal prosecutors ended their official probe into the Trump campaign's alleged hush money scheme in July. The only person charged in the case was Michael Cohen, Trump's former personal attorney, who plead guilty to campaign finance violations along with several other financial crimes. He is currently serving a three-year prison term.
The former lawyer told authorities that he was acting "at the direction" of the president when he made the payments to adult film star Stormy Daniels to keep quiet about her alleged affair with Trump in the days before the election. It was also discovered that The National Enquirer, a tabloid run by Trump allies, paid off hush money to former Playboy model Karen McDougal to similarly withhold her alleged relationship with the president from the public.
Trump has denied the affairs and said he never directed Cohen to do anything illegal. When federal prosecutors closed their case this summer, the president cheered it as proof of his innocence. Trump attorney Jay Sekulow called it "another case closed."
But the House Judiciary Committee is planning on making the hush money scheme a centerpiece of their fall investigations. The panel is preparing to hold hearings and request testimony from people involved in the project.
"There's a huge misconception, and it's lead by the president himself, that because law enforcement has looked at an issue that Congress shouldn't," former Deputy Assistant Attorney General Elliot Williams told Newsweek. "I think the public has some investigation fatigue. That's frankly because the public is, like the president, sort of confused a little bit about whether or how Congress is different than law enforcement."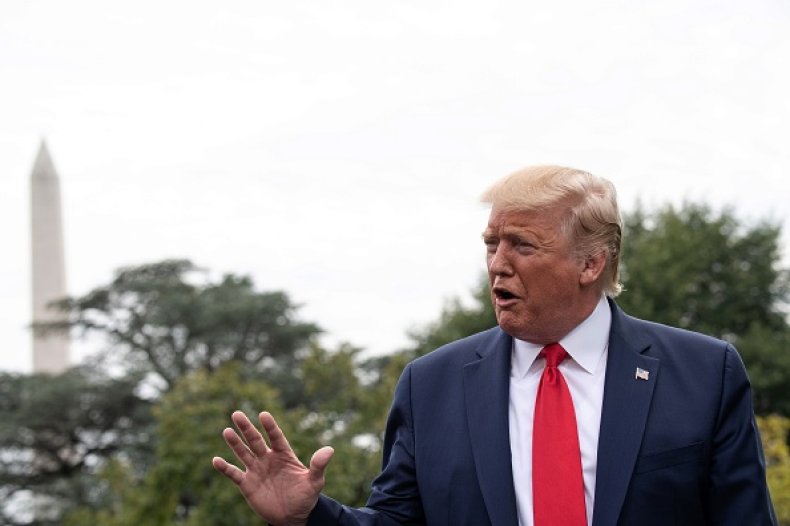 Law enforcement is limited in that its job is to only investigate and prosecute potential violations of criminal and civil statutes. That, paired with the longstanding Department of Justice policy not to indict a sitting president, made it nearly impossible for investigators to bring a charge against Trump.
But Congress has three jobs, all of which are currently relevant to investigating the president and the hush money scheme. Lawmakers have a responsibility to oversee the executive branch, legislate on areas within its jurisdiction and be the judge of a president's conduct for potential impeachment processes.
For instance, if campaign finance laws are being exploited it falls to Congress to decide how best to update the law. It's also up to lawmakers to determine if the executive branch is operating ethically, especially because it is the prevailing view in government right now that Congress is the only body that's able to adjudicate misconduct by the president.
"Like it or not, they have a duty to determine whether the president has behaved in a manner consistent with his oath of office," Williams said. "But they have to be careful not to appear to be on a fishing expedition. They have to indicate that they have a purpose or basis for anything they are going after."
But it's likely that any information or documents in Trump's possession are equally relevant to oversight, legislative or impeachment inquiries and Williams said "you don't have to look very far to see why."
"It's because so much of the president's personal dealings have bled into his time and his operation as president of the United States that just pick your document and it can apply to any number of inquiries," Williams said.
The first thing Democrats are likely to do in their hush money investigation is subpoena those directly involved in the scandal. Star witnesses include Trump Organization CFO Alan Weisselberg, American Media CEO David Pecker, Michael Cohen, Stormy Daniels and Karen McDougal. Much of what the public knows about the scheme came from Cohen, so introducing new witnesses could be major for House Democrats.
In the past, Trump has successfully blocked witnesses from participating in investigations like refusing a congressional subpoena for former White House counsel Don McGahn. But there's no way that he can prevent Daniels and McDougal from working with lawmakers, since they are not part of his administration. Plus, there is no hope of using executive privilege since the incident in question happened before he was elected president.
Plus, public hearings will give this issue more of a platform that any other prosecution would have (after all, there's no cameras allowed in federal courts) and will undoubtedly elevate their profile and influence on the American public.
"Part of this has to be trying to educate the public about what Donald Trump did," Akerman said. "And that this is not even the worst of it."