Former President Donald Trump has yet to directly address the criticism he has received after he called on Russian President Vladimir Putin to release any information he has about Hunter Biden's alleged business dealings in Russia.
The former president is facing backlash after he repeated the accusation that Hunter Biden's company received $3.5 million from Elena Baturina, the widow of former Moscow Mayor Yuri Luzhkov, during an interview on the Real America's Voice show Just the News on Tuesday.
"Why did the mayor of Moscow's wife give the Bidens—both of them—three and a half million dollars? That's a lot of money," Trump said. "She gave him three and a half million dollars. So now I would think Putin would know the answer to that. I think he should release it. I think we should know that answer."
In a statement on Wednesday, Trump briefly mentioned his comments calling on Putin to release the information, but then pivoted to addressing criticism he received after he praised Putin's military strategy ahead of the Ukraine invasion as "genius."
"I hear that VERY low-rated 'Morning Joe' and his psycho wife, Mika, think that I should not be asking Russia what the $3.5 million that Hunter and Joe got from the Mayor of Moscow's wife was for. In time, Russia may be willing to give that information," Trump said in the statement, referring to MSNBC hosts Joe Scarborough and Mika Brzezinski.
"The Fake News is also saying I called Putin a 'genius,' when actually, and to be precise, I called his build-up on the Ukraine Border before the war started genius because I assumed he would be easily able to negotiate a great deal for Russia," the former president's statement continued.
Trump went on to criticize President Joe Biden.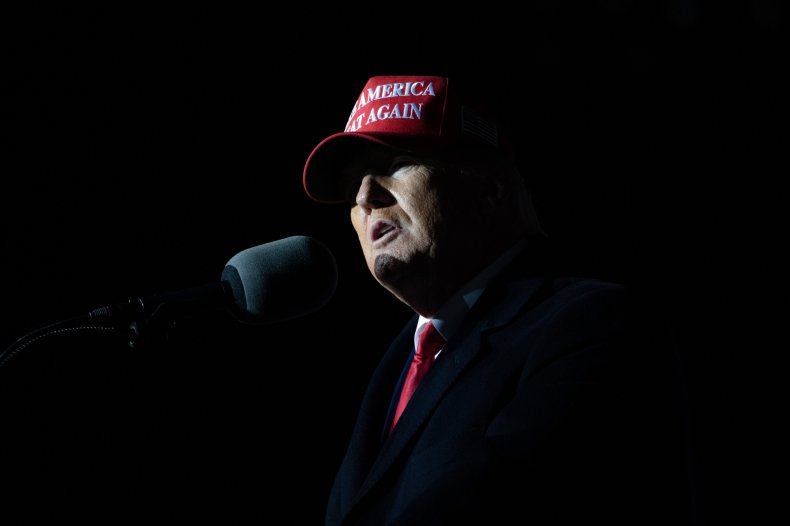 "The U.S. and NATO would agree to give Russia what they wanted. Unfortunately, and tragically, Putin went too far, acting on the WEAK Foreign Policy of the Biden Administration," he said.
On Wednesday, the White House blasted Trump for asking Putin to release information on Hunter Biden.
'What kind of American, let alone an ex-president, thinks that this is the right time to enter into a scheme with Vladimir Putin and brag about his connections to Vladimir Putin," White House Communications Director Kate Bedingfield said during a press briefing. "There is only one and it's Donald Trump."
Others have criticized Trump for his comments this week.
Republican congressman Adam Kinzinger of Illinois said that Trump should be disqualified from running for office after asking Putin to release information on Hunter Biden.
"No former President should ever ask an evil man like Putin for a favor... like Trump did just yesterday," Kinzinger said on Twitter. "This is absolutely undermining the national security of this country and should be disqualifying for any re-election."
Newsweek reached out to Trump's office for comment but did not receive a response before publication on Thursday morning.