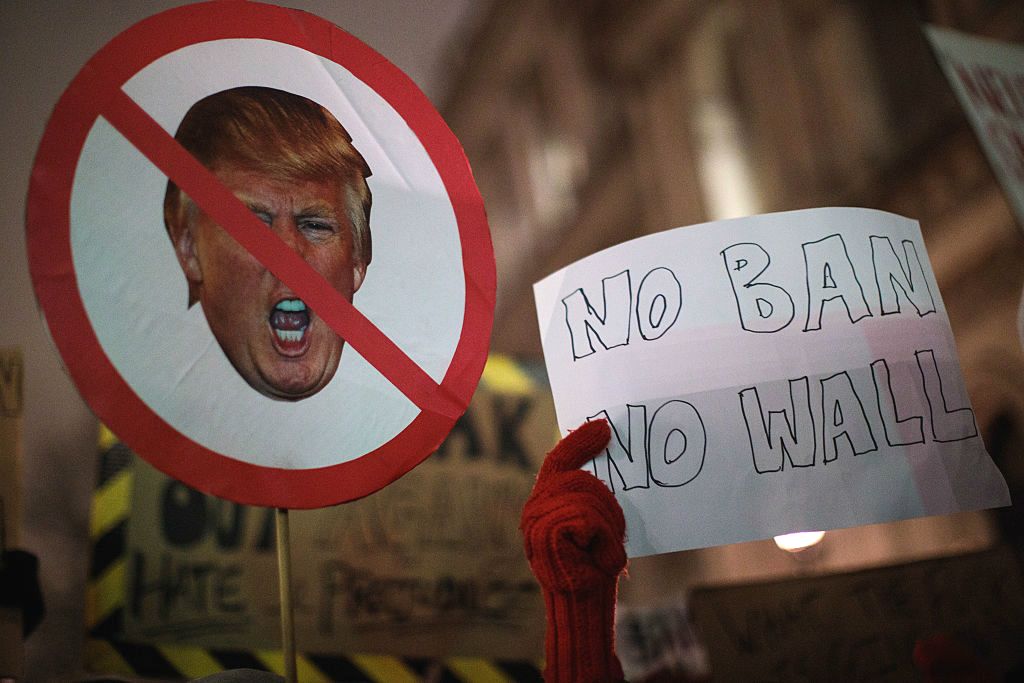 The vast majority of Americans are opposed to President Donald Trump's immigration ban, according to new research that significantly contrasts with traditional polling on the subject.
Research by BrandsEye, an artificial intelligence data analysis firm, showed that 91 percent of Americans were critical of Trump's recent executive order on immigration in conversations on social media. The findings highlight the limitations of current opinion polls, according to the firm's CEO, which generally found opinion to be more evenly divided. A Reuters/Ipsos poll at the end of January found that 49 percent of people agreed with the order, while 41 percent disagreed.
"Our analysis avoids the inherent question bias that comes with traditional polling," BrandsEye CEO JP Kloppers tells Newsweek. "While people may answer 'yes' or 'no' on a poll, you'll find it's a different story when they are forced to voice their opinions and defend them in the public free speech arena of social media."
Kloppers says BrandsEye uses technology to uncover organic, unsolicited opinions being shared on platforms such as Facebook and Twitter. The company used similar analysis techniques to accurately predict Trump's election victory in November, as well as the U.K.'s vote on Brexit.
Trump's executive order of January 27 announced an immediate block on all refugees and also denied U.S. entry to citizens of seven predominantly Muslim countries. Federal courts halted the order in early February but Trump has promised to announce new immigration measures.
BrandsEye tracked online conversations between January 16 and February 7 to determine the sentiment toward the immigration order and the proposed wall separating the U.S. and Mexico.
By using keywords, such as "Trump", "immigration" and "ban", the system logged more than 4 million mentions across social media. The company then analyzed a random sample of 10,058 mentions through a crowd-sourced network of humans to determine whether a mention was positive or negative.
Companies including Uber and Adidas are already using BrandsEye's technology to better understand how people perceive their brands, while the company now plans to turn its AI on the build up to the forthcoming elections in France, Mexico and the Netherlands.
"Real people are able to understand better than an algorithm the true sentiment of a comment; for example, is someone is being sarcastic?" says Kloppers. "We ensure accuracy by sending every point of data through multiple people. An AI engine then delivers an overall sentiment measure.
"The results suggest Trump's support base has lost confidence. Why this is, I'm not sure; that's in the realm of analysis that we don't play in."