Trump Falsely Lumps Immigrants With Criminals to Promote His Agenda, Research Finds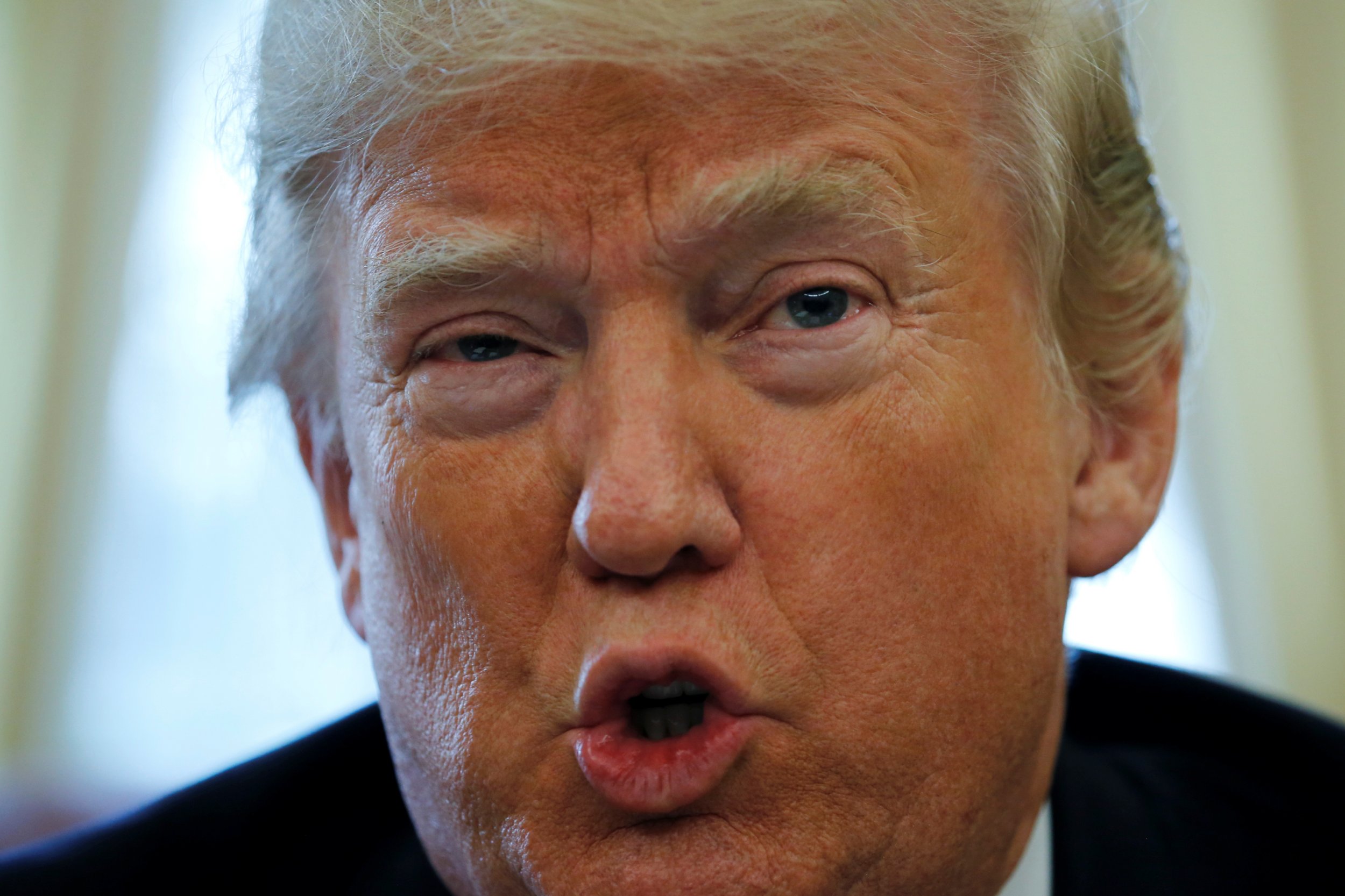 It's no secret that President Donald Trump is clamping down on immigration to the United States. But new research shows exactly how—by spreading a false narrative about immigrants' criminality.
Since January, the Trump administration has ratcheted up arrests of unauthorized immigrants at a dizzying speed; given federal immigration agencies the green light to arrest anyone, anywhere, including a 10-year-old girl with cerebral palsy straight out of emergency surgery; implemented a travel ban against Muslim-majority countries that left hundreds of asylum-seekers approved for relocation in the U.S. stranded across the world; proposed curtailing family-based visas and other forms of legal immigration; put some 700,000 people who arrived to the country as children at risk of deportation—the majority of whom are either employed, going to school, business owners, or enlisted in the military; and will soon begin separating migrant children from their parents at the southern border.
Behind these policy decisions is a stream of rhetoric coming from the president's mouth or his Twitter account that champions these measures as means to protect Americans and their interests against dangerous, "illegal" or "criminal" immigrants. He notoriously kicked off his presidential run by calling Mexican immigrants "drug dealers," "criminals" and "rapists" in 2015 and recently told his senior staffers that Haitian and Nigerian immigrants vying to come to the U.S. "all had AIDS" and would never "go back to their huts" once they saw America, respectively.
But a new study from the University of California, Los Angeles' César E. Chávez Department of Chicana and Chicano Studies, concludes that the president's narrative of immigrants "is a complete fiction, a dystopic view of a nation under siege." Led by sociolinguistics professor Otto Santa Ana, a team of dozens of researchers went through more than 300 of Trump's speeches and nearly 7,000 of his tweets from 2015 to 2017, identifying the major elements by which the president describes immigrants.
The study summarizes Trump's narrative of immigrants as follows:
America, the once great castle on the hill, is besieged. Its walls are broken, its border lays open, and it is overrun by ruthless invaders. Our enemy, Mexico, has flooded us with the worst of its people: violent criminals, drug cartels, gang members, and human traffickers. Meanwhile, stupid and corrupt American politicians have led us to this existential crisis. Only brave Trump can save our country by letting law enforcement officers forcefully rid the nation of the invaders, and by building a Great Wall to "make America great again."
The study concludes that Trump has effectively created code words and metaphors "to lump highly heterogeneous peoples into oversimplified groups to convey a political message." Trump's three most prominent metonymies (words used to stand in for another word) are "MS-13," "criminal alien," and using the names of citizens recently killed by immigrants as stand-ins for "countless Americans" purportedly harmed by unauthorized immigrants in the U.S.
But the researchers argue that this narrative strays away from the facts: According to The Migration Policy Institute, less than 3 percent of the 11 million unauthorized immigrants living in the U.S. have committed felonies—half the proportion of felons in the overall population in America. Trump also has refused to acknowledge concerns from both sides of the aisle that a border wall might not be effective at stopping the influx of drugs into the country. Furthermore, a majority of supposed MS-13 gang members detained by immigration officers have turned out to be U.S. citizens.
And despite claims of ridding the country of dangerous criminals, the largest increases in detentions during Trump's first year in office have been of non-criminal immigrants: According to the latest figures released by Immigration and Customs Enforcement (ICE), the number of arrests of immigrants for civil violations increased by 30 percent from this time last year, while the number of detained immigrants without criminal records more than doubled.
The study builds on a growing movement to destigmatize immigrants by changing the language used to describe them.
For decades, politicians from both parties have described immigrants as "illegals" in reference to their civil (not criminal) offense of living or entering the U.S. without proper authorization.
But many civil liberties and human rights advocates warn that the label dehumanizes immigrants and oversimplifies the country's complex immigration laws. As Nobel laureate and Holocaust survivor Elie Wiesel argues:
You who are so-called illegal aliens must know that no human being is illegal. That is a contradiction in terms. Human beings can be beautiful or more beautiful, they can be fat or skinny, they can be right or wrong, but illegal? How can a human being be illegal?
Moreover, the country's most prominent news organizations have opted against describing immigrants as "illegal." In 2013, the Associated Press Stylebook—the standard for most newsrooms in the U.S.—was amended to no longer sanction the use of "illegal" to describe a person.