Democrats Narrowed Trump Impeachment Articles From 10 to 2, Book Claims
House Democrats had considered 10 articles of impeachment against President Donald Trump but narrowed them down to two over fears that such a broad approach would not be backed by everyone in the party, according to a book set to be published next week.
Norman Eisen, a former White House official and ambassador, who was a lawyer for house judiciary committee chairman Rep. Jerrold Nadler during the impeachment process, wrote that among articles being considered were claims Trump illegally diverted money for his border wall, profited from his presidency and obstructed the investigation into claims Russia interfered in the 2016 election.
However, House Democratic leaders rejected the other articles, thinking that it would be seen as going too far and risk losing them votes among Democrat lawmakers, the book A Case for the American People says.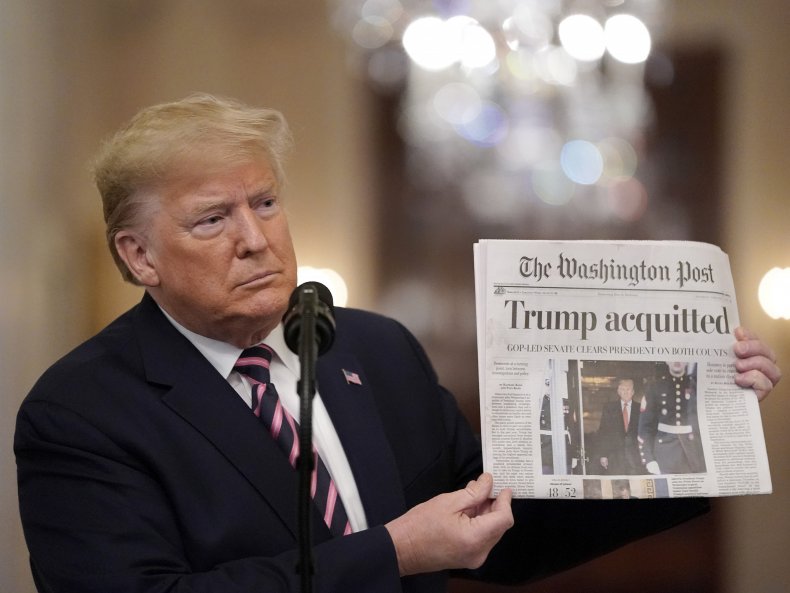 In February, the Senate acquitted Trump on charges of abuse of power and obstruction of Congress to aid his own re-election, linked to claims that he pressured Ukraine to incriminate his Democratic rivals.
Democrats had debated whether there should be a third article that Trump obstructed the investigation by special counsel Robert Mueller into Russian electoral interference claims, but this was vetoed by House Speaker Nancy Pelosi, the book says.
Eisen, a former ethics counsel to President Barack Obama, wrote that even before the Ukraine controversy emerged, judiciary committee staff members had drafted nine articles of impeachment in August 2019.
They added a placeholder 10th article, called "the next high crime," and when the Ukraine story emerged, it filled that slot, the book claimed.
However House Democratic leaders felt this could undermine the impeachment process and instead decided that Ukraine should be the focus, figuring that Democrats in conservative districts would not back such a broad-based approach.
The two charges got the support of nearly every Democrat, but the party has faced criticism that its focus was too narrow and was not convincing enough for Republican senators to remove Trump.
Eisen told The New York Times in an interview: "I would have loved to have gotten all the articles," although he said, "there would have been no benefit to doing it because there was no consensus for doing it."
The book also reports attempts by House Democrats to get the account of former security adviser John Bolton to testify against Trump. Bolton's book published last month said that Trump linked his suspension of military aid for Ukraine to his demand for help tarnishing Democrats
Eisen wrote that House Democrats had asked Bolton to submit a written affidavit, which Bolton refused, insisting he would appear only under Senate subpoena.
Eisen told The Times, this could have transformed the trial "and not only have blown open the door to Bolton testifying but other witnesses," he said.
"I view the book as the last chapter both figuratively and literally of the campaign, most fundamentally, to inform the American people about the clear and present danger that Donald Trump represents to each one of us," he told the paper.
Newsweek has contacted the White House for comment.