Senate Votes To Acquit Donald Trump in Split Vote With Republican Mitt Romney As Sole Defector
A lone senator broke from party ranks Wednesday to vote for President Donald Trump's removal from office on one impeachment charge of abuse of power.
Republican Senator Mitt Romney of Utah was the sole lawmaker to break from his party and support the president's conviction on the single article, making him the first senator in the history of the United States to vote for the impeachment of a president from the lawmaker's own party.
"The president's purpose was personal and political. Accordingly, the president is guilty of an appalling abuse of public trust," Romney, who voted to acquit for the second article on obstruction of Congress, said in a floor speech.
"What he did was not perfect, no. It was a flagrant assault under electoral rights, our national security and our fundamental values," continued. "Corrupting an election to keep one's self in office is perhaps the most abusive and destructive violation of one's oath of office that I can imagine."
Romney was fully aware that his GOP colleagues will "strenuously disapprove" and that he'll be "vehemently denounced" by others. "I'm sure to hear abuse from the president and his supporters," he added.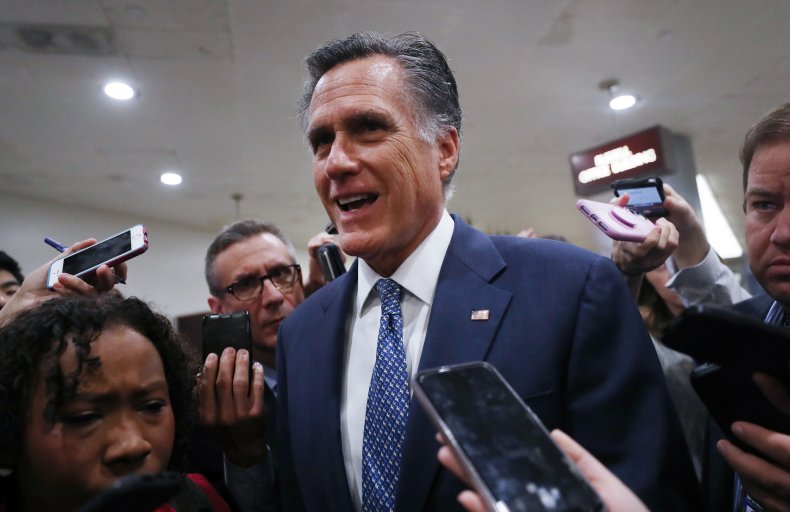 Still, the final tallies for the abuse of power and obstruction of Congress articles, 48-52 and 47-53, respectively, made Trump the third president in American history to be acquitted of articles of impeachment.
A two-thirds majority, or 67 votes, was required to convict Trump, an outcome that was exponentially difficult, given the political makeup of the chamber. Twenty Republicans would have needed to side with all 45 Democrats, plus the two Independents who caucus with them.
In the hours leading up to the vote, questions lingered over who—if any—senators would break from their party. A handful of House Democrats opposed the president's impeachment, though they were unsuccessful in preventing the articles from advancing to the Senate.
Ultimately, some of the senators who were once considered toss-ups on Trump's innocence or guilt, which consisted of Lamar Alexander (R-Tenn.), Lisa Murkowski (R-Alaska), Susan Collins (R-Maine), Doug Jones (D-Ala.), Joe Manchin (D-W.V.) and Kyrsten Sinema (D-Ariz.), chose to vote with their respective party.
"The evidence clearly proves that the president used the weight of his office and the weight of the united states government to seek to coerce a foreign government to interfere in our election for his personal political benefit," Jones said, who waited until the day of to reveal his stance.
Democrats are expected to characterize the president's acquittal as "meaningless," since Republicans defeated their effort to subpoena documents and witnesses, including former national security adviser John Bolton.
An increasing number of GOP lawmakers have said that Trump's request of a foreign entity to investigate a domestic political rival displayed "very poor judgment" and was "inappropriate." But his actions, they said, did not elevate to the level of impeachable conduct.
"The president's behavior was shameful and wrong. His personal interests do not take precedence over this of this great nation," Murkowski said in a floor speech Tuesday. However, she added: "I cannot vote to convict. The constitution provides for impeachment but does not demand it in all instances... The voters will pronounce a verdict in nine months, and we must trust their judgment."
After suggestions by Donald Trump Jr., the president's eldest son, and others within the party that Romney should be expelled from the GOP or formally punished for his vote, Senate Republicans came to the first-term lawmaker's defense. This despite their disagreement to break from party ranks.
Majority Whip John Thune (R-S.D.) said despite Romney's support to oust the president, he would remain a welcomed member of the Republican Conference.
"I think he and the president had a little bit of a complicated relationship to start with," he said. "I don't think it really changes much. I think we knew how this is going to end. We knew all along that it wasn't going to get 20 Republicans to get to 67."
On the eve of his acquittal, Trump delivered his third State of the Union address. Although avoiding the word "impeachment," Democrats characterized the night as a "right-wing reality show" with campaign rally rhetoric, while Republicans championed him for delivering a "Reaganesque" speech.
Delivering his remarks from the House floor Tuesday night, where less than two months ago Speaker Nancy Pelosi (D-Calif.) led her caucus to pass the impeachment articles, obvious tensions flared between the two Washington powerhouses. The address opened with Trump snubbing a handshake offered by Pelosi and concluded with the tearing of paper that was heard around the world: the California Democrat tore up a copy of the president's speech.
Pelosi received a standing ovation from her colleagues during a closed-door caucus meeting Wednesday morning. The seven impeachment managers also received similar praise, according to a Democratic aide inside the room.
"I tried to find one page I could spare that didn't have a lie on it," she said that morning, according to the aide. "About a quarter through it, I thought, 'You know, he's selling a bill of goods like a snake oil salesman. We cannot let this stand.' So, somewhere along the way, realizing what was coming, I started to stack my papers in a way that were tear-able."