Republicans Rally Around Mitt Romney After Calls for His Expulsion from GOP Over Vote to Convict Trump
Senate Republicans rejected calls from President Donald Trump's eldest son, Donald Trump Jr., and others within the party Wednesday to oust Sen. Mitt Romney (R-Utah) from the GOP or to issue a formal reprimand over his impeachment vote to convict the president.
Instead, Romney's colleagues came to his support, despite their disagreement with his position that Trump was guilty for the abuse of power charge against him.
"I think that's silly talk," Sen. Mike Braun (R-Ind.) said. "We turn the page after today and get on with the agenda."
"We don't have any dog houses here," Senate Majority Leader Mitch McConnell (R-Ky.) said of the subject. "I was surprised and disappointed... I think Senator Romney has been largely supportive of almost everything we've tried to accomplish."
News that Romney would split his votes to convict Trump for abuse of power but acquit on obstruction of Congress quickly riled the world of conservative politics. Some called for his expulsion from the Senate Republican Conference while others suggested he be formally punished, which would likely come in the form of a censure from the national party.
Trump Jr., who often stumps for this father on campaign trail at events across the country, took to Twitter to label the Republican a "member of the resistance" and someone who "should be expelled from the @GOP."
"Mitt Romney is forever bitter that he will never be POTUS," Trump Jr. wrote, referring to Romney's failed 2012 presidential bid against former President Barack Obama. "He was too weak to beat the Democrats then so he's joining them now."
Prompted by reporters about Trump Jr.'s suggestion to expel Romney, Sen. Mike Rounds (R-S.D.) laughed and did not comment.
Republican National Committee (RNC) Chairwoman Ronna McDaniel, who is also Romney's niece, wrote on the social media site that she, "along with the @GOP, stand with President Trump."
The first-term senator's former press secretary, Rick Gorka, who's now a communications director for the RNC, claimed on Twitter that his former boss was "motivated by bitterness and jealously" because Trump "accomplished what he has failed to do multiple times."
Trump responded in a tweet of his own early Thursday, against the advice of Sen. John Cornyn (R-Texas), who suggested the president should solely focus on the fact he was acquitted. "I don't think retaliation is called for," he said.
"Had failed presidential candidate @MittRomney devoted the same energy and anger to defeating a faltering Barack Obama as he sanctimoniously does to me," Trump wrote, "he could have won the election."
The president also took a shot at Romney at the bipartisan National Prayer Breakfast. "I don't like people who use their faith as justification for doing what they know is wrong," he said.
But Romney's GOP colleagues had little appetite to entertain such rhetoric, quickly dispelling the notion there was even a consideration among Senate Republicans to take action against a member who faced a difficult moral dilemma.
"I don't really know how you expel somebody from the Republican Party. We choose what party we belong to, and I'm glad Mitt's a Republican," said Sen. Kevin Cramer (R-N.D.). "The biggest blowback that Senator Romney has to be concerned about is, of course, the voters that elect him. That's who he works for. Now, he's also bound to his conscience and to the Constitution, and so he, like all of us, has to struggle with that combination of things."
Romney's position remained unknown until roughly an hour before Wednesday's vote, when he took to the Senate floor to acknowledge that the vote he was about to cast would leave many within the GOP angry.
"I'm aware there are people in my party and in my state who will strenuously disapprove of my decision and, in some quarters, I will be vehemently denounced," he said. "I'm sure to hear abuse from the president and his supporters."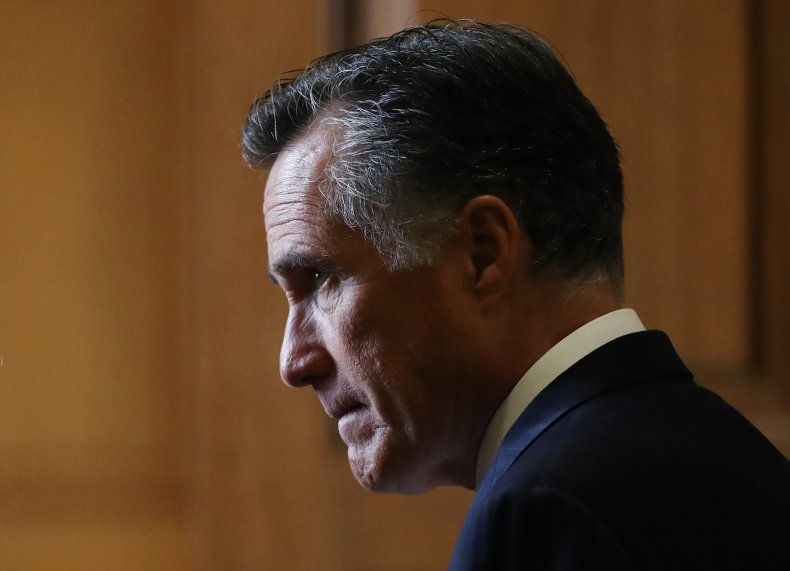 Trump's purpose in withholding military aid to Ukraine as he pressured them to conduct investigations into Democrats that could benefit his re-election effort was "personal and political," Romney said. Therefore, it was impeachable under the abuse of power article, he concluded.
"The president is guilty of an appalling abuse of public trust," Romney said. He voted to acquit Trump on the obstruction of Congress article. "What he did was not perfect, no. It was a flagrant assault under electoral rights, our national security and our fundamental values. Corrupting an election to keep one's self in office is perhaps the most abusive and destructive violation of one's oath of office that I can imagine."
Romney's decision to break rank from his fellow Republicans made him the first senator in United States history to vote for the conviction of a president of the same party. Still, from leadership to rank-and-file members alike, his Senate colleagues made clear there was still a place for him within the Republican Conference and an opportunity to work with him in the future.
"That happens every day around here, people vote in ways you don't agree with," Sen. Marco Rubio (R-Fla.) said. "I'm not diminishing it's a big vote, you're voting to remove the president. I don't agree with his decision, but I don't necessarily view that as something that's going to impede his ability to work with other senators."
Majority Whip John Thune (R-S.D.), citing Romney's past "complicated relationship" with Trump and the predetermined notion he would be acquitted, said, "I don't think it really changes much."
"Follow your heart, but take your brain with you," Sen. John Kennedy (R-La.) said. "I'm going to assume Senator Romney did that."
Romney also received praise from Democrats, who noted the vote to convict—although a failure—was bipartisan.
"Senator Romney's speech gave me, on a personal level, hope that 'country above party' is not just a slogan, but an imperative," Sen. Brian Schatz (D-Hawaii) said. "It was just a glimmer of hope in an otherwise dark couple of weeks for the country."
Senate Minority Leader Chuck Schumer (D-N.Y.) said the attacks against Romney from members of his own party were proof of his notion that it's either support the president 100 percent or face the wrath of Trump and his supporters.
"If you stand up when you think the president is wrong... they want to throw you out of the party," he said after the vote. "They're always afraid of Donald Trump."
This story was updated to include a tweet and remarks from the president.