Trump Impeachment Odds Reach New High Following Trump Jr.'s Russia Meeting News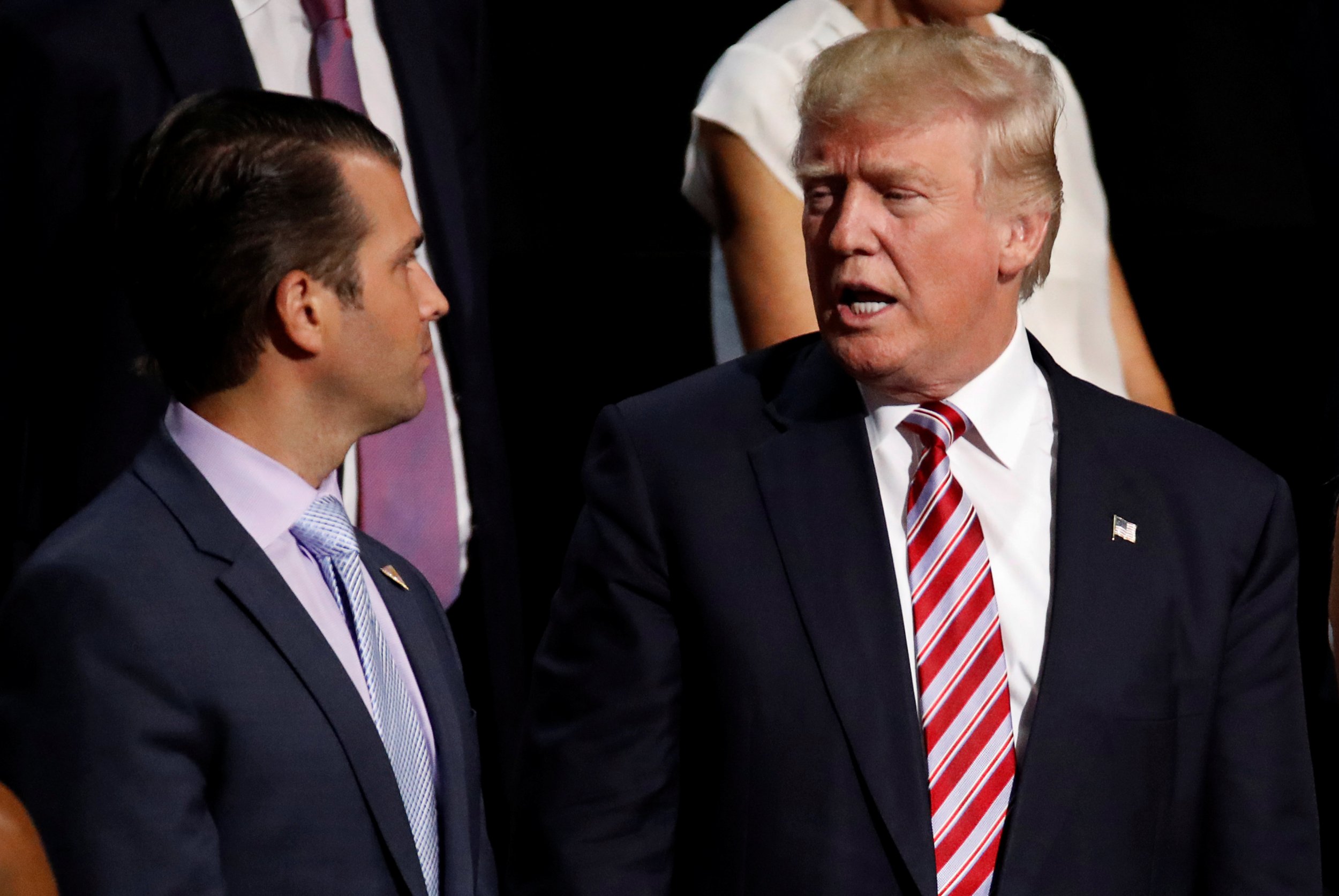 The odds that Donald Trump will be impeached during his first term as president reached a new high following the disclosure that his son, Donald Trump Jr., arranged a meeting with a Russian government attorney to discuss what was purported to be information that could be used against election rival Hillary Clinton. The disclosure comes amid a widening investigation into possible ties between the Trump campaign and Russia, which the president has repeatedly labeled a "hoax."
Related: New Trump article of impeachment claims president obstructed justice, needs an intervention
The latest wave of news led Irish bookmaker Paddy Power to dramatically cut its odds on Trump being impeached before seeing out four years in office. Following news of the meeting, the odds were set at 4/6, the shortest they have ever been. For someone looking to make money off the current political crisis, a $1 wager would earn just 67 cents in return if Trump is impeached. More pointedly, the odds equate to a 60 percent chance that Trump will become the first United States president to be successfully impeached by both the House of Representatives and the Senate.
"He'd gone quiet over the last month, and we were starting to wonder if he might have ridden out the initial controversies—but he's back with a bang today, and this could be the beginning of the end of the most unlikely president in history," a spokesman for Paddy Power said Wednesday.
The bookmaker has cut its odds of Trump being impeached in 2017 to just 2/1. a 33.3 percent chance.
Paddy Power thinks the odds are stronger that the FBI investigation will officially confirm collusion between Trump and Russia. It places those odds at 4/9, or 69 percent.
The past week has seen the emergence of arguably the strongest evidence yet of collusion.
After initial reporting on the meeting from The New York Times, Trump's eldest son released emails showing that he knew the attorney, Natalia Veselnitskaya, was linked to the Russian government. Following their release, Trump Jr. conceded to Fox News that "in retrospect, I probably would have done things a little differently."
The president, however, has played down the seriousness of the meeting.
"My son is a wonderful young man. He took a meeting with a Russian lawyer, not a government lawyer but a Russian lawyer," Trump said, misstating the identity of the lawyer, during a joint press conference with French President Emmanuel Macron in Paris Thursday. "From a practical standpoint, most people would have taken that meeting. It's called opposition research, or research into your opponent."
This is far from the only Russia-linked problem Trump has faced. Last month, former FBI Director James Comey claimed Trump asked him on multiple occasions to ease an investigation into his former national security advisor, Michael Flynn. Trump later fired Comey. The statements from Comey led to accusations that Trump had committed obstruction of justice, an impeachable offense.
Two Democratic congressmen subsequently said they were preparing articles of impeachment against the president. On Wednesday, Representatives Brad Sherman, of California, and Al Green, of Texas, made that a reality by filing House Resolution 438.
The Democratic leadership, however, has so far cautioned against openly calling for Trump's impeachment. In order for impeachment to be successful, it would require a majority vote in the House and a two-thirds majority in the Senate. Trump's Republican Party currently controls both houses.