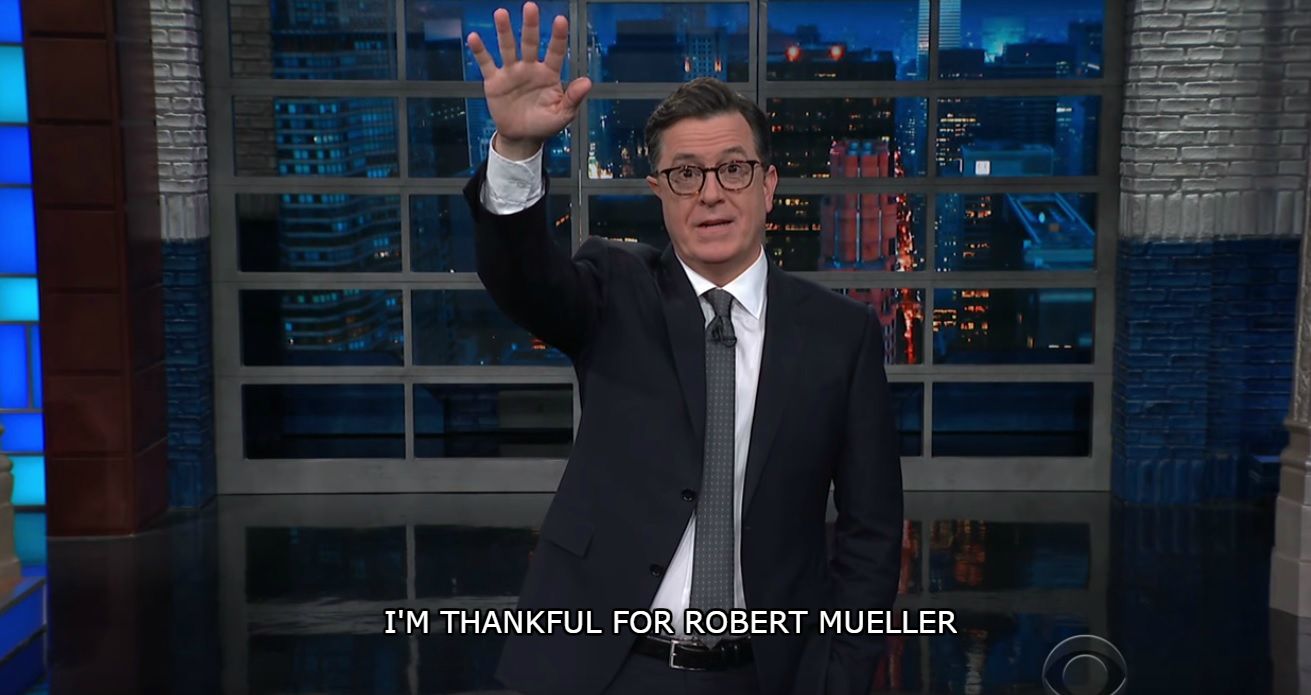 What are you thankful for this Thanksgiving? It's been a tumultuous year, politically speaking, but Stephen Colbert has found one bright spot in all the turmoil.
"I'm thankful for Robert Mueller," cracked the comedian on Wednesday's The Late Show.
Mueller is the Department of Justice special counsel investigating whether President Donald Trump's campaign colluded with Russia to interfere in the 2016 election - which could, potentially, lead to impeachment proceedings against the president. At least Colbert hopes so.
Trump himself will spend Thanksgiving at his Mar-a-Lago golf resort in Florida, to which Colbert said, "I know what the White House staff is thankful for this year."
Pointing to a report that Mar-a-Lago staffers look forward to Trump joining them at a Thanksgiving buffet Thursday, Colbert drew a stinging comparison between Trump and everyone's favorite Thanksgiving meal.
"Just imagine it: A plump, overcooked turkey waiting in line for Thanksgiving dinner," he joked.
Colbert also mocked Trump's generosity, or lack thereof, following news that his charitable foundation will shut down. "They had almost reached their goal of helping anyone," he said.
But Colbert followed up his insults with a rare compliment to the president. It is the season of giving, after all.
The comedian alluded to the elephant trophy ban imposed by President Barack Obama, which the Trump administration tried to repeal before Trump personally intervened and put the law change on hold.
"Undoing all of Obama's achievements is Donald Trump's only achievement," said Colbert. High praise.
Earlier this week, at his first turkey pardoning ceremony, Trump joked about undoing Obama's pardon on turkeys Tater and Tot last year. Because that definitely sounds like something he would do.
"As many of you know, I have been very active in overturning a number of executive actions by my predecessor. However, I have been informed by the White House counsel's office that Tater and Tot's pardons cannot, under any circumstances, be revoked," Trump (probably) joked.