A Democrat's Move to Force a Trump Impeachment Vote Placed His Colleagues in a Tough Spot
Ahead of a Wednesday vote on the House floor for a Texas Democrat's impeachment resolution against Donald Trump, many Democrats — even some of those who support opening an impeachment inquiry into the president — wavered.
Representative Al Green has supported impeaching Trump for years, and his newest resolution that sought to oust him is the third such attempt. But this time is different.
Although Green forced a vote on impeachment at a time when support among Democrats for initiating an impeachment inquiry is at an all-time high, former special counsel Robert Mueller is slated to come before Congress next week and several Democratic-led committees have yet to conclude their investigations into the president.
The worry portrayed among Democrats was that an impeachment vote could put swing district members and moderates of the party in a politically difficult situation, forcing them to go on the record to decide whether Trump should be removed from office absent support from leadership.
A motion to table the impeachment resolution by House Minority Leader Kevin McCarthy passed by a vote of 332-95-1, which essentially meant the measure was defeated. Only Democrats voted against the motion, meaning they wished to move forward with a final vote. One Democrat voted "present" while the rest of the votes supporting it to be tabled was comprised of all Republicans and the remaining Democrats.
"I'd have to look at it more carefully to make a final decision. But my sense is, when you do this, let's do it carefully, judicially, thoughtfully. The Judiciary Committee is the right venue for that," said Representative Dan Kildee, a Michigan Democrat who supports opening an impeachment inquiry, along with more than 80 of his colleagues.
Kildee was frustrated that Green filed his articles of impeachment before various committees could finish their oversight probes into Trump and the administration on a swath of issues, including potential obstruction of justice and abuse of power. He also believed there was no doubt that the sentiment among his Democratic colleagues was they preferred to keep impeachment matters contained within the committee where such articles typically originate—the Judiciary.
"I understand [Green's] frustration. I just think at some point in time, we have to be more focused on success than noise. And I think this will feel a lot more like noise," Kildee elaborated. "It's better that we — these are really big principles that are at stake... It's a reality that the legal process is just always slow."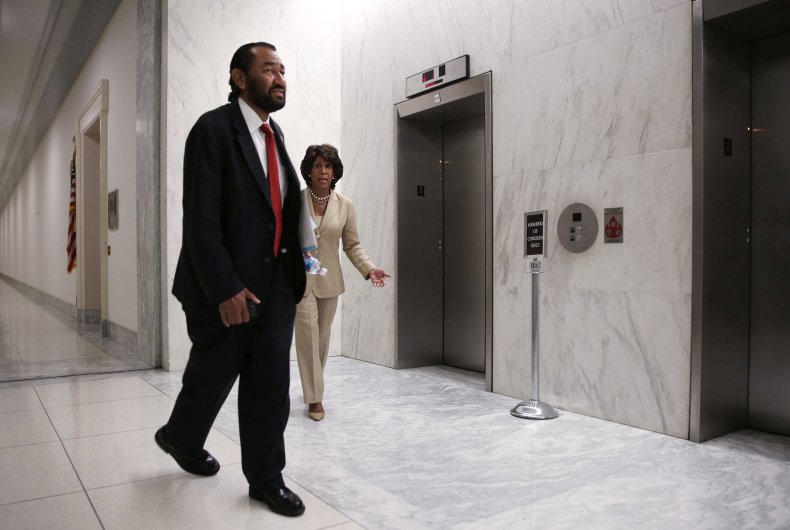 Leadership could seek to refer Green's impeachment resolution to the Judiciary Committee or to table it altogether, rather than taking a vote.
Green filed his articles of impeachment because of Trump's racist tweets telling four minority congresswomen to "go back" to the "crime infested places" they "came from," not because of obstruction of justice of abuse of power — another reason some Democrats said they didn't support it. Mostly along party lines, the House Tuesday night passed a resolution of condemnation for the president's remarks.
"I don't know what we will do, but we will deal with it on the [House] floor," House Speaker Nancy Pelosi told reporters prior to the vote. "We're not having him set our agenda, we're setting our own agenda... With all due respect, we have six committees that are working on following the facts."
Either way, action was required, as the "privileged" legislation meant it had to be voted on within two days from the time it was filed Tuesday evening.
"We don't really have a choice. Like everyone, I wish it were faster, but it's the nature of it," said Representative David Cicilline, a Rhode Island Democrat who sits on the Judiciary Committee and supports an impeachment inquiry.
In their Wednesday morning caucus meeting, House legal counsel Doug Letter briefed Democrats on various ongoing litigation matters, including obtaining Trump's tax returns, the White House's former push to add a citizenship question on the 2020 census and when Democrats will take legal action to force former White House counsel Don McGahn's compliance, according to several lawmakers. Impeachment was reportedly not discussed.
"There's a legal process you have to follow and fortunately, we still have rule of law in this country," Cicilline continued. He was undecided on Green's impeachment resolution prior to the vote. "There are appeals that are allowed by that party that loses and it's a slower process than you want, but I'm but pleased that they are litigating on multiple fronts to ensure that we can do our oversight."
Representative Val Demings, a Florida Democrat and Judiciary Committee who also supports an impeachment inquiry, said that "either one of those processes would be fine with me" in reference to supporting Green's impeachment articles vs. moving them to the committee.
Representative Pramila Jayapal, co-chair of the Congressional Progressive Caucus, said she, too, was undecided before the vote and had not "given one minute of thought" to whether the impeachment legislation could put moderate and swing district Democrats in a precarious position. She said Letter's message to the caucus was that their oversight investigations that have gone to the courts was "a very important part of our strategy."
Waiting for Mueller's testimony next week, which could act as a catalyst for more Democrats to fall into the impeachment ranks, would be "justice delayed," Green said earlier in the day. Following the vote, Green indicated that he may yet again force an impeachment resolution vote in the future — but for a different reason.
"I have been very consistent about this. I don't desire to do this myself," he said. "But if no one else does, with the President [having] obstructed — and I have not touched the area of obstruction. It has all been about his behavior in office with reference to his bigotry. At some point, obstruction will have to be placed on the table."
This story was updated to include information following a House vote.