Former President Donald Trump was indicted on Thursday following an investigation by the Manhattan District Attorney's Office into alleged hush money payments made to former adult-film star Stormy Daniels.
While speaking with the Associated Press, Trump's lawyer, Joe Tacopina confirmed that the former president was indicted by a Manhattan grand jury. Prosecutors were investigating whether Trump violated campaign-finance laws or falsified business records. At the moment, specific charges have not been released. The indictment makes history, as Trump becomes the first former president to face charges in a criminal case.
The indictment came shortly after Trump announced recently that he expected to be arrested.
"NOW ILLEGAL LEAKS FROM A CORRUPT & HIGHLY POLITICAL MANHATTAN DISTRICT ATTORNEYS OFFICE, WHICH HAS ALLOWED NEW RECORDS TO BE SET IN VIOLENT CRIME & WHOSE LEADER IS FUNDED BY GEORGE SOROS, INDICATE THAT, WITH NO CRIME BEING ABLE TO BE PROVEN, & BASED ON AN OLD & FULLY DEBUNKED (BY NUMEROUS OTHER PROSECUTORS!) FAIRYTALE, THE FAR & AWAY LEADING REPUBLICAN CANDIDATE & FORMER PRESIDENT OF THE UNITED STATES OF AMERICA, WILL BE ARRESTED ON TUESDAY OF NEXT WEEK. PROTEST, TAKE OUR NATION BACK!" Trump wrote in a post to his TruthSocial account on Saturday, March 18.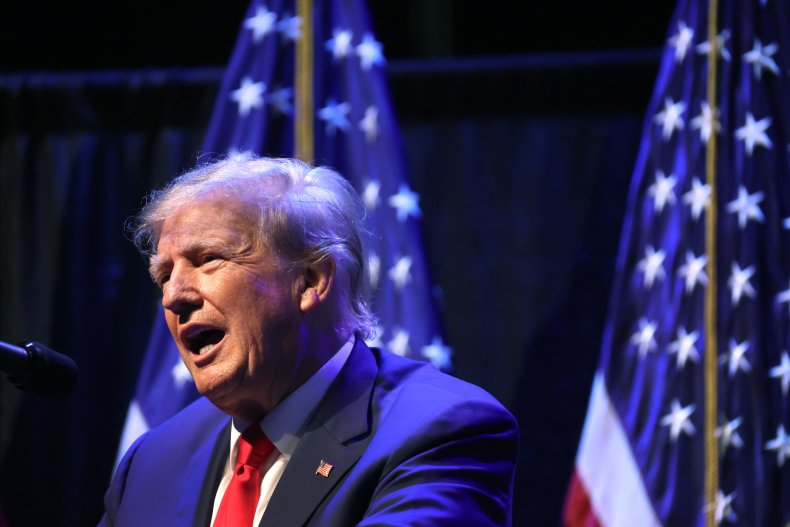 Trump also railed against the investigation in a statement in which he said, "The latest Witch-Hunt is being brought on by George Soros-backed Radical Left Democrat prosecutor Alvin Bragg. Bragg has made political donations to fellow Radical Democrats like Raphael Warnock, and now Bragg is making political donation of a different kind to Joe Biden. Everyone knows it's a sham. In fact, the Department of Justice stocked the DA's office with top people from DC to help 'Get Trump' at a local level."
Earlier this month, Tacopina confirmed that the Manhattan District Attorney's Office invited the former president to testify in front of a grand jury. Tacopina told the Associated Press that the investigation is "much ado about nothing," adding that "it's just another example of them weaponizing the justice system against him. And it's sort of unfair."
Trump has continued to deny any wrongdoing in the matter. His former lawyer, Michael Cohen—a central figure in the grand jury investigation—previously testified that he had paid $130,000 to Daniels prior to the 2016 presidential election to stop her from going public about an affair she had with Trump, at Trump's direction. The former president denies the affair.
Following Trump's post calling for a protest in response to a potential arrest, Politico reported that Bragg sent a memo to his office saying: "Our law enforcement partners will ensure that any specific or credible threats against the office will be fully investigated and that the proper safeguards are in place so all 1,600 of us have a secure work environment...we do not tolerate attempts to intimidate our office or threaten the rule of law in New York."
Trump in November announced his campaign for president again in 2024 as he faces other legal issues, including the investigation of his actions surrounding the January 6, 2021, attack on the U.S. Capitol and a probe in Fulton County, Georgia, centering on a bid to overturn the 2020 election.
Newsweek has reached out to Trump's spokesperson via email for comment.