Donald Trump Receives Huge Boost in Criminal Investigation Against Him
Donald Trump has praised Georgia Republicans after they were able to push through a bill that would target "rogue prosecutors" as Fulton County district attorney Fani Willis considers bringing forward criminal charges over the 2020 presidential elections against the former president.
On Thursday, the Georgia Senate voted 32-24 to pass Senate Bill 92, sponsored by state Senator Randy Robertson, which would see the creation of an oversight committee with the power to remove elected district attorneys if they are found to have committed "willful misconduct" in office, or failed to prosecute certain crimes.
A second bill—although less likely to pass—is currently being debated and has been filed by state Rep. Houston Gaines. It would lower the voter threshold to recall a prosecutor from 30 percent to two percent, with the threshold for other elected officials remaining at 30 percent.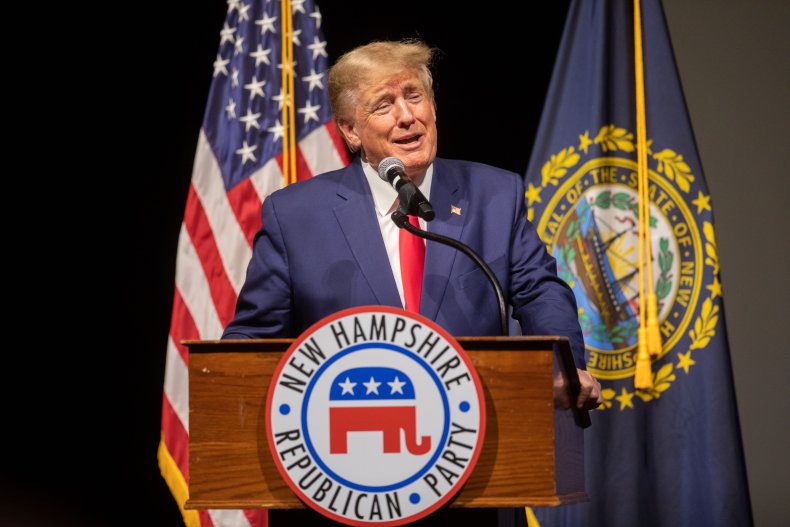 The bills are being debated as Willis, who has been investigating if Trump committed a crime in his attempts to overturn the 2020 election results in Georgia, could soon make a potentially historic announcement about whether to indict the former president. Trump has frequently called Willis' inquiry a politically motivated "witch hunt." Willis' own future possibly hinges on whether any oversight committee decides to remove her for apparently failing her duty, or weaken her current position.
Willis has noted the timing of the bills as her investigation into Trump draws to a close. "For the hundreds of years we've had prosecutors, this has been unnecessary," Willis told The New York Times. "But now all of a sudden this is a priority. And it is racist."
Trump has frequently accused Willis, who is Black, of being "racist" towards him with her "witch hunt" of an inquiry. The former president repeated the accusation in a post on Truth Social on Sunday noting the Fulton County prosecutor's objections to the bills.
"The Racist District Attorney in Atlanta, Fani T. Willis, one of the most dangerous and corrupt cities in the U.S., is now calling the Georgia Legislature, of course, RACIST, because they want to make it easier to remove and replace local rogue prosecutors who are incompetent, racist, or unable to properly do their job," Trump wrote.
"This is a great development for Georgia, but also other parts of the Country. Congratulations to the Georgia Legislature for having the courage to act boldly, fairly, and fast."
Willis suggested it is not a coincidence that the bills are being debated after Georgians elected 14 minority district attorneys into office in 2020. Willis herself was elected to office by 72 percent of voters in 2020.
"It's targeting me, and maybe people with similar ideologies, and wanting to replace it for ideologies that don't represent the majority of the state's population," Willis told the Atlanta Journal-Constitution. "It seems to me that what they're really saying is that there should be local control until we don't like who the locals choose."
Republicans have denied there are any racial motivations for bringing in the bills to discipline prosecutors in Georgia. Robertson said his bill aims to target "somebody who says they can choose, not based on evidence, but on how they feel about their political leanings, who they can prosecute."
Republican State Senator Bill Cowsert, the brother-in-law of Georgia Governor Brian Kemp, who has indicated he will sign SB 92 into law, said during a January hearing that Willis' suggestion the bills have anything to do with race is "absurd," "offensive," and "a racist statement on its own."
Willis' office has been contacted for comment.