Trump Indictment Will Lead to 'Violent Attack,' Kirschner Predicts
Former President Donald Trump could launch a second "violent attack" if he's indicted in Fulton County District Attorney Fani Willis' probe into his actions surrounding the 2020 presidential election, former federal prosecutor Glenn Kirschner warned Saturday.
Willis is investigating whether or not Trump's call to Georgia Secretary of State Brad Raffensperger, in which he allegedly asked him to "find" enough votes to tilt the election in his favor amid his efforts to try to overturn President Joe Biden's win, violated state election interference laws.
A special grand jury wrapped up its investigation last month. Willis is now tasked with reviewing the report and deciding whether to call a traditional grand jury, which would have the authority to issue an indictment against the former president.
Kirschner said during an appearance on the The Dean Obeidallah Show on Saturday that indictments are "imminent in Georgia."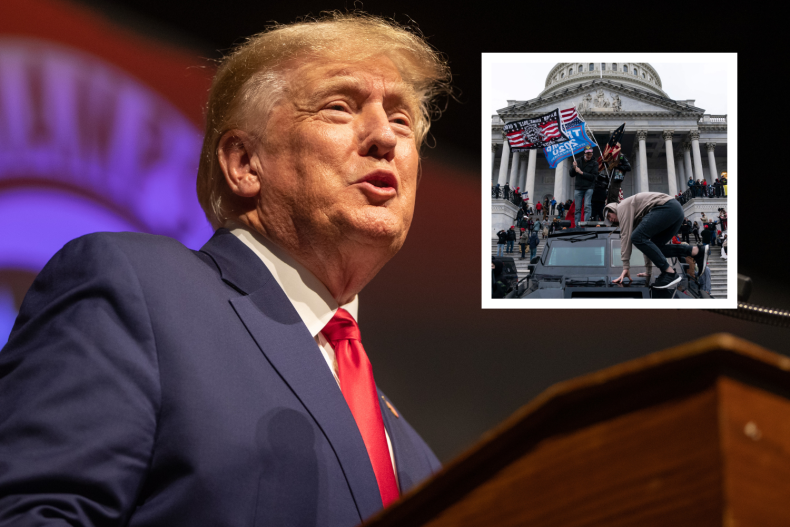 However, he also warned that Trump may urge his supporters to violently protest any indictments he may receive. Hundreds of Trump supporters, allegedly motivated by Trump's unfounded election fraud claims, rioted at the U.S. Capitol building on January 6, 2021, in a failed bid to force Congress to block the certification of Biden's Electoral College victory.
"Here's what I predict, Dean. The day Donald Trump is indicted and is scheduled to appear for an arraignment on that indictment, his first court appearance, he will post 'Come to Atlanta on the day of my arraignment. Will be wild,'" Kirschner said. "And here we go again."
Kirschner also pointed to a Truth Social post that the former president recently shared, in which a Trump supporter said his base will "physically fight" for him.
"They will have to figure out how to fight 80,000,000 + it's not going to happen again," the post reads. "People my age and old will physically fight for him this time. What we got to lose ? I'll donate the rest of my time here on this planet to do it. And I know many many others who feel the same. They got my 6 and we Are Locked and LOADED."
The former federal prosecutor added that the Department of Justice (DOJ) should be prepared for the potential of riots if Trump is indicted.
"Let's see if the DOJ gives him the opportunity to launch a second violent attack," he said. "I sure hope not."
Kirschner has previously touted Willis' probe as potentially being the most damaging investigation faced by the former president, as well as being the furthest along. Throughout the investigation, the special grand jury heard from several top Trump allies including Rudy Giuliani and South Carolina Senator Lindsey Graham.
A judge late last month heard arguments about whether to make the special grand jury report public. Willis said "decisions" would be imminent, but did not say whether Trump would personally face criminal charges in the case. She previously suggested the investigation could end in prison sentences.
"The allegations are very serious. If indicted and convicted, people are facing prison sentences," Willis told The Washington Post last September.
Newsweek reached out to Kirschner and Trump for comment.