Alexandria Ocasio-Cortez Calls Trump a 'Criminal' After He Dubs Her a 'Wack Job' in Twitter Spat
Representative Alexandria Ocasio-Cortez has responded to a vicious insult by President Donald Trump by calling him a "criminal."
A social media spat between the political adversaries started on Twitter when the president's son tweeted a video of a town hall Ocasio-Cortez was hosting at Queen's Public Library in New York.
Shown on C-Span, the video shows Ocasio-Cortez reacting with a raised eyebrow when a woman stood up and ranted at her about the climate crisis, shouting: "We got to start eating babies!"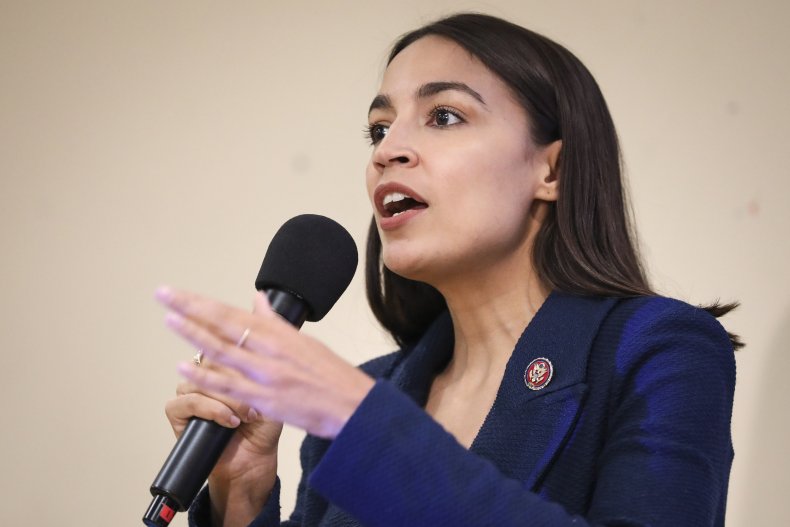 The unnamed woman said: "We're not going to be here for much longer because of the climate crisis! We only have a few months left! I love that you support the Green Deal but getting rid of fossil fuel is not going to solve the problem fast enough."
"I think your next campaign slogan has to be this, 'we got to start eating babies."'
As the woman spoke, she took off her jacket to reveal a T-shirt that read "Save the Planet, Eat the Children."
Ocasio-Cortez looked concerned about the woman's behavior during the rant and a staffer gently took her microphone and she was escorted away.
Ocasio-Cortez resumed her discussion by saying, "we need to treat the climate crisis with the urgency that it does present."
It is unclear if as Ocasio-Cortez said, the woman "may have been suffering from a mental condition," or if it was part of a troll operation as some speculated on Twitter, but the video got four million views and was shared widely, including by Donald Trump Jr., who wrote "Seems like a normal AOC supporter to me."
His father retweeted the video, saying "AOC is a wack job!" However the New York congresswoman was quick to respond to the slur, referring to the impeachment inquiry now underway, by tweeting: "Better than being a criminal who betrays our country."
Ocasio-Cortez did not defend the woman's comments but also urged people not to make fun of her, later tweeting: "This person may have been suffering from a mental condition and it's not okay that the right-wing is mocking her and potentially make her condition or crisis worse. Be a decent human being and knock it off."
At the town hall, the congresswoman promoted her welfare legislation and her plans to change federal guidelines on the poverty line and make more people eligible for government benefits.
Although her proposal does not have a price tag, and would be unlikely to get through the Republican-led Senate, she said it would be analyzed by the Congressional Budget Office, Reuters reported.
"If the government worked for us half as much as it works for billionaires and corporations, our lives would be transformed," she said.