Donald Trump Says U.S. Shot Down Iran Drone Just As New Talks Offer Emerges
President Donald Trump said Thursday that a U.S. warship shot down an Iranian drone in Strait of Hormuz after it ignored repeated warnings.
Trump said Thursday that Wasp-class amphibious assault ship USS Boxer "took defensive action against an Iranian drone which had closed into a very near distance, approximately 1000 yards, ignoring multiple calls to stand down and was threatening the safety of the ship and the ship's crew."
He said "the drone was immediately destroyed" in what would be the latest flare-up in a region where Iran has downed a U.S. spy drone almost exactly a month ago and has been accused by the U.S. of harassing oil tankers.
"This is the latest of many provocative and hostile actions by Iran against vessels operating in the international waters the United States reserves right to defend our personnel, our facilities and interests and calls upon all nations to condemn Iran's attempts to dispute global freedom of navigation and global commerce," Trump said.
"I also call on all nations to protect their ships as they go through the strait and to work with us in the future," he added.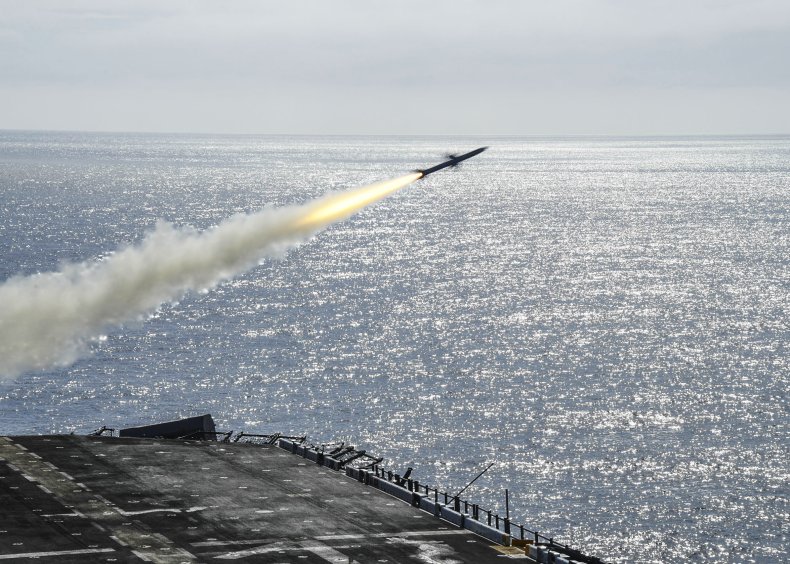 The news came the same day that Iranian Foreign Mohammad Javad Zarif made what appeared to be an offer to de-escalate the ongoing crisis stemming from Trump's decision last year to abandon a 2015 nuclear deal and impose strict sanctions against the Islamic Republic. Though Tehran has refused to talk with Washington until the sanctions were lifted, Zarif suggested his country would be willing to ratify the Additional Protocol of the International Atomic Energy Agency ahead of schedule, expanding international inspections of Iran's nuclear program.
"If Trump wants more for more, we can ratify the Additional Protocol and he can lift the sanctions he set," Zarif said Thursday, according to The Guardian. "He has said that he will take any measure to Congress – fine. Lift the sanctions and you'll have the Additional Protocol sooner than 2023."
The top diplomat said this would be "a substantial move" and suggested there "there are other substantial moves that can be made." He emphasized, however, that Iran was not interested in a mere "photo op" or "a two-page document with a big signature."
Zarif, who is in New York, told reporters that he had "no information about having lost a drone today." In an apparent response, however, he then simply tweeted a photo highlighting the borders of the U.S. and Iran as a "Reminder" of how far away the U.S. was operating outside its own territory, and how close it was to Iran's.
The 2015 deal was also signed by China, the European Union, France, Germany, Russia and the United Kingdom, all of whom still support the agreement and have called for restraint on both sides. These countries have also appealed to the U.S. to return to the agreement and for Iran to halt its recent enrichment of uranium beyond restricted levels, a response to Europe's failure to normalize trade ties.
The U.S. has yet to publicly respond to Zarif's latest offer, but has previously demanded that Iran make a number of major concessions such as ending support for militant groups and shuttering its ballistic missile program before sanctions could be lifted. Meanwhile, Persian Gulf tensions have continued to worsen as the U.S. blamed Iran for two series of attacks May and last month on commercial vessels traveling through the nearby Gulf of Oman and the Revolutionary Guards took out a U.S. Navy spy drone flying in the same region.
Iran has claimed the drone flew into its airspace and has denied any involvement in the harassment of oil tankers, including an alleged incident in which the Pentagon recently claimed that the Revolutionary Guards attempted to seize a U.K. vessel in retaliation for the U.K.'s capture in Gibraltar of an Iranian supertanker earlier this month as it attempted to transport oil to Syria, an apparent violation of EU sanctions. Iranian supreme leader Ayatollah Ali Khamenei accused London of "piracy" and vowed to respond.
The U.S. was also investigating reports that Iran was involved in Saturday's disappearance of the small UAE-based, Panamanian flagged Riah tanker, which the Revolutionary Guards confirmed earlier Thursday they had in custody, allegedly for attempting to smuggle oil.
Update (4:40 p.m. 7/18/2019) This article has been updated to include a tweet by Iranian Foreign Minister Mohammad Javad Zarif posted in an apparent response to reports that the U.S. Navy downed an Iranian drone in the Strait of Hormuz.