Iran's Missiles: Why Shooting Down of U.S. Drone Is Important and What It May Tell Us
Iran's downing of a state-of-the-art U.S. military drone using what it claimed to be a natively produced defense system may illustrate the complexities of a potential conflict with the Islamic Republic.
Though many details of the recent incident involving an RQ-4A Global Hawk unmanned surveillance aircraft (UAV) remained up for debate, the naval forces of U.S. Central Command have confirmed that Iran's elite Revolutionary Guards shot down the drone somewhere over the Strait of Hormuz.
Each country has branded the other's forces a terrorist organization and disputed other details, but two particular elements of Thursday's events have stood out.
For one, this is the first known downing of any U.S. RQ-4 variant. As non-proliferation and open-source intelligence analyst Fabian Hinz told Newsweek, this weapon is "no tiny Predator"⁠—a reference to the smaller, armed U.S. drones that have seen widespread global use in the post-9/11 "War on Terror." No, Hinz explained, the RQ-4A is one of "the largest and one of the most expensive drones the U.S. has."
Also, Iran claimed to have hit the high-flying UAV using its own 3rd Khordad transporter erector launcher and radar, a variant of its Raad surface-to-air missile (SAM) system. Hinz told Newsweek that "if that is true—big if—it would be significant because they would have used a domestically developed SAM system."
The Revolutionary Guards later released footage appearing to show the 3rd Khordad system firing and intercepting an object, said to be the RQ-4A.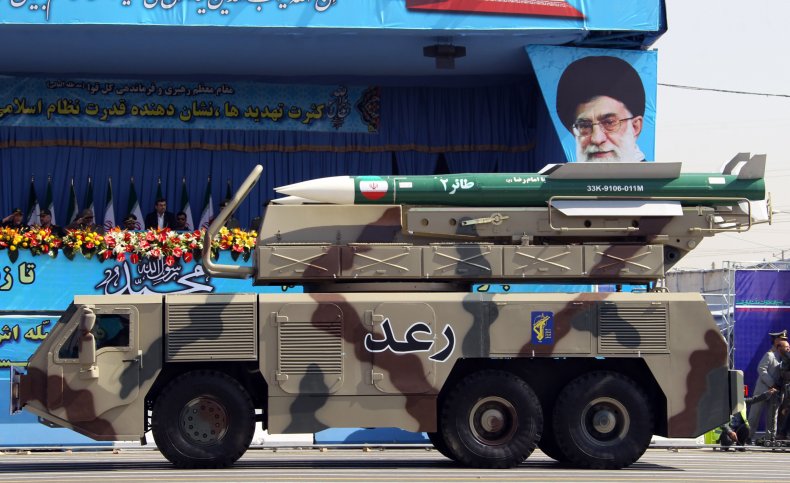 Iran previously claimed to have downed a U.S. RQ-170 Sentinel drone in December 2011, but this was said to have been done electronically, though that too caused an international stir at the time. Thursday's incident also caused no injuries but has already drawn a furious response from the U.S., which claimed the drone was operating in international airspace.
President Donald Trump tweeted Thursday morning that "Iran made a very big mistake!" in taking down the UAV and the White House quickly convened a meeting.
In Tehran, officials argued that the UAV entered Iranian airspace and Iranian Foreign Ministry spokesperson Abbas Mousavi expressed his "strong protest at such acts of aggression and provocative moves."
"We announce that we firmly warn against any aggression and illegal entry into the country's airspace by any foreign flying object, and any aggression against the territory of the Islamic Republic of Iran and violation of its frontiers, and the entire responsibility for consequences of such actions fall upon the aggressors," he added.
The confrontation came one week after two commercial oil tankers, one Japanese and one Norwegian-owned, were damaged in the Gulf of Oman, which connects the Strait of Hormuz to the Persian Gulf. The U.S. has officially blamed the incident on Iran, producing evidence purported to show Revolutionary Guard soldiers removing an unexploded limpet mine from the side of one of the ships, but Iran has strongly denied the allegations and even some U.S. allies have expressed skepticism about the video.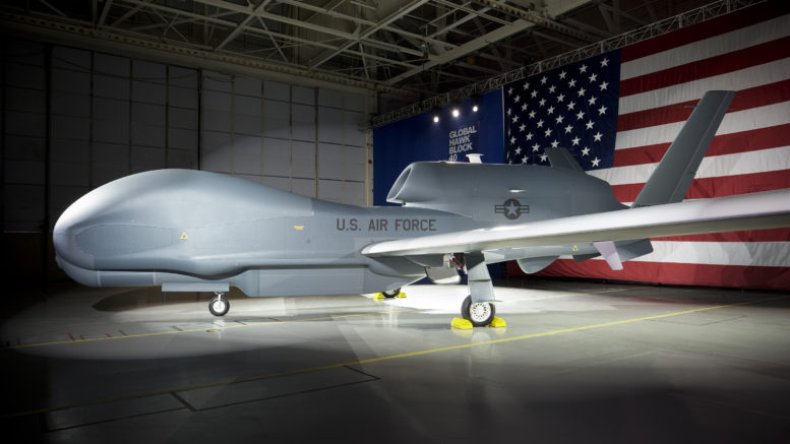 The Trump administration has warned since early last month of evidence suggesting Tehran was planning to target U.S. interests in the region, but Brian Hook, the U.S. special envoy to Iran, told lawmakers Wednesday that "a lot of what we were concerned about at the time has not come to pass in the time-being."
Still, Hook echoed arguments by Secretary of State Mike Pompeo and White House National Security Adviser John Bolton—two longtime critics of Iran—that the Islamic Republic was growing more aggressive, while at the same time claiming that the Trump administration's "maximum pressure" campaign was working. The U.S. strategy included leaving a 2015 nuclear deal — one that was still supported by Iran and fellow signatories China, the European Union, France, Germany, Russia and the United Kingdom — and imposing strict sanctions to negatively affect the Iranian economy.
While Iran has since threatened to begin enriching uranium past the limits outlined in the deal as countries failed to normalize trade ties under threat of U.S. sanctions, Tehran has always denied seeking nuclear weapons and its compliance to the agreement had been repeatedly verified by the International Atomic Energy Agency. Trump and his supporters still felt the deal did not go far enough to curb the country's alleged support for militant groups and its growing ballistic missile arsenal, already the largest in the region.
Iran was known to command a variety of ballistic weapons, ranging from artillery to short- and medium-range missiles, as well as cruise missiles. Its farthest-reaching weapon, the Soumar long-range cruise missile, could hit targets up to 1,550 miles away, while medium-range ballistic missiles Sejjil, Shahab-3, Ghadr, Emad and the new Khorramshahr had a range of about 1,240 miles.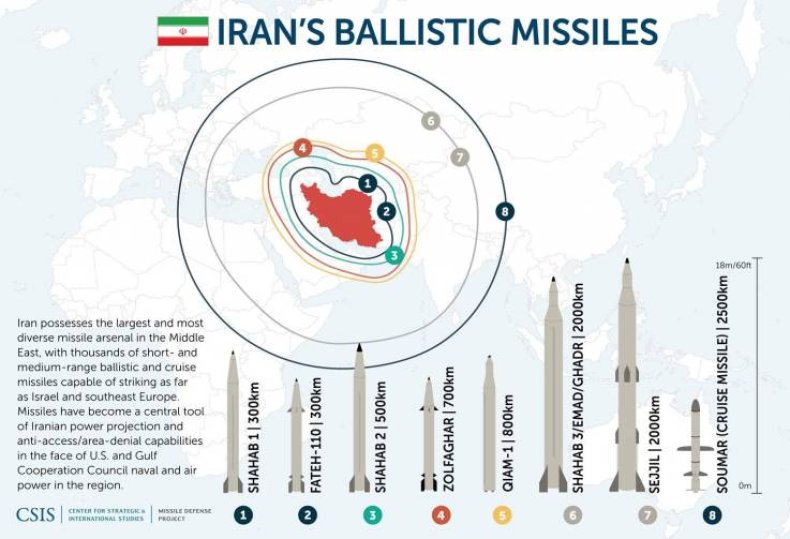 Iran has often touted these weapons and other, shorter-range ones like the Shahab-1 and 2, Qiam-1, Fateh-110 and Zolfaghar in military parades as an act of defiance toward U.S. calls to disarm what Tehran viewed as a vital defense against Washington's regional aggression.
Both Trump and Iranian supreme leader Ayatollah Ali Khamenei have downplayed the likelihood of a full-on conflict with one another, but have vowed to respond to any hostilities initiated by the other. Trump told reporters "you'll soon find out" if the latest incident would lead to U.S. military action, while Revolutionary Guards commander Major General Hossein Salami said earlier Thursday that his country did "not have any intention for war" but was "ready" for one.
Many experts have cast uncertainty as to the prospects of entering into such a conflict, especially as the U.S. largely lacked international support. Russia, China, the EU and other major powers have instead called for immediate de-escalation as fears of a new confrontation gripped the war-weary Middle East and beyond.
"The uncertainty is basically whether it will be really bad for the U.S. or a fucking disaster," Hinz told Newsweek.
Update (3:45 p.m. 6/20/2019) This story has been updated to include the fact that Iran's Revolutionary Guards later released footage purported to back up their claims that they used a domestically produced air defense system to take out the advanced U.S. drone.