Donald Trump Says He Wants to Make Iran and North Korea Rich
President Donald Trump said on Monday that Iran and North Korea have "tremendous potential" he hoped to help them achieve should they reach deals with the United States.
Trump made the remarks Monday at the G7 summit in the French city of Biarritz, where he was joined by fellow leaders from Canada, the European Union, France, Germany, Italy, Japan, the United Kingdom and elsewhere. Iranian Foreign Minister Mohammad Javad Zarif too arrived in the city for separate consultations with France that were apparently welcomed by Trump.
"I'm looking to have a really good Iran, really strong, we're not looking for a regime change, you've seen how that works over the last 20 years, that hasn't been too good, we're looking to make Iran rich again. Let them be rich, let them do well, if they want, or they can be poor as can be," Trump said as he spoke alongside his Egyptian counterpart.
The president made similar remarks at a joint press conference with French President Emmanuel Macron, saying he had "very good feelings" about a potential deal with Iran. Trump added: "It's a country with tremendous potential, I also say that, by the way, about North Korea."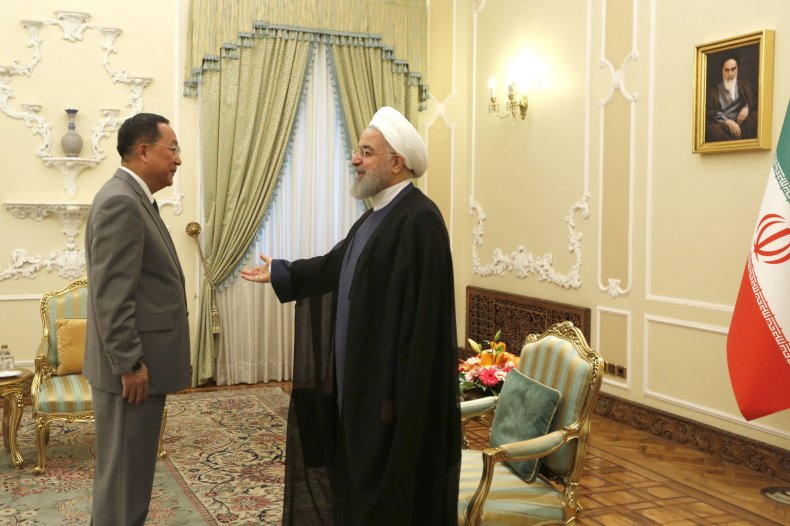 Trump took a hard-line approach to both Iran and North Korea upon coming to office in 2017, but he ultimately began a historic dialogue last year with Pyongyang just as he pulled out of a landmark nuclear deal with Tehran and imposed sanctions on the Islamic Republic. He's described his approach to both countries as "maximum pressure."
Despite no deal having emerged from two major summits with North Korean supreme leader Kim Jong Un, Trump has continued to praise the young ruler's commitment to talks. Noting North Korea's strategic location near South Korea, China and Russia, the U.S. leader said Monday that "North Korea has tremendous economic potential and I think that Kim Jong Un sees that, he would be the leader and I think that he sees the tremendous potential that its got."
"With respect to Iran, same thing. Iran has incredible people, an incredible country potentially, location that's a little rough neighborhood, but eventually, it's going to be a beautiful neighborhood, I think it's going to work out," Trump said.
He also said it was "realistic" that he could begin sit down for talks with Iranian President Hassan Rouhani in a matter of weeks, saying "I think he's going to want to meet, I think Iran wants to get their situation straightened out." He continued: "Now is that based on fact or based on gut, it's based on gut but they want to get their situation straightened out."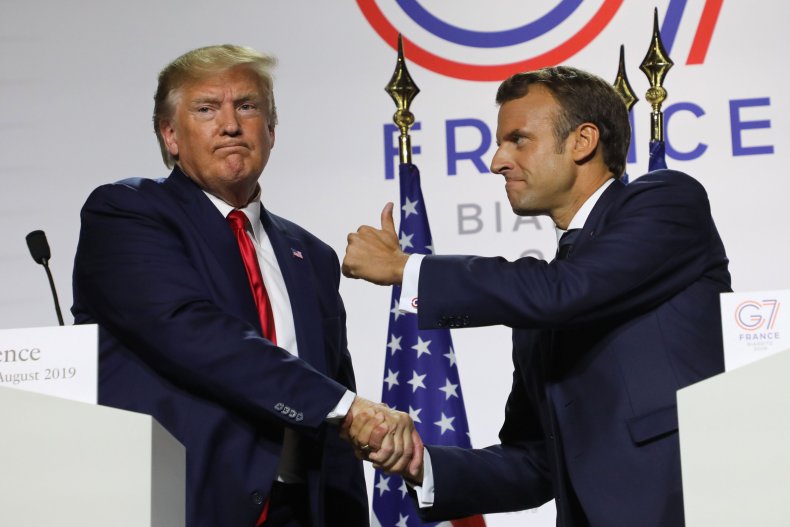 Back in Tehran, Rouhani hinted that he may accept such an offer if deemed to be in Iran's best interests. Without mentioning Trump by name, the Iranian leader said during a conference Monday that "if I am to meet someone and that meeting would solve the problems my country, I will not hesitate to do so because it is in the principle of national interest."
China, the EU, France, Germany and the U.K. all continue to support the nuclear deal, but the Trump administration has sought a new arrangement that would address Iran's alleged support for militant groups and its ballistic missile development. The White House has also conveyed skepticism toward Iran's claims that it did not seek nuclear weapons.
Trump has expressed interest in another summit with Kim too, but no plans for such a meeting have yet been announced. The two men shared a historic third encounter alongside South Korean President Moon Jae-in at the inter-Korean border in June, but Trump and Moon's decision to go ahead with joint military drills has prompted Kim to launch some conduct seven weapons tests in the past month.
Trump said Sunday that "we're in the world of missiles" when asked about his reaction to the recent launches, downplaying the short-range demonstrations described by Japanese Prime Minister Abe Shinzo as "very regrettable." Trump said he felt that Kim "will do the right thing."