Trump Says War With Iran Would Be 'Obliteration Like You've Never Seen Before'
President Donald Trump has warned Iran that a war with the U.S. would be "obliteration like you've never seen before" after calling off a planned strike on the Persian Gulf nation late last week.
In an interview with NBC News' Meet the Press aired on Sunday morning, Trump was asked by host Chuck Todd to send a message directly to Iran's supreme leader, Ayatollah Sayyid Ali Hosseini Khamenei. The president responded by saying he doesn't want war, but stated confidently that Iran would not stand a chance in any military confrontation.
"I'm not looking for war and if there is, it'll be obliteration like you've never seen before," Trump said. "But I'm not looking to do that, but you can't have a nuclear weapon. You want to talk, good. Otherwise you're gonna have a bad economy for the next three years."
Todd interjected: "No preconditions?"
"Not as far as I'm concerned," the president replied. "No preconditions." He then reiterated that he was ready to talk with Iranian leaders, otherwise they would be forced to live in a "shattered economy for a long time to come."
The president also told Todd that he has "doves and hawks" in his administration, saying that "[National Security Adviser] John Bolton is absolutely a hawk. If it was up to him he'd take on the whole world at one time."
Trump said on Friday that he was "cocked and loaded" to carry out a series of military strikes on Iran after the Persian Gulf nation shot down a U.S. drone it alleged had entered its airspace (Washington has maintained that the drone was over international waters).
The strikes were set to be carried out on in against targets in Iran during the early morning hours, local time, Friday. However, the president said he called off the attack with 10 minutes to spare when he was informed an estimated 150 people would be killed.
Vice President Mike Pence said Sunday on CNN's State of the Union that the Trump administration was also not convinced that the strike against the drone had been authorized by Irani leaders in Tehran.
While Trump insisted in his interview with Meet the Press that his red line was Iran acquiring a nuclear weapon, many experts have argued that the president's policies have actually made that more likely. Consistent reports from the United Nations nuclear watchdog had confirmed until recently that Iran remained in compliance with the terms of the 2015 Joint Comprehensive Plan of Action (JCPOA), commonly known as the Iran nuclear deal.
Under that international treaty – which was signed by the administration of former President Barack Obama, the United Kingdom, France, Germany, the European Union, Russia and China – Iran agreed to curb its nuclear capabilities in exchange for sanctions relief and international investment. Even Trump's own intelligence leaders said earlier this year that the deal had effectively halted Iran's nuclear capabilities, despite Trump withdrawing from the international treaty last May.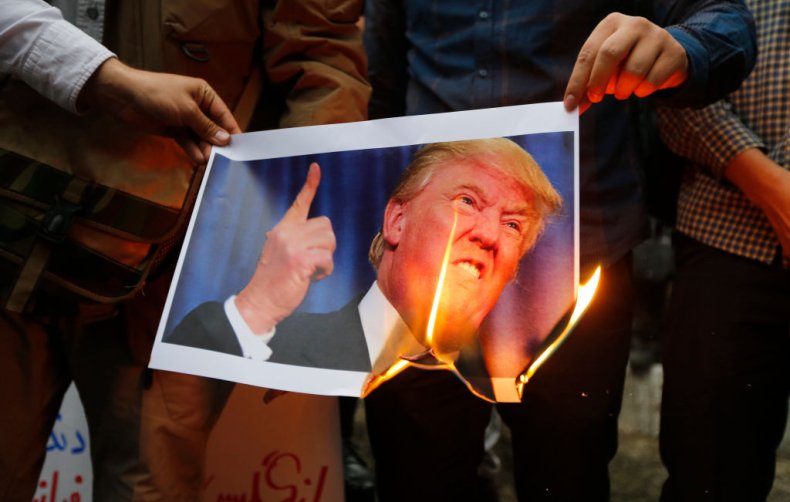 Washington has since moved to implement harsh sanctions targeting Iran's economy, leading to significant problems for the Persian Gulf nation. Close U.S. allies in Europe have been critical of Trump's decision to walk away from the JCPOA and have worked with Russia, China and Iran to avoid the repercussions of sanctions. But as sanctions have taken their toll, Iranian leaders announced last month that they would begin stepping back from their commitments under the JCPOA. They also said last week that they would disregard all restrictions on uranium enrichment, meaning they would surpass limits set by the nuclear deal by the end of the month.
Iranian Foreign Minister Javad Zarif has repeatedly accused the U.S. of committing "economic terrorism" against his country. Ayatollah Khamenei has also previously said that any discussions with the Trump administration are off the table, with other leaders saying that Tehran would only be willing to talk if the White House returned to the 2015 agreement.