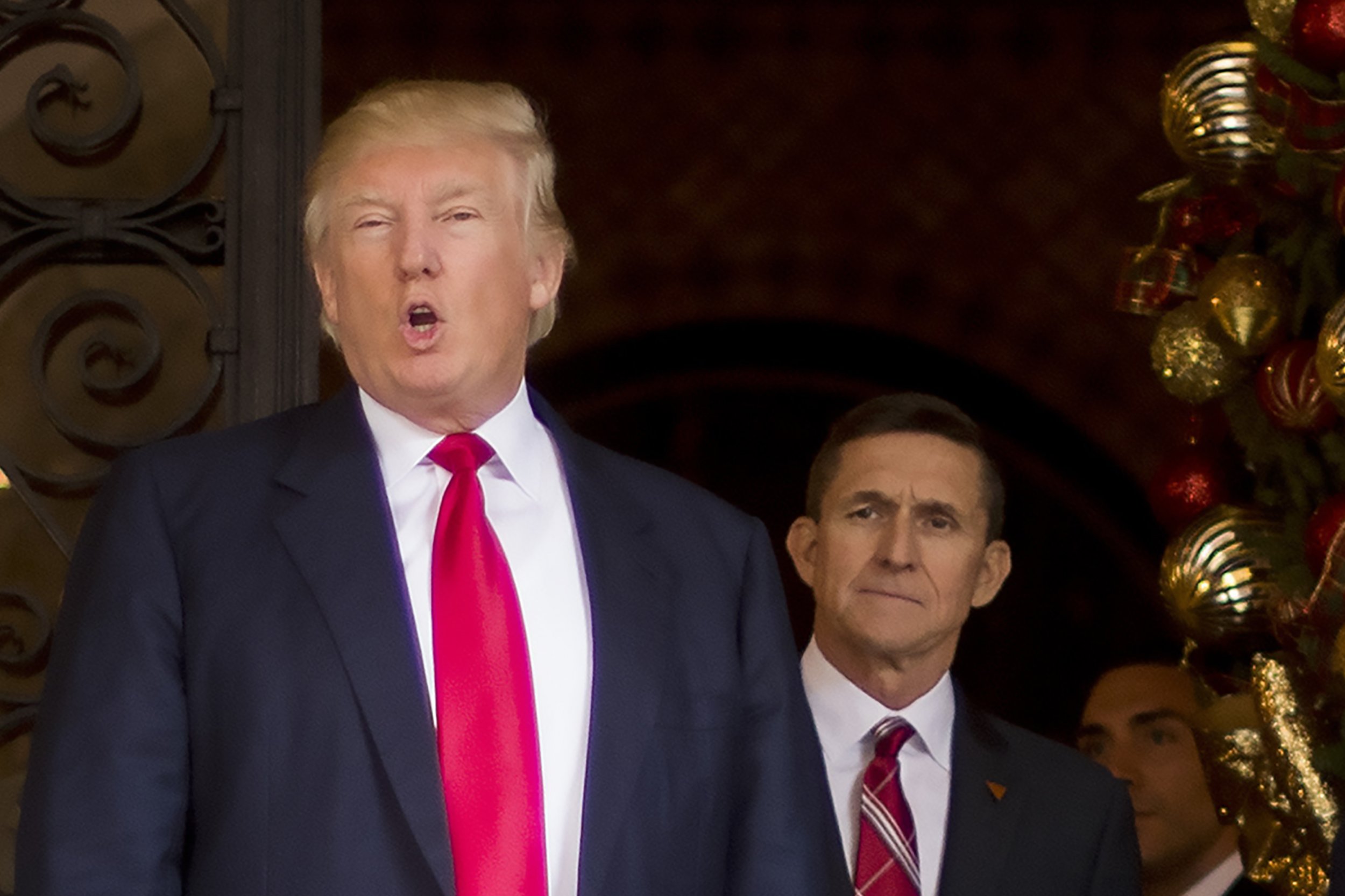 President Donald Trump's former national security adviser Michael Flynn has been charged with making a false statement to the FBI, bringing special counsel Robert Mueller's investigation one step closer to the president and his family. Flynn stands accused of lying about his interactions with then-Russian ambassador Sergey Kislyak during the transition following Trump's election last year.
Related: What did Michael Flynn lie about? Everything to know about the biggest Robert Mueller charge yet
The announcement of a lone charge against Flynn suggests the former general is cooperating with Mueller's team and may flip on the president of the United States.
"They would not resolve this case so quickly from the government's perspective with a single count of false statements if they weren't getting something out of it," former federal prosecutor Peter Zeidenberg told Newsweek on Friday.
Trump may have reason to be worried.
Flynn was one of Trump's earliest and most trusted allies during his campaign for the presidency. As such, he had almost unique access to what transpired during an often chaotic campaign, a busy transition period and the first few weeks of Trump's administration. Flynn's charge will bring Mueller closer to answering the key question of his investigation: whether the Trump campaign colluded with Russia's efforts to interfere in the 2016 election.
Following the filing of charges against three campaign staffers last moth—including former campaign boss Paul Manafort—the White House attempted to downplay their significance. There is, however, no doubting Flynn's significance to Trump as a retired general who offered a degree of foreign-policy credibility to the campaign at a critical time.
He is the first member of Trump's administration, rather than campaign workers, to face charges in Mueller's probe.
Friday's announcement could have implications, too, for Jared Kushner. Trump's son-in-law was present along with Flynn at a meeting with the Russian ambassador in December. Kushner reportedly met with investigators working for Mueller and answered questions about the meeting.
For now the White House is not commenting.
"The White House is not going to respond to this," White House spokesman Raj Shah said. "Ty Cobb will at some point."
Cobb, a top lawyer who is managing the White House response to the Russia probe, has stressed in recent weeks that charges against Flynn would have no impact on the president.
"He likes General Flynn personally, but understands that they have their own path with the special counsel," Cobb told The New York Times in October. "I think he would be sad for them, as a friend and a former colleague, if the process results in punishment or indictments. But to the extent that that happens, that's beyond his control."
Another member of the Trump legal team, Jay Sekulow, was even more direct.
"No one should draw the conclusion that this means anything about General Flynn cooperating against the president," he told ABC News. But since Flynn was forced to resign his role in February after it was revealed that he lied to Vice President Mike Pence about his conversations with the Russian ambassador, Trump has remained loyal, even at legal risk to himself. Former FBI Director James Comey testified before Congress that Trump urged him to end the investigation into Flynn. Trump later fired Comey, meaning Flynn's charge and possible plea deal could also shed light on Trump's personal liability on potential obstruction of justice.