Donald Trump Will Publicly Attack Jeff Sessions in Alabama Senate Race as GOP Fears Roy Moore Could Become Nominee: Report
President Donald Trump has privately warned Jeff Sessions that he will publicly attack him if the former attorney general chooses to run for the Senate in Alabama, according to a report.
Trump forced Sessions out of the administration, enraged by the attorney general's decision to recuse himself from oversight of the Mueller investigation.
Sessions removed himself from the Mueller process because of his involvement in the Trump 2016 campaign, which was a focus of the special counsel's probe.
The New York Times reported that Trump sent a message to Sessions last week warning him of public attacks if he runs for Alabama's Senate seat, which he held held previously for 20 years, from 1997 to 2017 when he became attorney general.
The White House did not respond immediately to Newsweek's request for comment.
The president fired Sessions from the administration in November 2018 after spending nearly two years openly criticizing his decision to recuse himself.
"I don't have an attorney general. It's very sad," Trump told Hill TV in an interview a couple of months before he fired Sessions.
In February 2018, Sessions defended himself against Trump's criticisms in a statement.
"As long as I am the attorney general, I will continue to discharge my duties with integrity and honor, and this department will continue to do its work in a fair and impartial manner according to the law and Constitution," Sessions said.
If Sessions, 72, does choose to run again in Alabama for the GOP, and risk Trump's wrath in doing so, he will go up against Roy Moore, who is also 72.
In a 2017 special election to replace Sessions as the state's senator, Moore lost to the Democrat Doug Jones amid allegations that the Republican had been sexually inappropriate with several underage girls while in his thirties, which he denied.
A primary with Moore and Sessions, and potentially one of them taking the nomination if no other candidate scoops it ahead of them, has the potential to be a damaging affair for the Republican Party. The election is in 2020.
"Even if he's completely innocent of the accusations that came to light in 2017, this move is indicative of a person whose judgment Alabamians should never trust, who is willing to turn yet another election cycle into a self-centered circus," Elizabeth BeShears, a Republican political consultant in Birmingham, told The New Yorker at the time. "I hope Moore is relegated to the sidelines."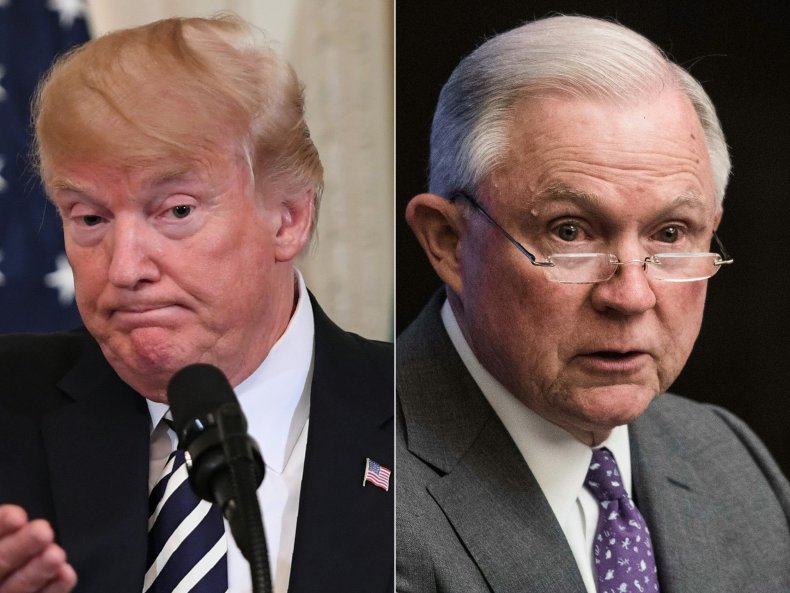 Correction: The next U.S. Senate election in Alabama is in 2020.